Combined TEFL / TESOL School in Columbus, USA | Teach & Live abroad!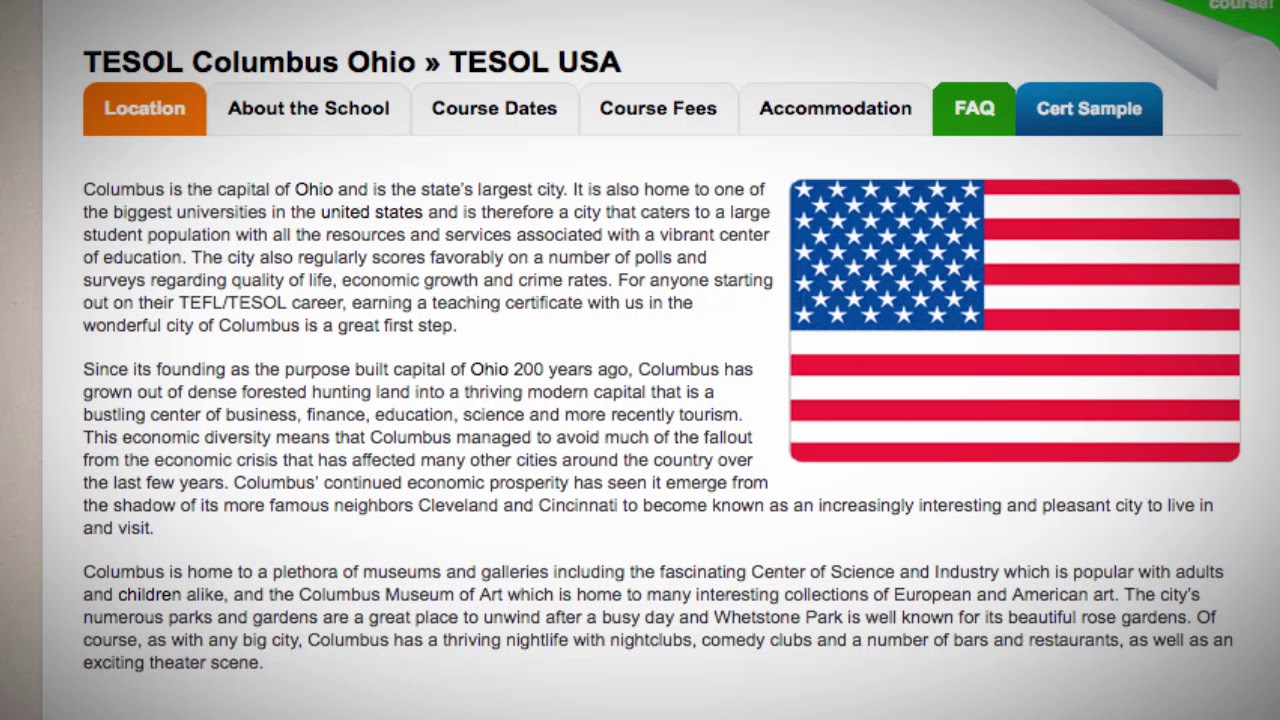 Columbus is the capital of Ohio and is the state's largest city. It is also home to one of the biggest universities in the united states and is therefore a city that caters to a large student population with all the resources and services associated with a vibrant center of education. The city also regularly scores favorably on a number of polls and surveys regarding quality of life, economic growth and crime rates. For anyone starting out on their TEFL/TESOL career, earning a teaching certificate with us in the wonderful city of Columbus is a great first step.
Since its founding as the purpose built capital of Ohio 200 years ago, Columbus has grown out of dense forested hunting land into a thriving modern capital that is a bustling center of business, finance, education, science and more recently tourism. This economic diversity means that Columbus managed to avoid much of the fallout from the economic crisis that has affected many other cities around the country over the last few years. Columbus' continued economic prosperity has seen it emerge from the shadow of its more famous neighbors Cleveland and Cincinnati to become known as an increasingly interesting and pleasant city to live in and visit.
Columbus is home to a plethora of museums and galleries including the fascinating Center of Science and Industry which is popular with adults and children alike, and the Columbus Museum of Art which is home to many interesting collections of European and American art. The city's numerous parks and gardens are a great place to unwind after a busy day and Whetstone Park is well known for its beautiful rose gardens. Of course, as with any big city, Columbus has a thriving nightlife with nightclubs, comedy clubs and a number of bars and restaurants, as well as an exciting theater scene.
Columbus is a great choice for earning your TEFL/TESOL certificate as its university town atmosphere, clean and safe environment and many attractions all combine to make for a truly rewarding experience. In addition, our top-quality training center and dedicated, professional teacher trainers are here to ensure that you get the most out of your time with us and that you leave well prepared for the start of your English teaching career.
Find out more about taking a TEFL course in Columbus here: https://www.tesolcourse.com/combined-tesol-courses/usa/columbus-ohio/?cu=YTDESCRIPTION
Are you ready to live and teach abroad? Click here and get started today: https://www.teflcourse.net/?cu=YTDESCRIPTION
Check our wide range of online TEFL & TESOL courses: https://www.teflonline.net/?cu=YTDESCRIPTION