Combined TEFL / TESOL School in Orange County, USA | Teach & Live abroad!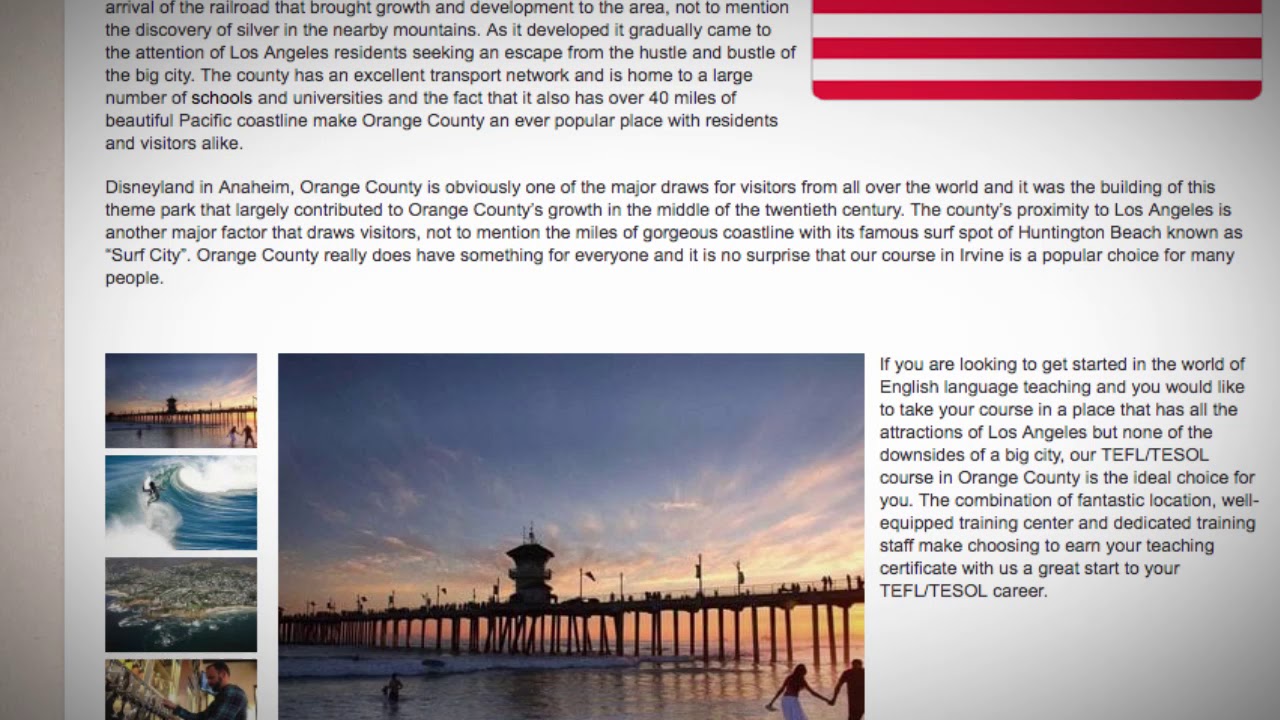 Orange County is located between the two major metropolitan areas of San Diego and Los Angeles. Unlike most densely populated regions in the united states it does not have a major urban center but is rather made up of several small, well-designed cities. Its delightful Mediterranean climate and central location make it a very pleasant region to live, work and study in.
Orange County started out as a mainly agricultural area with large cattle ranches and other farming activities. As with many cities on the Pacific coast of the U.S. it was the arrival of the railroad that brought growth and development to the area, not to mention the discovery of silver in the nearby mountains. As it developed it gradually came to the attention of Los Angeles residents seeking an escape from the hustle and bustle of the big city. The county has an excellent transport network and is home to a large number of schools and universities and the fact that it also has over 40 miles of beautiful Pacific coastline make Orange County an ever popular place with residents and visitors alike.
Disneyland in Anaheim, Orange County is obviously one of the major draws for visitors from all over the world and it was the building of this theme park that largely contributed to Orange County's growth in the middle of the twentieth century. The county's proximity to Los Angeles is another major factor that draws visitors, not to mention the miles of gorgeous coastline with its famous surf spot of Huntington Beach known as "Surf City". Orange County really does have something for everyone and it is no surprise that our course in Irvine is a popular choice for many people.
If you are looking to get started in the world of English language teaching and you would like to take your course in a place that has all the attractions of Los Angeles but none of the downsides of a big city, our TEFL/TESOL course in Orange County is the ideal choice for you. The combination of fantastic location, well-equipped training center and dedicated training staff make choosing to earn your teaching certificate with us a great start to your TEFL/TESOL career.
Find out more about taking a TEFL course in Orange County here: https://www.tesolcourse.com/combined-tesol-courses/usa/orange-county-california/?cu=YTDESCRIPTION
Are you ready to live and teach abroad? Click here and get started today: https://www.teflcourse.net/?cu=YTDESCRIPTION
Check our wide range of online TEFL & TESOL courses: https://www.teflonline.net/?cu=YTDESCRIPTION