ITTT FAQs – How do I get a job teaching English in Portugal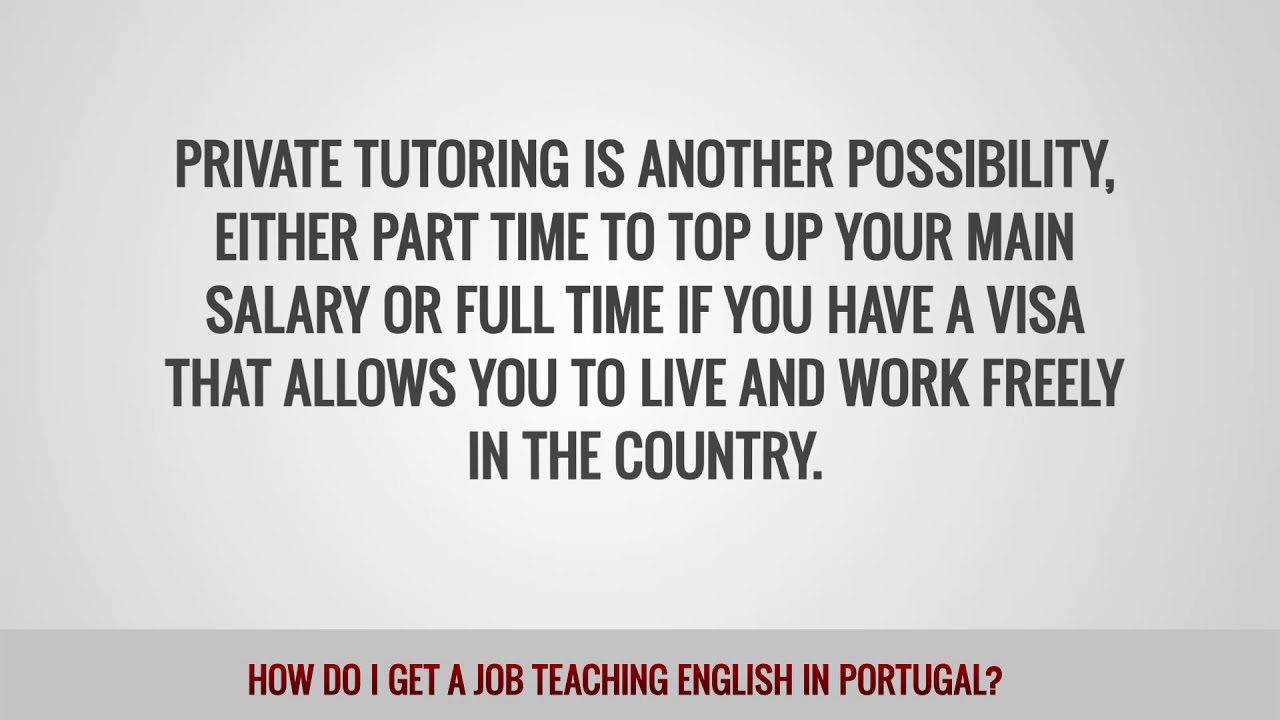 Portugal is one of Europe's most popular tourist destinations, with miles of unspoilt beaches, a warm Mediterranean climate and some of the best cuisine in the region. The country's booming tourism industry is one of the main reasons why there is a strong demand for English language teachers as knowledge of English is necessary to find work in what is Portugal's biggest job sector. Unfortunately, Portugal's economy is currently quite weak so teacher's salaries are not particularly high. However, it is the local lifestyle that attracts people to this corner of Europe rather than the pay scale.
Are you ready to live and teach abroad? Click here and get started today: https://www.teflcourse.net/?cu=YTDESCRIPTION
What are the requirements for teaching English in Portugal?
If you want to teach English in Portugal in any type of school you will need a university degree and a TEFL/TESOL qualification. Most employers also expect at least one years teaching experience, although a TEFL course that includes practical teaching practice is often accepted instead. Your level of experience will generally determine the salary you are initially offered and contracts usually last nine or twelve months depending on the type of employer.
Who are the main employers of English teachers in Portugal?
There are two main employers of foreign teachers in Portugal, state run schools and private language institutes. Public schools are quite difficult to get into as teachers generally need a good knowledge of Portuguese to be eligible. Salaries are also not particularly high and you might also be expected to do extracurricular activities with no extra pay. For these reasons, most foreign teachers in Portugal tend to work for private language schools. These usually pay a higher salary than public schools and some also include free housing or a housing allowance.
Private tutoring is another possibility, either part time to top up your main salary or full time if you have a visa that allows you to live and work freely in the country. Most students who look for private tutoring are simply looking for a native English speaker to help them brush up on their conversational English, which can be a fun and stress free experience for both the teacher and the student. There are also several volunteer programs operating in the poorer parts of Portugal that offer a good chance to gain classroom experience.
What are the visa requirements for teaching English in Portugal?
In many cases, employers will only consider EU nationals to avoid going through the process of organising work permits for their teachers. Native English speakers are also preferred meaning that the majority of positions are taken by teachers from the UK or Ireland. Other nationalities can find work in Portugal, but it will require finding an employer who is willing to sponsor you which is not easy at the current time.
What is the best way to apply for English teaching jobs in Portugal?
Most employers try to complete recruitment for the new school year by the end of August so you should start your job search in June or July to ensure you have the most options to choose from. A smaller number of jobs also come up in January. You can start your search by checking out online job boards and teaching forums where many schools advertise their vacant positions. You should also search the websites of individual schools and language institutes in the areas where you would like to work. It is a good idea to email schools directly, even if they don't appear to be advertising any jobs, as this can often lead to interviews if they are impressed by your CV/resume. It is also important to negotiate your contract, as employers will often try to get you to sign on as cheaply as possible. Any extra pay or additional benefits such as a housing allowance will go a long way to improving your quality of life during your stay.
Where are the best places to find English teaching Jobs in Portugal?
Portugal's capital city is home to the largest number of schools looking for foreign English teachers. Lisbon is also a modern, cosmopolitan city that is a very popular place to live and work. The country's second city, Porto, is also very popular with expat teachers as it has a rich cultural vibe and a more close-nit feel than the capital. Other cities to consider include Braga and Coimbra. The bustling resorts of the Algarve are also worth checking out if you want to be close to the beach and other tourist attractions.