ITTT FAQs – How much can I earn teaching English in Kuwait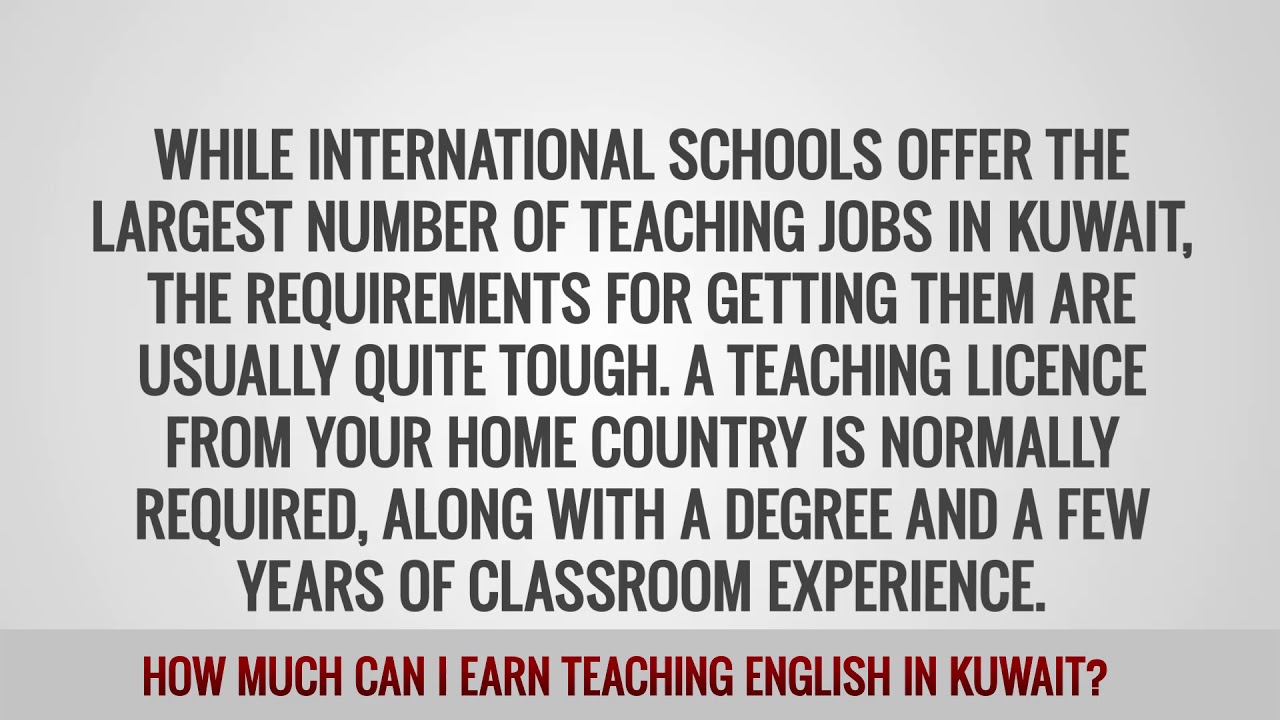 As knowledge of the English language has become increasingly important in the country and it is one of the richest nations in the Middle East, Kuwait is full of opportunities for TEFL certified teachers. There are plenty of jobs on offer, from kindergarten level all the way through to university and beyond. Kuwait City is the main hub of the country where you will find all the comforts you would expect from a modern capital. However, you will also find rich Arab culture, fascinating archaeological sites, white sandy beaches, and a vast desert terrain that is waiting to be explored.
Are you ready to live and teach abroad? Click here and get started today: https://www.teflcourse.net/?cu=YTDESCRIPTION
What are TEFL salaries in Kuwait?
As you might expect from an oil rich country, teaching jobs in Kuwait typically offer very competitive salaries. The average monthly salary for the majority of teachers is between $2,500 and $4,000 USD. Most jobs also include a range of extra perks in the contract such as flights in and out of the country, paid accommodation, and health insurance. If that is not enough, just remember that salaries are tax free!
To take advantage of the excellent contracts on offer in Kuwait you will need a degree and a TEFL certification. Previous teaching experience is also required for most jobs. Two years is generally the minimum requirement, but the more experience you have the better your chances of earning the best salaries. As Kuwait City is home to the majority of the country's population, most of the available jobs are located there, although the nearby cities of Al Ahmadi and Al Jahra also have a few options worth looking at.
Who are the main employers of English language teachers in Kuwait?
As with many countries in the Middle East, the best paid teaching jobs are found in international schools that typically follow the UK or US curriculum. These schools cater to a wide range of students from all over the world, as well as local students. While international schools offer the largest number of teaching jobs in Kuwait, the requirements for getting them are usually quite tough. A teaching licence from your home country is normally required, along with a degree and a few years of classroom experience.
Other good options in Kuwait include bilingual preschools and universities. If you prefer teaching younger children then preschool is a great option for you. Previous experience is usually important for these roles as there is normally strong competition for each position. If you prefer to teach older students, perhaps university teaching is for you. These roles typically involve working with large classes of students who already have a good standard of English and are looking to take it to a higher level.
What is the recruitment process for English teachers in Kuwait?
Most teaching positions in Kuwait are arranged before you leave your home country. Jobs are most often advertised in the spring and summer months in preparation for the new school year that starts in August. Some schools advertise through recruitment companies, while many also advertise direct through their own websites. If your application is successful you will then have an interview via phone or webcam. If you receive a job offer your employer will then apply for a work visa on your behalf. If you are already in the country during the recruitment window you will be in an even better situation. This allows you to shop around to find the best school to suit your plans.
What is the cost of living for English teachers in Kuwait?
The cost of living in Kuwait is around average for the Middle East region, being a little less expensive than the UAE and Qatar, and a little more expensive than Saudi Arabia and Oman. As most jobs include free housing or a housing supplement, most teachers can live cheaply and save a large portion of their salary every month. You can keep your bills low by shopping and socializing away from the busy tourist areas, which also allows you to get to know the real local food and culture. In general, teachers in Kuwait can live a very comfortable lifestyle and still have plenty of money left at the end of the month.