ITTT FAQs – Is TEFL a good career choice?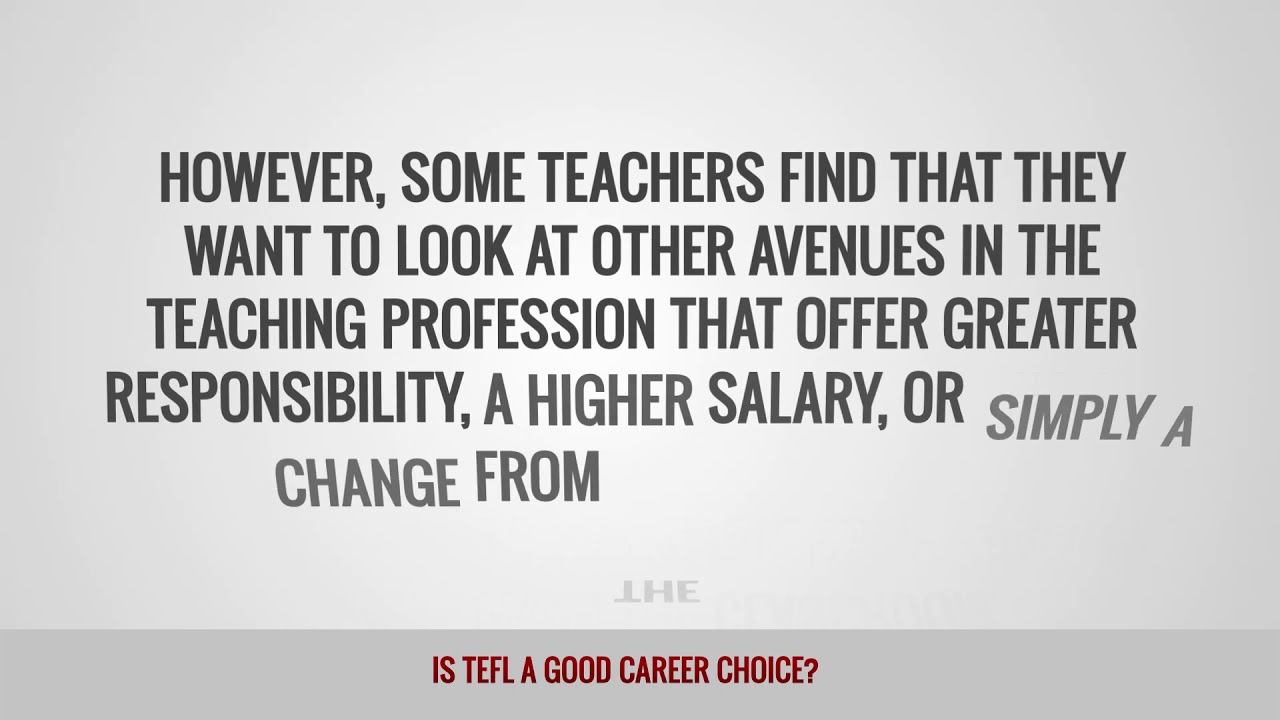 Anyone who has considered teaching English abroad has probably had a reaction from a friend or family member along the lines of "that sounds like fun, but what will you do when you get back?" In some quarters, teaching English as a foreign language has the reputation of not being a 'real job', just something that people do to pay off student loans or simply for fun and adventure before settling down into a normal job and lifestyle. There are many people who do choose to teach abroad for these reasons, but there are also plenty who have made a successful and lucrative career out of TEFL.
Are you ready to live and teach abroad? Click here and get started today: https://www.teflcourse.net/?cu=YTDESCRIPTION
Can I really make a long-term career out of TEFL?
YES, you absolutely can have a long-term career as an EFL teacher. For the majority of people who head overseas to teach English, it all starts with a small idea to see a bit of the world while earning some money. After a while, many people realize that teaching is something that they enjoy doing and are actually quite good at, so why not continue developing the skills and knowledge needed to make it something more long-term?
What qualifications do I need to make a career out of TEFL?
If you want to teach overseas in the long-term, a TEFL certification is a must. While jobs can be found in some countries without any qualifications, the better-paying jobs that offer the best benefits and working conditions will always be out of reach without any teaching credentials on your CV/resume. Once you have a TEFL certificate and have found your feet in the classroom, the next step up the career ladder will generally be made more realistic by adding a higher level qualification to your paperwork, such as a TESOL Diploma or even a teaching-related degree.
What other TEFL related jobs are available in the long term?
There are many thousands of people worldwide who originally set off to teach for a year, but found they loved the lifestyle so much that they have carried on teaching in the classroom year after year. However, some teachers find that they want to look at other avenues in the teaching profession that offer greater responsibility, a higher salary, or simply a change from the classroom. Jobs such as teacher training, writing teaching materials, educational consultancy, or various management positions in schools or language centers are all possibilities for a successful career.
What are the benefits of a long-term career in TEFL?
While it is not all about money for many teachers, it is true that you can earn a very good living by teaching English overseas. The hottest destination for teaching salaries in the Middle East where employers in countries such as the UAE, Qatar, and Saudi Arabia, pay very large salaries that are tax-free! Asia also has some great options for earning top dollar, including China, Japan, South Korea, and Taiwan. However, in order to qualify for positions in these countries, you will generally need a university degree and the best-paid positions will also require a year or two of classroom experience.
Many of the better-paid jobs in these regions also come with extra benefits that can really bump up your income and saving power. Housing is often the most expensive outlay for teachers abroad, but if you have gained the qualifications and experience necessary to land jobs in the hottest regions for teaching then you will often get free accommodation included in your contract. Other typical benefits offered by the top TEFL jobs include airfares in and out of the country, health insurance, signing on and end of contract bonuses, and transport subsidies.
Another well-known benefit of teaching is the amount of annual leave that you get as standard. While your friends back home might get up to four weeks of vacation a year, most teachers will have two or three times as much paid leave. Some teachers take the time to visit family and friends, while others head off to explore the wider region. With the amount of time you have and the money you should save during term time, there are no limits to where you can go or what you can experience.
What skills will I need to make a career out of TEFL?
Many of the skills you need can be learned during your initial TEFL course, my experience in the classroom, or by taking higher level teaching qualifications. One of the most important skills in written and spoken communication. As a large part of teaching involves talking in front of the class, it is important that you are a confident speaker who is able to be informative and approachable. You also need to be a good listener and know when to take a back seat and let the students do the talking.