TEFL / TESOL Course in Cebu, Philippines | Teach & Live abroad!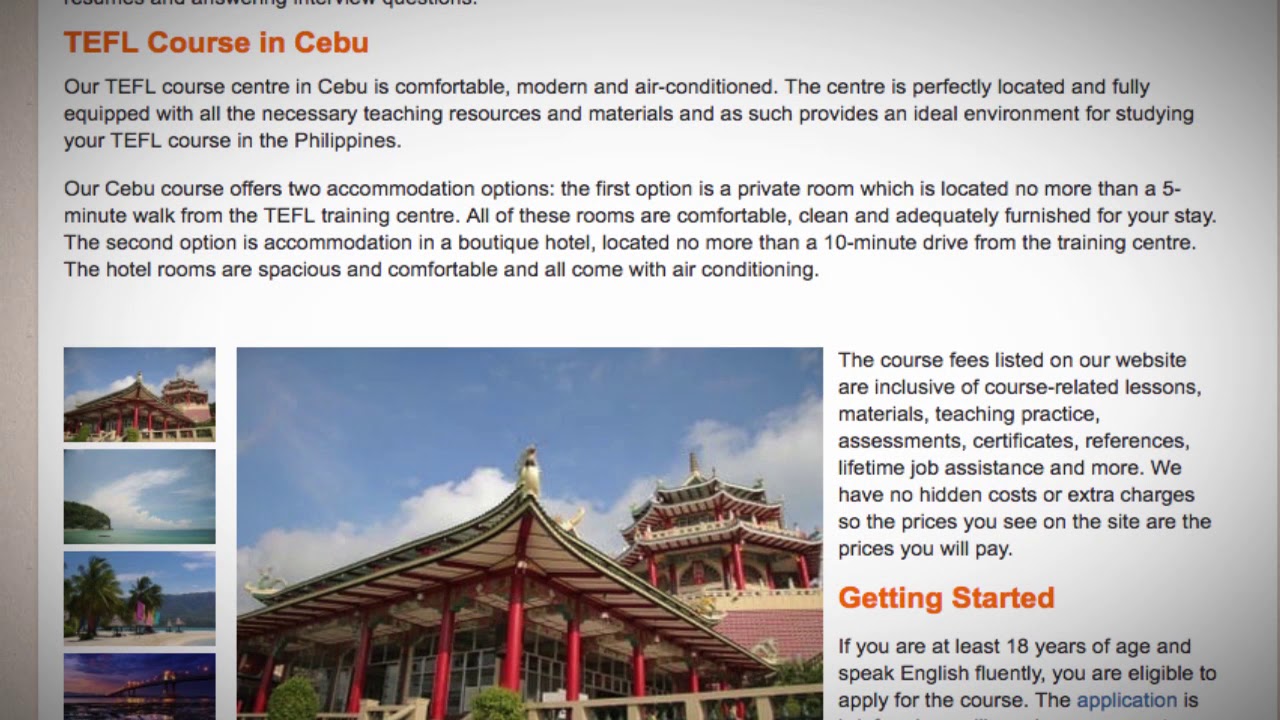 Cebu is one of the most developed provinces of the Philippines and is the main centre of commerce, trade, education and industry in the central and southern part of the archipelago. Cebu is currently a city of vast growth, but it has still managed to maintain its cultural roots making it an interesting and exciting location to take a TEFL course in the Philippines.
Cebu City, known as the 'Queen City of the South', has become a thriving, bustling centre that boasts an impressive array of restaurants, world-class golf courses and shopping malls. Only a few minutes away from the city you will also find numerous white sandy beaches, crystal blue waters and swaying palm trees, all of which provides a perfect destination for your TEFL course training.
Once you have successfully completed your TEFL course, we will help you find a suitable position through our lifetime job assistance program. We are able to help you find jobs you wouldn't normally find as well as offer consultation on writing resumes and answering interview questions.
TEFL Course in Cebu
Our TEFL course centre in Cebu is comfortable, modern and air-conditioned. The centre is perfectly located and fully equipped with all the necessary teaching resources and materials and as such provides an ideal environment for studying your TEFL course in the Philippines.
Our Cebu course offers two accommodation options: the first option is a private room which is located no more than a 5-minute walk from the TEFL training centre. All of these rooms are comfortable, clean and adequately furnished for your stay. The second option is accommodation in a boutique hotel, located no more than a 10-minute drive from the training centre. The hotel rooms are spacious and comfortable and all come with air conditioning.
The course fees listed on our website are inclusive of course-related lessons, materials, teaching practice, assessments, certificates, references, lifetime job assistance and more. We have no hidden costs or extra charges so the prices you see on the site are the prices you will pay.
Getting Started
If you are at least 18 years of age and speak English fluently, you are eligible to apply for the course. The application is brief and we will send you a prompt reply. Once approved, you will receive additional information about the course content and schedule, your accommodation options, travel arrangements, as well as payment options and more.
Apply to take our TEFL course in Cebu now and soon you could be experiencing life on a tropical island. However, training there doesn't mean you have to stay and teach in the Philippines. If you would like to move on after the course, we offer lifetime assistance finding jobs and our certificates are recognised worldwide.
Find out more about taking a TEFL course in the Philippines here: https://www.teflcourse.net/tefl-courses-locations/philippines/?cu=YTDESCRIPTION
Are you ready to live and teach abroad? Click here and get started today: https://www.teflcourse.net/?cu=YTDESCRIPTION