TEFL / TESOL Course in Indiana | Teach & Live abroad!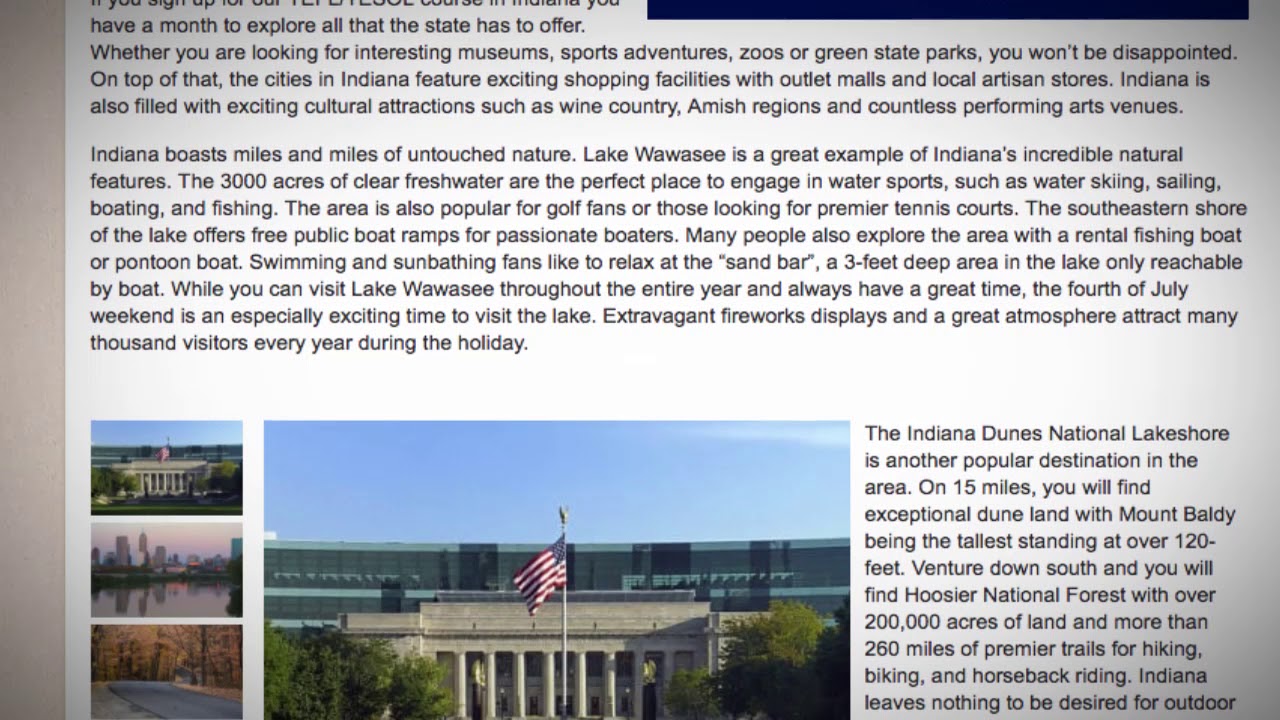 The state of Indiana is a beautiful destination in the Midwest and Great Lake are of the United States. The area has been populated since 8000 BC by various tribes of Native Americans. Moreover, Indiana is one of only eight states with a border to the Great Lakes. Besides its border to Lake Michigan in the northwest, Indiana is also bordered by the Ohio River in the south, which offers countless options for outdoor fun. Adding that Indiana also features numerous interesting historic sites and attractions, the state makes for a great place for your TEFL/TESOL course. Our training school is situated in downtown Indianapolis, the capital of the state.
If you sign up for our TEFL/TESOL course in Indiana you have a month to explore all that the state has to offer. Whether you are looking for interesting museums, sports adventures, zoos or green state parks, you won't be disappointed. On top of that, the cities in Indiana feature exciting shopping facilities with outlet malls and local artisan stores. Indiana is also filled with exciting cultural attractions such as wine country, Amish regions and countless performing arts venues.
Indiana boasts miles and miles of untouched nature. Lake Wawasee is a great example of Indiana's incredible natural features. The 3000 acres of clear freshwater are the perfect place to engage in water sports, such as water skiing, sailing, boating, and fishing. The area is also popular for golf fans or those looking for premier tennis courts. The southeastern shore of the lake offers free public boat ramps for passionate boaters. Many people also explore the area with a rental fishing boat or pontoon boat. Swimming and sunbathing fans like to relax at the "sand bar", a 3-feet deep area in the lake only reachable by boat. While you can visit Lake Wawasee throughout the entire year and always have a great time, the fourth of July weekend is an especially exciting time to visit the lake. Extravagant fireworks displays and a great atmosphere attract many thousand visitors every year during the holiday.
The Indiana Dunes National Lakeshore is another popular destination in the area. On 15 miles, you will find exceptional dune land with Mount Baldy being the tallest standing at over 120-feet. Venture down south and you will find Hoosier National Forest with over 200,000 acres of land and more than 260 miles of premier trails for hiking, biking, and horseback riding. Indiana leaves nothing to be desired for outdoor lovers and adventure-seeking travelers.
Sign up for our TEFL/TESOL course in Indiana now and you will have the opportunity to spend a month in Indianapolis, the capital of the state. Our local staff is experienced and guides you along the way providing useful feedback to make sure you become a competent and confident teacher. Upon graduating, we will help you to apply for suitable teaching positions in your dream destination around the world.
Find out more about taking a TEFL course in Indiana here: https://www.teflcourse.net/tefl-courses-combined/usa/indiana/?cu=YTDESCRIPTION
Are you ready to live and teach abroad? Click here and get started today: https://www.teflcourse.net/?cu=YTDESCRIPTION