TEFL / TESOL Course in Natal, Brazil | Teach & Live abroad!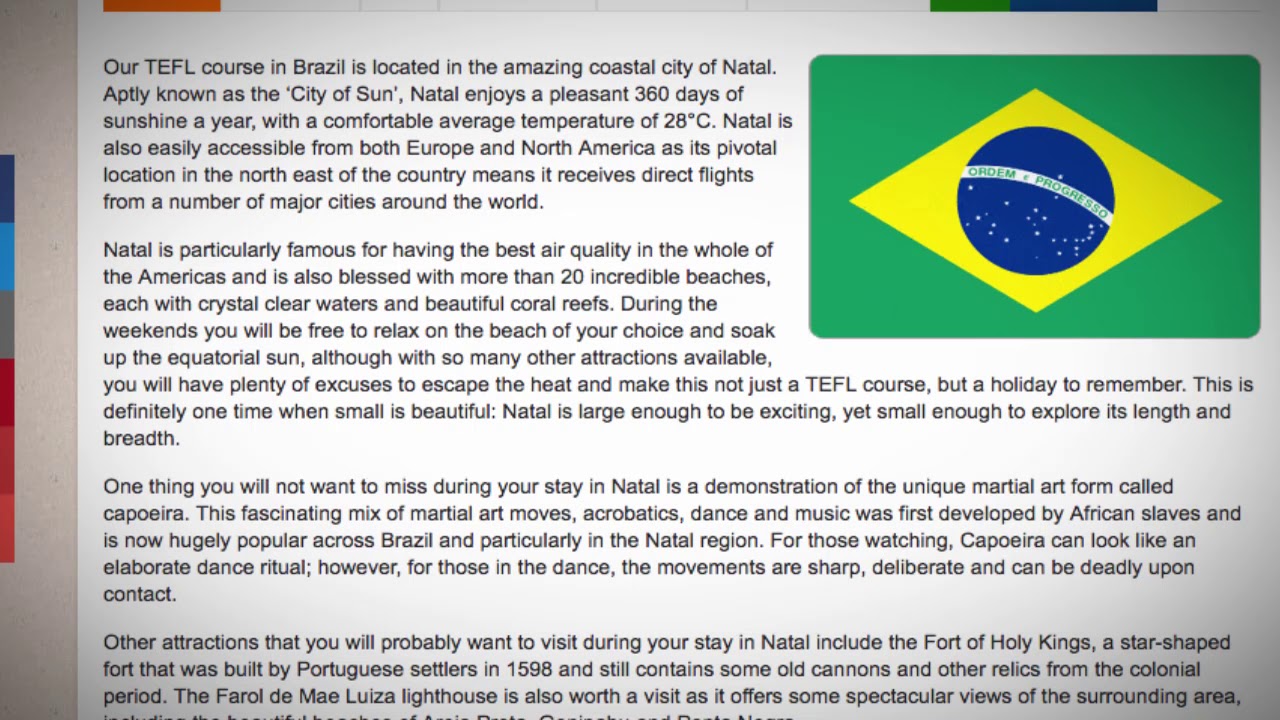 Our TEFL course in Brazil is located in the amazing coastal city of Natal. Aptly known as the 'City of Sun', Natal enjoys a pleasant 360 days of sunshine a year, with a comfortable average temperature of 28°C. Natal is also easily accessible from both Europe and North America as its pivotal location in the north east of the country means it receives direct flights from a number of major cities around the world.
Natal is particularly famous for having the best air quality in the whole of the Americas and is also blessed with more than 20 incredible beaches, each with crystal clear waters and beautiful coral reefs. During the weekends you will be free to relax on the beach of your choice and soak up the equatorial sun, although with so many other attractions available, you will have plenty of excuses to escape the heat and make this not just a TEFL course, but a holiday to remember. This is definitely one time when small is beautiful: Natal is large enough to be exciting, yet small enough to explore its length and breadth.
One thing you will not want to miss during your stay in Natal is a demonstration of the unique martial art form called capoeira. This fascinating mix of martial art moves, acrobatics, dance and music was first developed by African slaves and is now hugely popular across Brazil and particularly in the Natal region. For those watching, Capoeira can look like an elaborate dance ritual; however, for those in the dance, the movements are sharp, deliberate and can be deadly upon contact.
Other attractions that you will probably want to visit during your stay in Natal include the Fort of Holy Kings, a star-shaped fort that was built by Portuguese settlers in 1598 and still contains some old cannons and other relics from the colonial period. The Farol de Mae Luiza lighthouse is also worth a visit as it offers some spectacular views of the surrounding area, including the beautiful beaches of Areia Preta, Genipabu and Ponta Negra.
Another interesting place to visit is the Natal tourism centre which is housed in a fascinating former prison building. The centre has a handicraft fair and an art gallery that displays a collection of wooden, fabric and glass pieces which depict the region's history and culture. You can also get a taste of the regions musical heritage by attending the 'Forro con Turista' which puts on a spectacular performance every Thursday.
Getting Started
The first step in enrolling on our natal tefl course is to complete a free application. If you are at least 18 years of age and speak English fluently, you are eligible to apply for the course. The application is brief and we will send you a prompt reply. Once approved, you will receive additional information about the course content and schedule, your accommodation options, travel arrangements, as well as payment options and more.
If you choose to complete your training in Natal it doesn't mean that you have to stay in Brazil. If you would like to move on after the course we can help you find a job virtually anywhere in the world. Apply today and you will be on your way to starting a TEFL course in a city where the sun seems to shine every day.
Find out more about teaching English in Brazil in our country guide: https://www.teflcourse.net/tefl-courses-locations/brazil/natal/
Are you ready to live and teach abroad? Click here and get started today: https://www.teflcourse.net/?cu=YTDESCRIPTION