TEFL / TESOL Course in Salt Lake City, USA | Teach & Live abroad!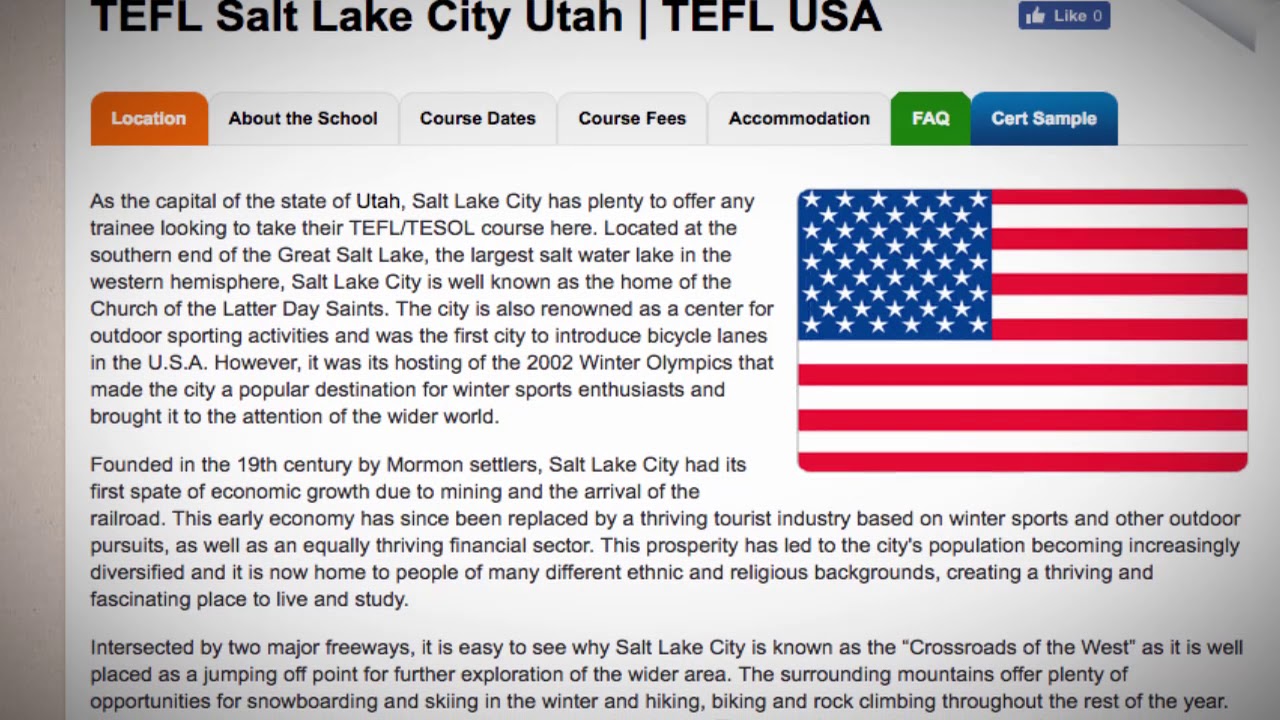 As the capital of the state of Utah, Salt Lake City has plenty to offer any trainee looking to take their TEFL/TESOL course here. Located at the southern end of the Great Salt Lake, the largest salt water lake in the western hemisphere, Salt Lake City is well known as the home of the Church of the Latter Day Saints. The city is also renowned as a center for outdoor sporting activities and was the first city to introduce bicycle lanes in the U.S.A. However, it was its hosting of the 2002 Winter Olympics that made the city a popular destination for winter sports enthusiasts and brought it to the attention of the wider world.
Founded in the 19th century by Mormon settlers, Salt Lake City had its first spate of economic growth due to mining and the arrival of the railroad. This early economy has since been replaced by a thriving tourist industry based on winter sports and other outdoor pursuits, as well as an equally thriving financial sector. This prosperity has led to the city's population becoming increasingly diversified and it is now home to people of many different ethnic and religious backgrounds, creating a thriving and fascinating place to live and study.
Intersected by two major freeways, it is easy to see why Salt Lake City is known as the "Crossroads of the West" as it is well placed as a jumping off point for further exploration of the wider area. The surrounding mountains offer plenty of opportunities for snowboarding and skiing in the winter and hiking, biking and rock climbing throughout the rest of the year. However, sports are not the only way to enjoy your stay in this city. There are thriving theater and music scenes as well as several art galleries and museums, not to mention all the major shopping centers that you would expect to find in a city of this size.
While ideal for those looking for adventure in the great outdoors, Salt Lake City also has plenty to offer those who prefer a more sedate form of entertainment. The city's combination of world class infrastructure and outstanding natural beauty, plus our high-quality facilities and professional teacher trainers, make Salt Lake City one of the best places to take your TEFL/TESOL course and start your journey as an English teacher.
Find out more about taking a TEFL course in Salt Lake City here: https://www.teflcourse.net/tefl-courses-combined/usa/salt-lake-city-utah/?cu=YTDESCRIPTION
Are you ready to live and teach abroad? Click here and get started today: https://www.teflcourse.net/?cu=YTDESCRIPTION