TEFL / TESOL Course in San Francisco, USA | Teach & Live abroad!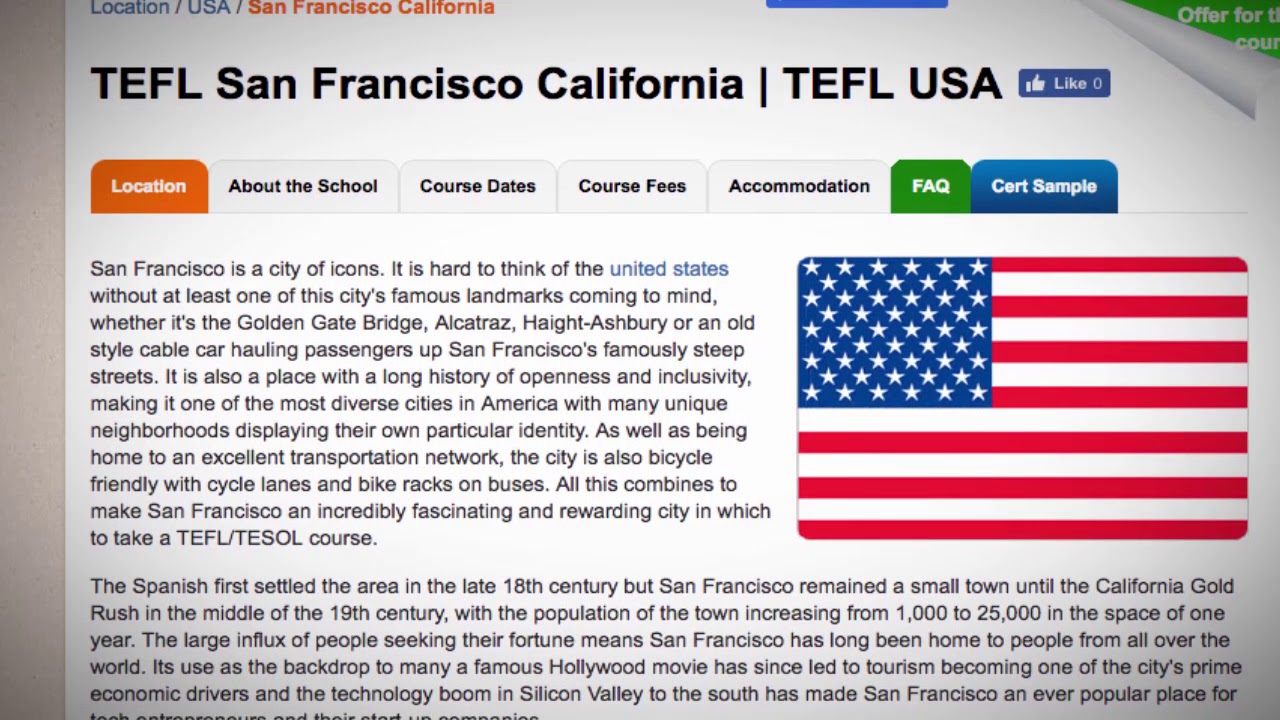 San Francisco is a city of icons. It is hard to think of the united states without at least one of this city's famous landmarks coming to mind, whether it's the Golden Gate Bridge, Alcatraz, Haight-Ashbury or an old style cable car hauling passengers up San Francisco's famously steep streets. It is also a place with a long history of openness and inclusivity, making it one of the most diverse cities in America with many unique neighborhoods displaying their own particular identity. As well as being home to an excellent transportation network, the city is also bicycle friendly with cycle lanes and bike racks on buses. All this combines to make San Francisco an incredibly fascinating and rewarding city in which to take a TEFL/TESOL course.
The Spanish first settled the area in the late 18th century but San Francisco remained a small town until the California Gold Rush in the middle of the 19th century, with the population of the town increasing from 1,000 to 25,000 in the space of one year. The large influx of people seeking their fortune means San Francisco has long been home to people from all over the world. Its use as the backdrop to many a famous Hollywood movie has since led to tourism becoming one of the city's prime economic drivers and the technology boom in Silicon Valley to the south has made San Francisco an ever popular place for tech entrepreneurs and their start-up companies.
As mentioned above, San Francisco is home to some of the most well known landmarks in the country and no tourist's photo album would be complete without a shot of the Golden Gate Bridge or the infamous Alcatraz Island. Then of course there is Haight-Ashbury, the epicenter of the '€˜Summer of Love' which echoes through the bohemian atmosphere of the area to this day. Of course this is not all San Francisco has to offer, as you would expect of such a diverse city there is a thriving arts and culture scene with many theaters, galleries and museums expressing the international flavor of the city. There are also a large number of parks throughout the city, with Golden Gate Park being the most famous, all of which are ideal for exercising, exploring or simply relaxing as the sun sets over the Pacific Ocean.
San Francisco's rich cultural history combined with its many world famous attractions, vibrant population and excellent infrastructure make for the perfect place to attend a TEFL/TESOL certificate course. With our prime city center location, well-equipped school and dedicated professional staff, it is no wonder that our course in San Francisco continues to be one of the most popular with trainees from all walks of life.
Find out more about taking a TEFL course in San Francisco here: https://www.teflcourse.net/tefl-courses-combined/usa/san-francisco-california/?cu=YTDESCRIPTION
Are you ready to live and teach abroad? Click here and get started today: https://www.teflcourse.net/?cu=YTDESCRIPTION