TEFL / TESOL Course in Santorini, Greece | Teach & Live abroad!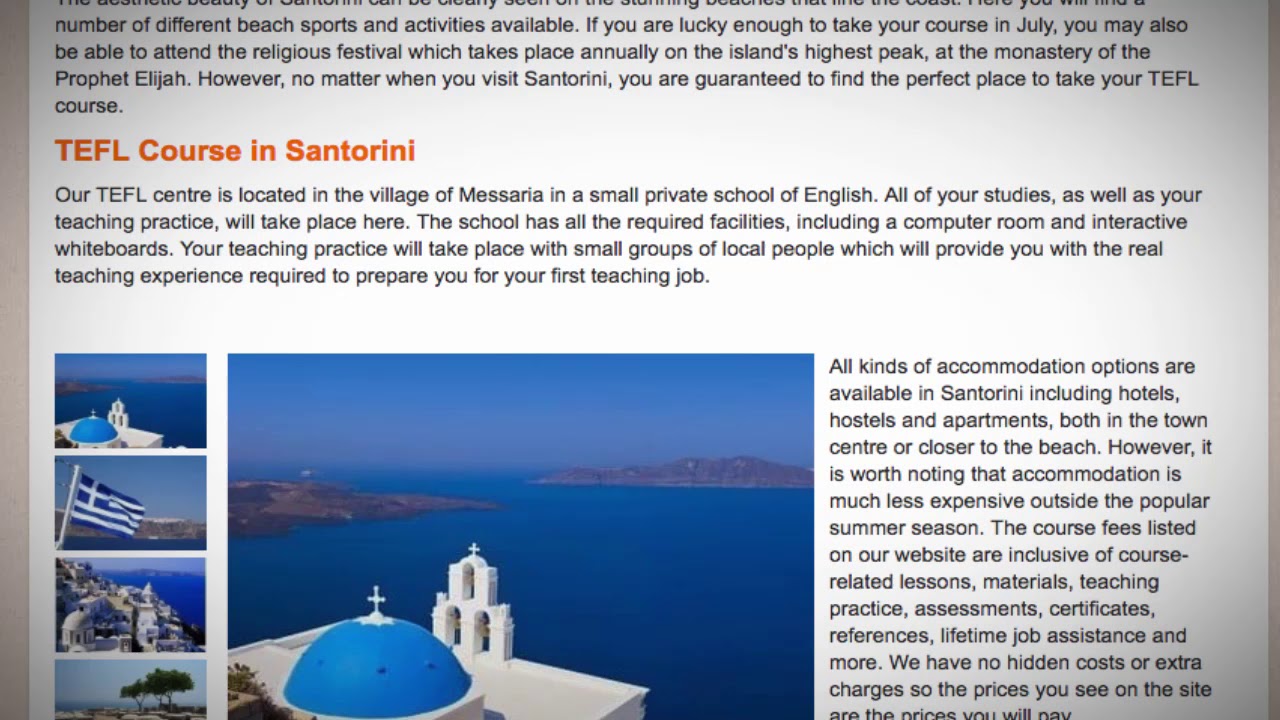 The island of Santorini is simply stunning and our training course here will prepare you for the wonderfully wide world of Teaching English as a Foreign Language (TEFL). Once you have your certificate, you will also benefit from our lifetime job assistance which will practically ensure that you are able to find a job within Greece or beyond.
Santorini, the most southern of the Cyclades islands, is famous for providing its visitors with the quintessential Greek experience. As well as the nearby smaller islands of Therasia, Aspronisi, Palaia Kameni and Nea Kameni, Santorini itself offers all the things that Greece is known for, with beautiful scenery, fabulous food, welcoming people and stunning beaches just some of its many attractions.
The island's stunning and unique scenery is largely due to a massive volcanic eruption that occurred around 3,000 BC that was also responsible for the demise of the Minoan civilization. The huge crater that was formed at the time has left 300-foot high cliffs upon which many of the islands villages are now built. Typically Greek, Santorini has various places of archaeological and historical interest. The aura and beauty of the great volcano is joined by the Venetian fortress at Pyrgos and the ruins of ancient Thira to make a truly fascinating destination.
The aesthetic beauty of Santorini can be clearly seen on the stunning beaches that line the coast. Here you will find a number of different beach sports and activities available. If you are lucky enough to take your course in July, you may also be able to attend the religious festival which takes place annually on the island's highest peak, at the monastery of the Prophet Elijah. However, no matter when you visit Santorini, you are guaranteed to find the perfect place to take your TEFL course.
Our TEFL centre is located in the village of Messaria in a small private school of English. All of your studies, as well as your teaching practice, will take place here. The school has all the required facilities, including a computer room and interactive whiteboards. Your teaching practice will take place with small groups of local people which will provide you with the real teaching experience required to prepare you for your first teaching job.
All kinds of accommodation options are available in Santorini including hotels, hostels and apartments, both in the town centre or closer to the beach. However, it is worth noting that accommodation is much less expensive outside the popular summer season. The course fees listed on our website are inclusive of course-related lessons, materials, teaching practice, assessments, certificates, references, lifetime job assistance and more. We have no hidden costs or extra charges so the prices you see on the site are the prices you will pay.
Getting Started
If you are at least 18 years of age and speak English fluently, you are eligible to apply for the course. The application is brief and we will send you a prompt reply. Once approved, you will receive additional information about the course content and schedule, your accommodation options, travel arrangements, as well as payment options and more.
Apply to take our TEFL course in Santorini now and soon you could be experiencing life on one of the world's most stunningly beautiful islands. However, training in Greece doesn't mean you have to stay and teach here. If you would like to move on after the course we offer lifetime assistance finding jobs and our certificates are recognised worldwide.
Find out more about taking a TEFL course in Greece here: https://www.teflcourse.net/tefl-courses-locations/greece/?cu=YTDESCRIPTION
Are you ready to live and teach abroad? Click here and get started today: https://www.teflcourse.net/?cu=YTDESCRIPTION