TEFL / TESOL Course in Seville, Spain | Teach & Live abroad!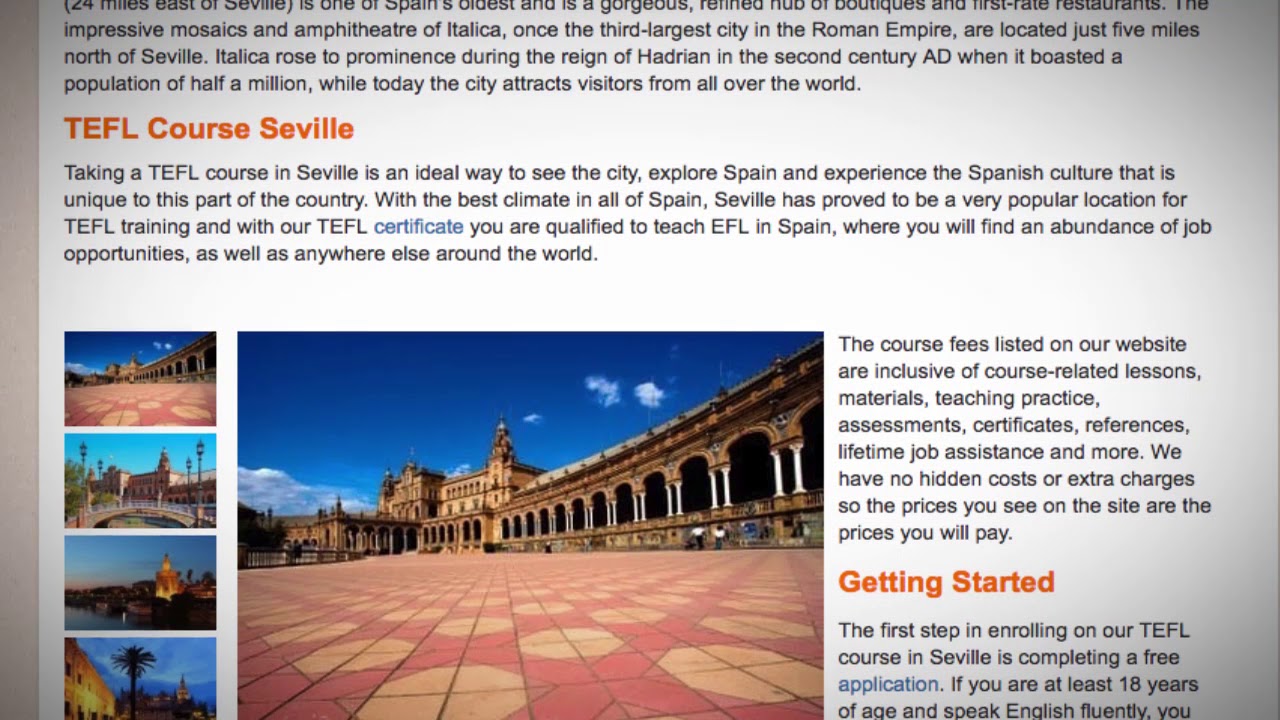 The beautiful city of Seville is a great choice of location for your TEFL course in Spain. It is the capital and largest city in the region of Andalusia in the south of the country and is also one of the largest historical centres in Europe. Throughout the city you will find fascinating narrow streets full of magnificent monuments and historic buildings which stand as a legacy to the city's ancient heritage.
Seville is quite possibly one of Europe's most beautiful and exuberant cities and is well known for its easy going, laid back atmosphere. Sevillians also love their food, especially tapas which the city is credited with inventing, and has more than a thousand bars where the choice of dishes is staggering, from seafood to sausage, from vegetables to cheese and virtually any other ingredient you can imagine. Tapas make a pleasant change to a traditional meal and Sevillians like to move from bar to bar, sampling one or two dishes at a time.
The surrounding areas of Seville are within easy reach and well worth a visit. The beautifully preserved town of Carmona (24 miles east of Seville) is one of Spain's oldest and is a gorgeous, refined hub of boutiques and first-rate restaurants. The impressive mosaics and amphitheatre of Italica, once the third-largest city in the Roman Empire, are located just five miles north of Seville. Italica rose to prominence during the reign of Hadrian in the second century AD when it boasted a population of half a million, while today the city attracts visitors from all over the world.
TEFL Course Seville
Taking a TEFL course in Seville is an ideal way to see the city, explore Spain and experience the Spanish culture that is unique to this part of the country. With the best climate in all of Spain, Seville has proved to be a very popular location for TEFL training and with our TEFL certificate you are qualified to teach EFL in Spain, where you will find an abundance of job opportunities, as well as anywhere else around the world.
The course fees listed on our website are inclusive of course-related lessons, materials, teaching practice, assessments, certificates, references, lifetime job assistance and more. We have no hidden costs or extra charges so the prices you see on the site are the prices you will pay.
Getting Started
The first step in enrolling on our TEFL course in Seville is completing a free application. If you are at least 18 years of age and speak English fluently, you are eligible to apply for the course. The application is brief and we will send you a prompt reply. Once approved, you will receive additional information about the course content and schedule, your accommodation options, travel arrangements, as well as payment options and more.
Apply to take our TEFL course in Seville now and you will have taken the first step towards an exciting new career as an EFL teacher. However, training in Spain doesn't mean you have to stay and teach in the country. If you would like to move on after the course we offer lifetime assistance finding jobs and our certificates are recognised worldwide.
Find out more about taking a TEFL course in Spain here: https://www.teflcourse.net/tefl-courses-locations/spain/?cu=YTDESCRIPTION
Are you ready to live and teach abroad? Click here and get started today: https://www.teflcourse.net/?cu=YTDESCRIPTION