TEFL / TESOL School Accommodation in Florence, Italy | Teach & Live abroad!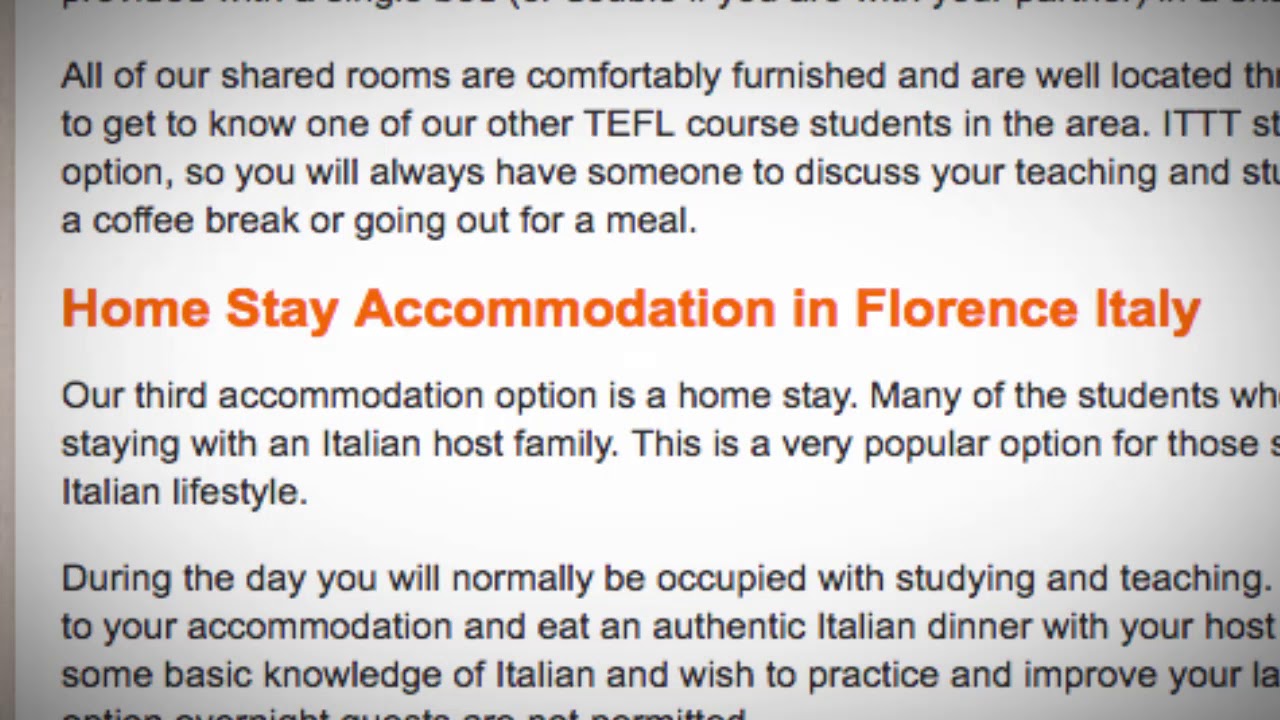 We are pleased to offer a variety of accommodation options for your stay while you attend our TEFL course in Florence. However, it is important to note that Florence is a very popular tourist destination and as such, many of the accommodation options have limited availability, particularly during the summer months. Therefore, if you have any special accommodation requirements, we would recommend that you book as early as possible.
Private Accommodation in Florence, Italy
Our first option is a private room in an apartment in Florence. These rooms are located in various areas of the city for you to choose from, and you may or may not (according to your wishes and availability) be placed with other TEFL course students.
Several of our apartments are also rented by Italian students of the Universita degli Studi di Firenze who are happy to share their apartment (though you will, of course, have your own private room) with a visiting TEFL course student. As you will have your own room, you are guaranteed privacy but at the same time you will have the opportunity to get to know a genuine Florentine student and to practice your Italian skills with a native Italian speaker.
Shared Accommodation in Florence, Italy
Our second option is a shared room in Florence (limited availability so book early to avoid disappointment). This tends to be a very popular choice, particularly if you are attending the TEFL course in Florence with a friend or partner. You will be provided with a single bed (or double if you are with your partner) in a shared room situated in the city.
All of our shared rooms are comfortably furnished and are well located throughout the city. This can also be a very good way to get to know one of our other TEFL course students in the area. ITTT students will usually be rooming together with this option, so you will always have someone to discuss your teaching and studying ideas with, or just for company while taking a coffee break or going out for a meal.
Home Stay Accommodation in Florence Italy
Our third accommodation option is a home stay. Many of the students who attend our TEFL courses wish to experience staying with an Italian host family. This is a very popular option for those students who really want to fully experience the Italian lifestyle.
During the day you will normally be occupied with studying and teaching. However, you will also have the opportunity to go to your accommodation and eat an authentic Italian dinner with your host family. This is particularly suitable if you have some basic knowledge of Italian and wish to practice and improve your language skills. Please note that with the home stay option overnight guests are not permitted.
Pensione Accommodation in Florence, Italy
If you wish to have a more comfortable and independent stay and don't wish to be bothered with daily chores such as making your bed or walking to a café or restaurant for breakfast or dinner, then you may choose to stay at the Pensione Ferretti, which is nicely situated right in the centre of historical Florence. Roberto and Sandra, a Florentine married couple, are more than happy to invite you to stay at their pensione. Pensione Ferretti conveniently offers free internet access and there are telephones in every room. Please note that overnight guests aren't permitted without prior approval.
Please note that all accommodation options for our TEFL courses in Florence are located within a short walk or bus journey from the TEFL course training centre.
Find out more about taking a TEFL course in Florence here: https://www.teflcourse.net/tefl-courses-locations/italy/florence/?cu=YTDESCRIPTION
Are you ready to live and teach abroad? Click here and get started today: https://www.teflcourse.net/?cu=YTDESCRIPTION