TEFL / TESOL School Accommodation in Limerick, Ireland | Teach & Live abroad!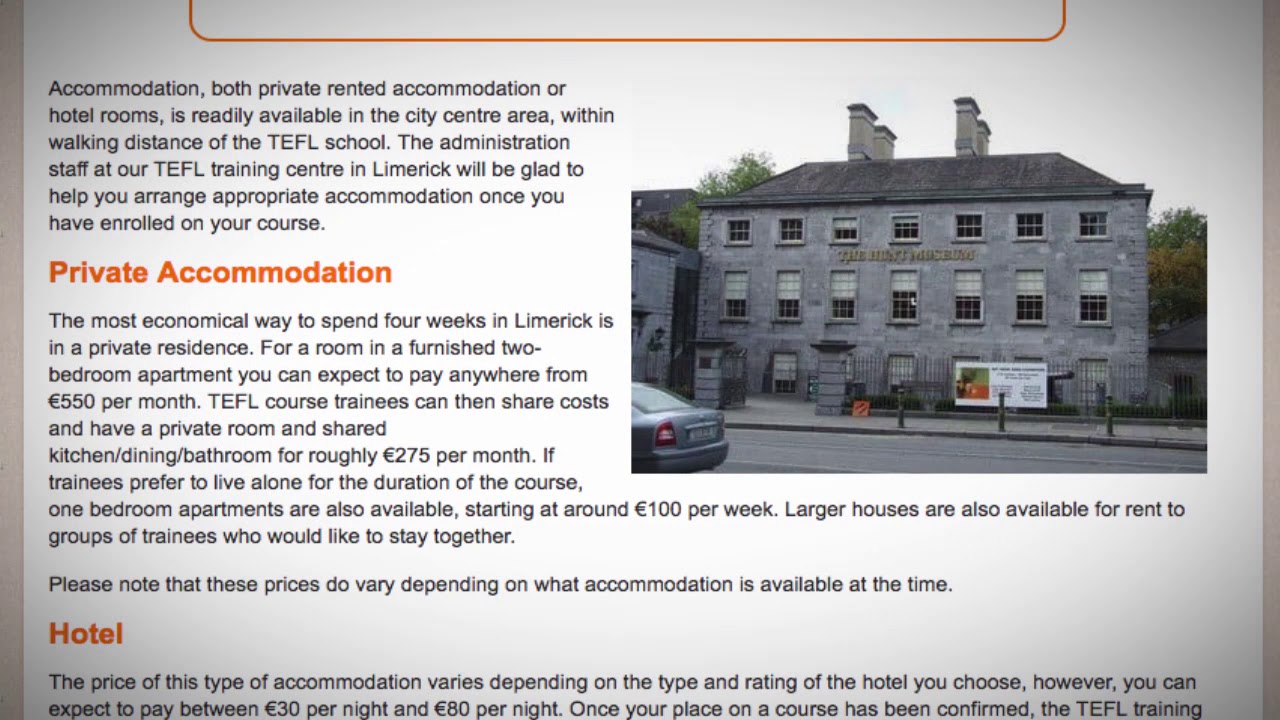 Accommodation, both private rented accommodation or hotel rooms, is readily available in the city centre area, within walking distance of the TEFL school. The administration staff at our TEFL training centre in Limerick will be glad to help you arrange appropriate accommodation once you have enrolled on your course.
Private Accommodation
The most economical way to spend four weeks in Limerick is in a private residence. For a room in a furnished two-bedroom apartment you can expect to pay anywhere from €550 per month. TEFL course trainees can then share costs and have a private room and shared kitchen/dining/bathroom for roughly €275 per month. If trainees prefer to live alone for the duration of the course, one bedroom apartments are also available, starting at around €100 per week. Larger houses are also available for rent to groups of trainees who would like to stay together.
Please note that these prices do vary depending on what accommodation is available at the time.
Hotel
The price of this type of accommodation varies depending on the type and rating of the hotel you choose, however, you can expect to pay between €30 per night and €80 per night. Once your place on a course has been confirmed, the TEFL training centre in Limerick will provide you with a list of suitable hotels and their locations and contact details.
The transportation system in Limerick is efficient and easy to use so you should have no problem travelling between your accommodation, the city centre and the TEFL training centre, regardless of where you choose to stay.
Find out more about taking a TEFL course in Limerick here: https://www.teflcourse.net/tefl-courses-locations/ireland/limerick/?cu=YTDESCRIPTION
Are you ready to live and teach abroad? Click here and get started today: https://www.teflcourse.net/?cu=YTDESCRIPTION