TEFL / TESOL School Accommodation in Paris, France | Teach & Live abroad!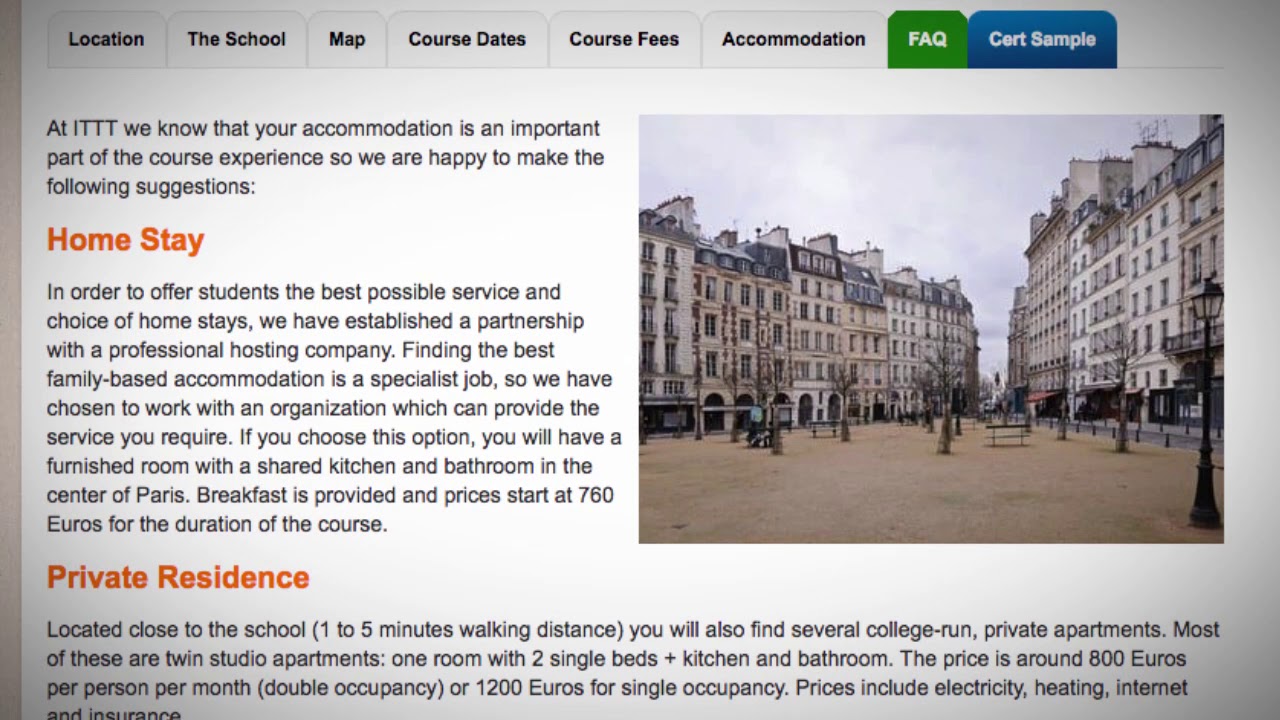 At ITTT we know that your accommodation is an important part of the course experience so we are happy to make the following suggestions:
Home Stay
In order to offer students the best possible service and choice of home stays, we have established a partnership with a professional hosting company. Finding the best family-based accommodation is a specialist job, so we have chosen to work with an organization which can provide the service you require. If you choose this option, you will have a furnished room with a shared kitchen and bathroom in the center of Paris. Breakfast is provided and prices start at 760 Euros for the duration of the course.
Private Residence
Located close to the school (1 to 5 minutes walking distance) you will also find several college-run, private apartments. Most of these are twin studio apartments: one room with 2 single beds + kitchen and bathroom. The price is around 800 Euros per person per month (double occupancy) or 1200 Euros for single occupancy. Prices include electricity, heating, internet and insurance.
Student Housing
Located close to the subway and in close proximity to shops and other amenities, student houses come equipped with hot water, a fridge, a hot plate, a bed and a table and chairs. Linen is also provided, while bathroom facilities are generally shared with other students. This option starts at 300 Euros per month.
Private Room
Another option is to rent a private room in a Parisian apartment with shared kitchen and bathroom facilities. This is a good choice for those planning to stay in the city long term, prices start at around 850 Euros per month.
Hostel Accommodation
There are many hostels available all over the city offering accommodation starting from around 22 Euros per night in a multiple bed dormitory. All hostel accommodation offers self-catering facilities, usually sharing a kitchen and bathroom with other students. Most options will provide a TV lounge, internet access and some will provide telephones in the rooms. En-suite accommodation is also available in a number of the residences at an extra cost. You are obviously free to make your own accommodation arrangements for your TEFL course in Paris; however, if you would prefer the assistance of a local expert, our housing coordinators are standing by to help you find your perfect place to stay. The housing coordinator charges 135 Euros and guarantees you the choice of at least three valid options.
If you have any questions concerning accommodation, please feel free to contact us.
Find out more about taking a TEFL course in Paris here: https://www.teflcourse.net/tefl-courses-locations/france/paris/?cu=YTDESCRIPTION
Are you ready to live and teach abroad? Click here and get started today: https://www.teflcourse.net/?cu=YTDESCRIPTION