TEFL / TESOL School Accommodation in Seoul, South Korea | Teach & Live abroad!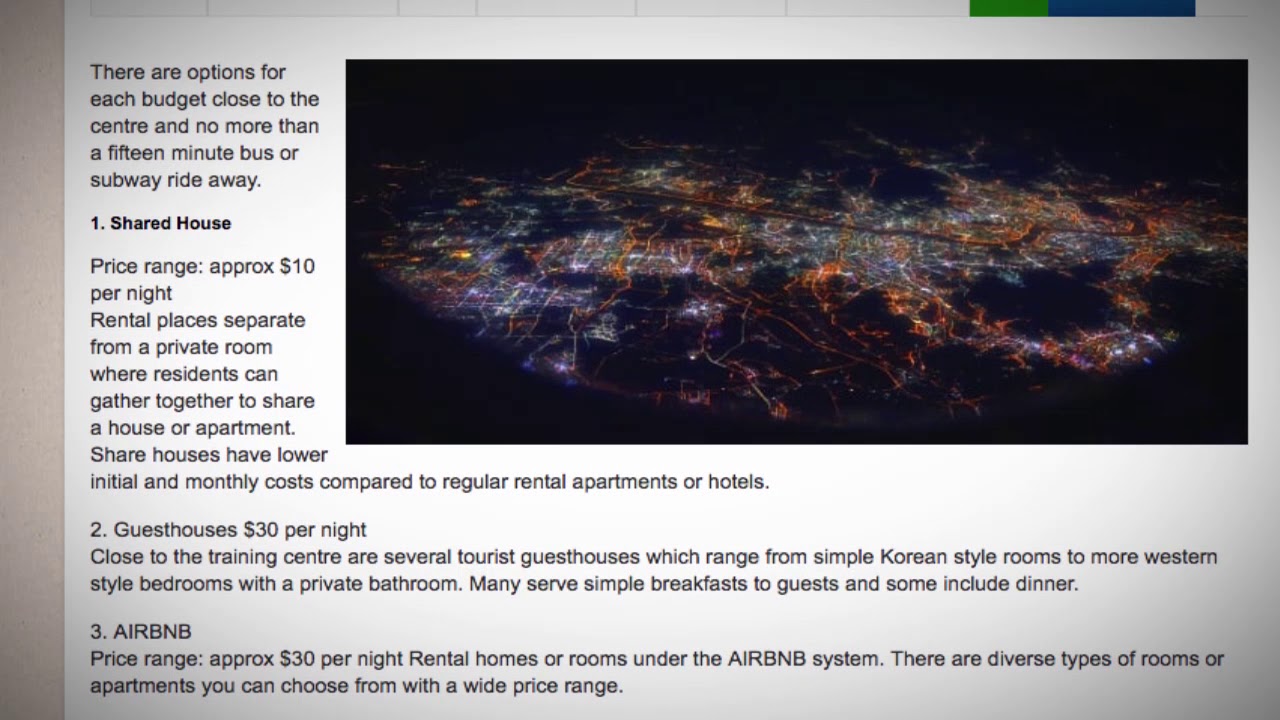 TESOL Accommodation Seoul
There are options for each budget close to the centre and no more than a fifteen minute bus or subway ride away.
1. Shared House
Price range: approx $10 per night
Rental places separate from a private room where residents can gather together to share a house or apartment. Share houses have lower initial and monthly costs compared to regular rental apartments or hotels.
2. Guesthouses $30 per night
Close to the training centre are several tourist guesthouses which range from simple Korean style rooms to more western style bedrooms with a private bathroom. Many serve simple breakfasts to guests and some include dinner.
3. AIRBNB
Price range: approx $30 per night Rental homes or rooms under the AIRBNB system. There are diverse types of rooms or apartments you can choose from with a wide price range.
4. Business Hotels/Designer Hotels
Price range: approx $60 per night There are many reasonably priced business hotels (ex. IBIS Ambassador) and designer hotels(ex. Hotel The Designers Seoul, Shilla Stay)in the Jongno, Insadong, and Myungdong neighborhood if you are looking for a cleaner and a more comfortable place to stay.
5. High End Hotels
Price range: approx $90 per night
Hotels such the Hilton, Hyatt and the Sheraton are also available if you are looking for accommodations at a higher price range.
You are not obliged to use the accommodation suggested by the school and you are welcome to make your own accommodation arrangements. All accommodation recommendations are inspected by the academy to ensure quality.
Find out more about taking a TEFL course in Seoul here: https://www.teflcourse.net/tefl-courses-combined/korea/seoul/?cu=YTDESCRIPTION
Are you ready to live and teach abroad? Click here and get started today: https://www.teflcourse.net/?cu=YTDESCRIPTION