TESOL Course in Bangkok, Thailand | Teach & Live abroad!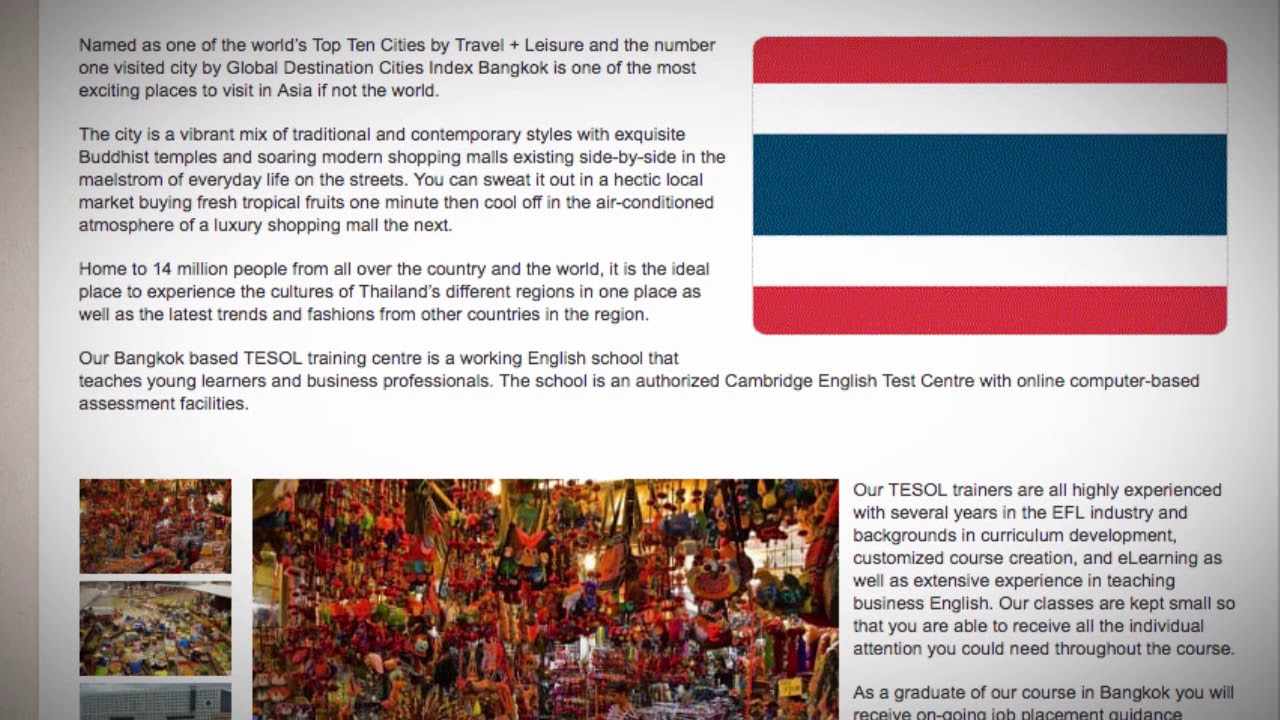 Named as one of the world's Top Ten Cities by Travel + Leisure and the number one visited city by Global Destination Cities Index Bangkok is one of the most exciting places to visit in Asia if not the world.
The city is a vibrant mix of traditional and contemporary styles with exquisite Buddhist temples and soaring modern shopping malls existing side-by-side in the maelstrom of everyday life on the streets. You can sweat it out in a hectic local market buying fresh tropical fruits one minute then cool off in the air-conditioned atmosphere of a luxury shopping mall the next.
Home to 14 million people from all over the country and the world, it is the ideal place to experience the cultures of Thailand's different regions in one place as well as the latest trends and fashions from other countries in the region.
Our Bangkok based TESOL training centre is a working English school that teaches young learners and business professionals. The school is an authorized Cambridge English Test Centre with online computer-based assessment facilities.
Our TESOL trainers are all highly experienced with several years in the EFL industry and backgrounds in curriculum development, customized course creation, and eLearning as well as extensive experience in teaching business English. Our classes are kept small so that you are able to receive all the individual attention you could need throughout the course.
As a graduate of our course in Bangkok you will receive on-going job placement guidance throughout your career whether you decide to stay in Bangkok and Thailand or move on to another country.
If you decide to stay on and teach in thailand after you graduate, you couldn't be better placed than the capital Bangkok. As the largest city in the country it is naturally the largest market for teaching jobs and the centre of the TESOL industry in Thailand. More than two thousand private language centres hire teachers throughout the year and there are many more state and private schools that hire teachers on a seasonal basis. There are also plenty of opportunities for arranging private tutoring classes.
Find out more about taking a TEFL course in Bangkok here: https://www.tesolcourse.com/tesol/thailand-bangkok/?cu=YTDESCRIPTION
Are you ready to live and teach abroad? Click here and get started today: https://www.teflcourse.net/?cu=YTDESCRIPTION
Check our wide range of online TEFL & TESOL courses: https://www.teflonline.net/?cu=YTDESCRIPTION