TESOL Course in Cambodia | Teach & Live abroad!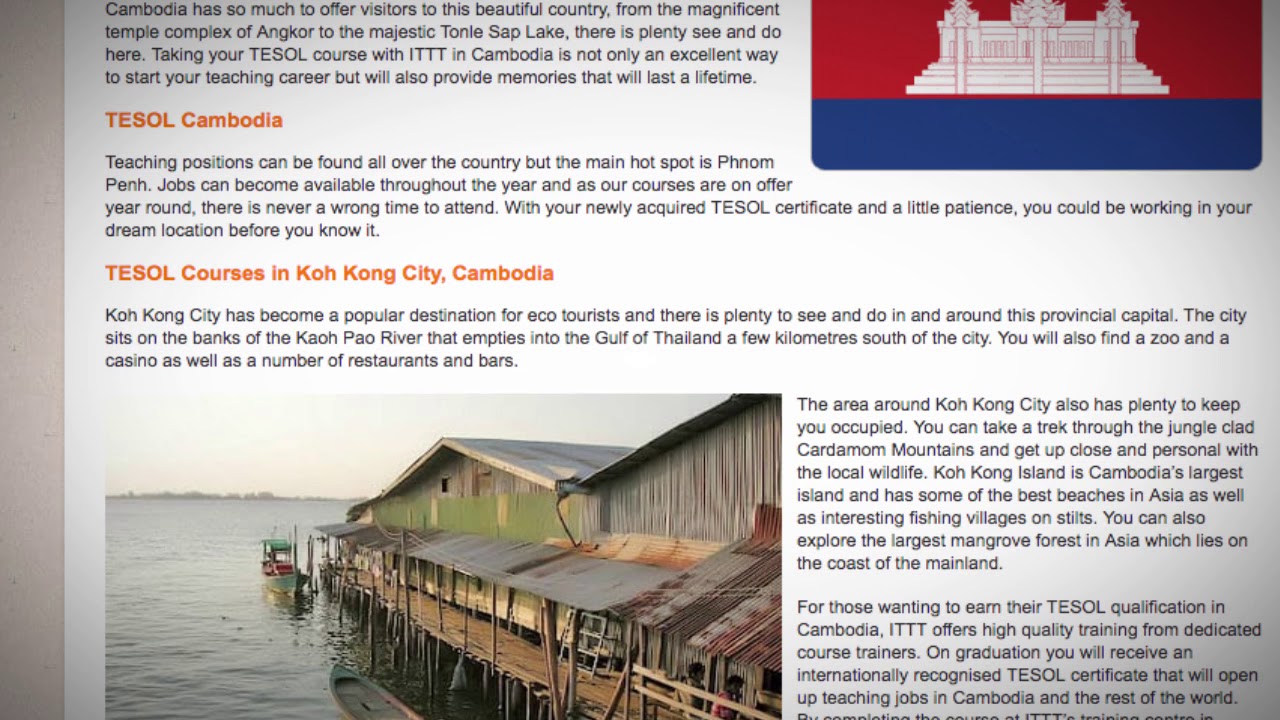 Our TESOL course in Cambodia offers you the chance to earn your English teaching qualification in a country that abounds with natural beauty and fascinating history. On successful completion of the course you will be well placed to start your teaching career in Cambodia.
Cambodia has so much to offer visitors to this beautiful country, from the magnificent temple complex of Angkor to the majestic Tonle Sap Lake, there is plenty see and do here. Taking your TESOL course with ITTT in Cambodia is not only an excellent way to start your teaching career but will also provide memories that will last a lifetime.
TESOL Cambodia
Teaching positions can be found all over the country but the main hot spot is Phnom Penh. Jobs can become available throughout the year and as our courses are on offer year round, there is never a wrong time to attend. With your newly acquired TESOL certificate and a little patience, you could be working in your dream location before you know it.
TESOL Courses in Koh Kong City, Cambodia
Koh Kong City has become a popular destination for eco tourists and there is plenty to see and do in and around this provincial capital. The city sits on the banks of the Kaoh Pao River that empties into the Gulf of Thailand a few kilometres south of the city. You will also find a zoo and a casino as well as a number of restaurants and bars.
The area around Koh Kong City also has plenty to keep you occupied. You can take a trek through the jungle clad Cardamom Mountains and get up close and personal with the local wildlife. Koh Kong Island is Cambodia's largest island and has some of the best beaches in Asia as well as interesting fishing villages on stilts. You can also explore the largest mangrove forest in Asia which lies on the coast of the mainland.
For those wanting to earn their TESOL qualification in Cambodia, ITTT offers high quality training from dedicated course trainers. On graduation you will receive an internationally recognised TESOL certificate that will open up teaching jobs in Cambodia and the rest of the world. By completing the course at ITTT's training centre in Cambodia you will be ideally placed for jobs here and in Asia as a whole.
Find out more about taking a TEFL course in Cambodia here: https://www.tesolcourse.com/tesol/cambodia/?cu=YTDESCRIPTION
Are you ready to live and teach abroad? Click here and get started today: https://www.teflcourse.net/?cu=YTDESCRIPTION
Check our wide range of online TEFL & TESOL courses: https://www.teflonline.net/?cu=YTDESCRIPTION