TESOL Course in Hong Kong | Teach & Live abroad!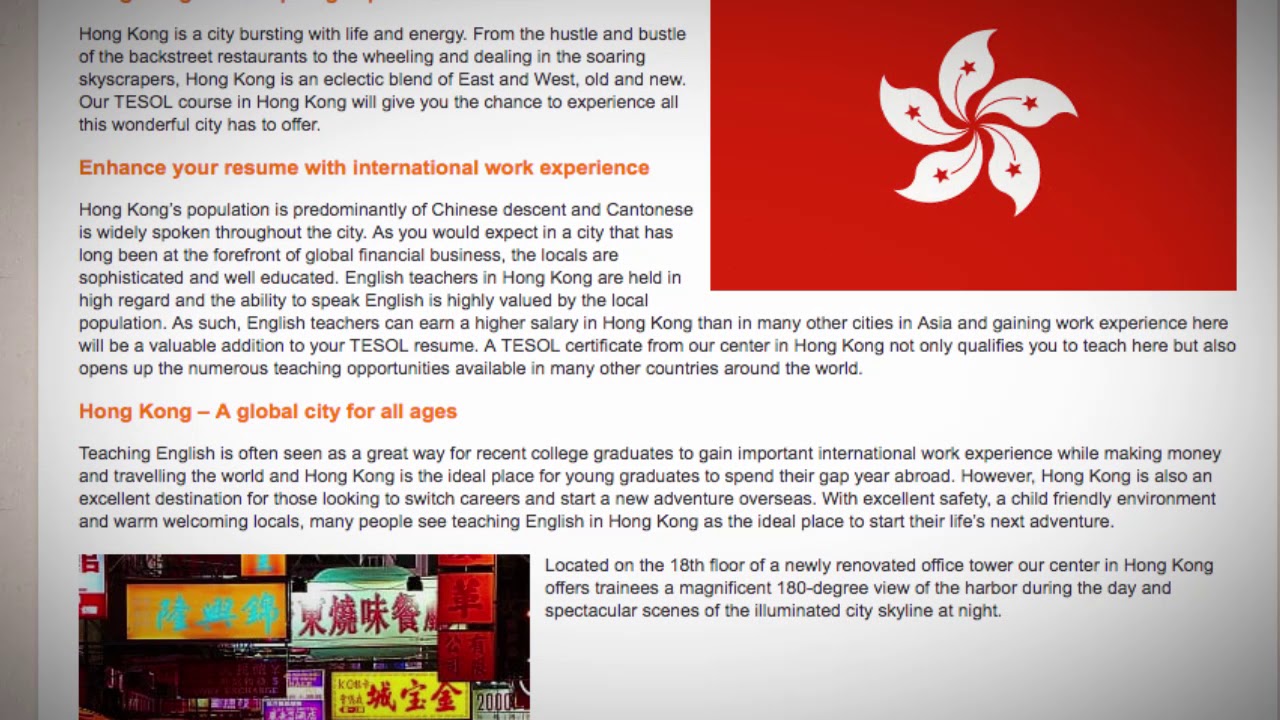 Hong Kong – An inspiring experience
Hong Kong is a city bursting with life and energy. From the hustle and bustle of the backstreet restaurants to the wheeling and dealing in the soaring skyscrapers, Hong Kong is an eclectic blend of East and West, old and new. Our TESOL course in Hong Kong will give you the chance to experience all this wonderful city has to offer.
Enhance your resume with international work experience
Hong Kong's population is predominantly of Chinese descent and Cantonese is widely spoken throughout the city. As you would expect in a city that has long been at the forefront of global financial business, the locals are sophisticated and well educated. English teachers in Hong Kong are held in high regard and the ability to speak English is highly valued by the local population. As such, English teachers can earn a higher salary in Hong Kong than in many other cities in Asia and gaining work experience here will be a valuable addition to your TESOL resume. A TESOL certificate from our center in Hong Kong not only qualifies you to teach here but also opens up the numerous teaching opportunities available in many other countries around the world.
Hong Kong – A global city for all ages
Teaching English is often seen as a great way for recent college graduates to gain important international work experience while making money and travelling the world and Hong Kong is the ideal place for young graduates to spend their gap year abroad. However, Hong Kong is also an excellent destination for those looking to switch careers and start a new adventure overseas. With excellent safety, a child friendly environment and warm welcoming locals, many people see teaching English in Hong Kong as the ideal place to start their life's next adventure.
Located on the 18th floor of a newly renovated office tower our center in Hong Kong offers trainees a magnificent 180-degree view of the harbor during the day and spectacular scenes of the illuminated city skyline at night.
Find out more about taking a TEFL course in Hong Kong here: https://www.tesolcourse.com/tesol/hong-kong/?cu=YTDESCRIPTION
Are you ready to live and teach abroad? Click here and get started today: https://www.teflcourse.net/?cu=YTDESCRIPTION
Check our wide range of online TEFL & TESOL courses: https://www.teflonline.net/?cu=YTDESCRIPTION