TESOL Course in Indonesia | Teach & Live abroad!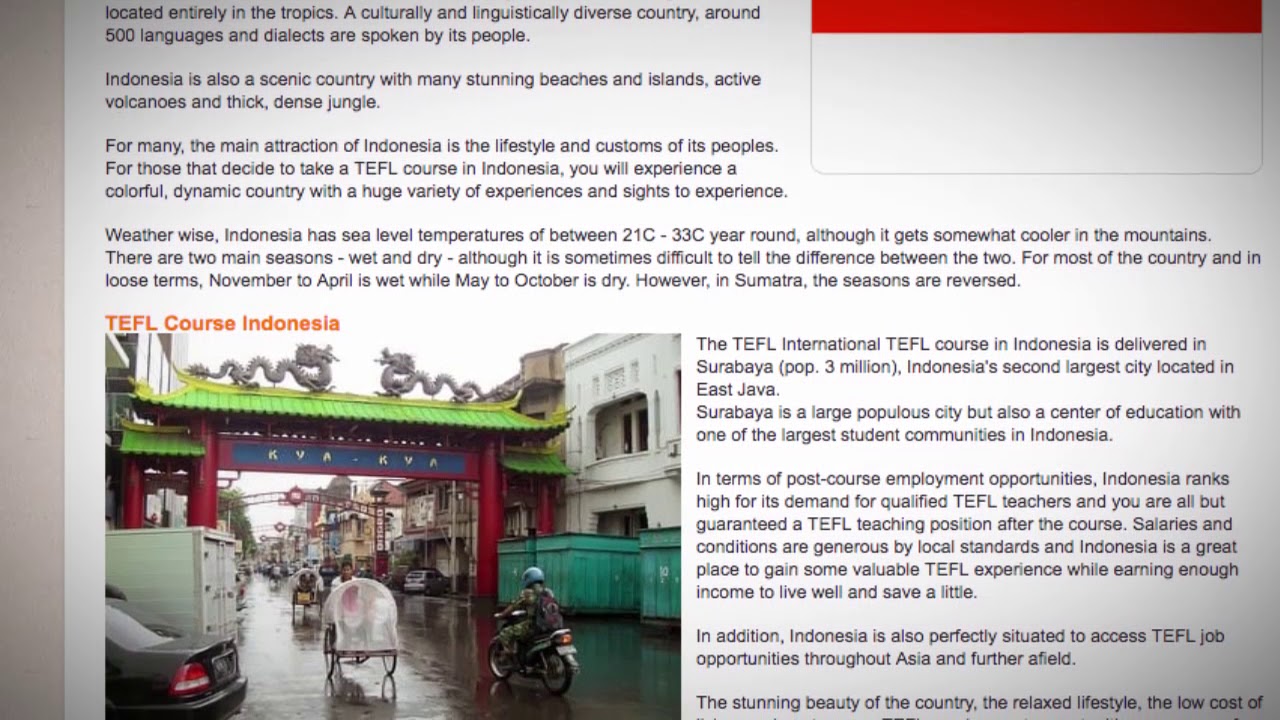 The Republic of Indonesia consists of 17,508 islands, has a population of approximately 230 million people, and is the world's 5th most populated country.
This vast country touches the Pacific and Indian Oceans while bridging the continents of Australasia and Asia. The Indonesian Archipelago is 5,200km in length, and is located entirely in the tropics. A culturally and linguistically diverse country, around 500 languages and dialects are spoken by its people.
Indonesia is also a scenic country with many stunning beaches and islands, active volcanoes and thick, dense jungle.
For many, the main attraction of Indonesia is the lifestyle and customs of its peoples. For those that decide to take a TEFL course in Indonesia, you will experience a colorful, dynamic country with a huge variety of experiences and sights to experience.
Weather wise, Indonesia has sea level temperatures of between 21C – 33C year round, although it gets somewhat cooler in the mountains. There are two main seasons – wet and dry – although it is sometimes difficult to tell the difference between the two. For most of the country and in loose terms, November to April is wet while May to October is dry. However, in Sumatra, the seasons are reversed.
The TEFL International TEFL course in Indonesia is delivered in Surabaya (pop. 3 million), Indonesia's second largest city located in East Java.
Surabaya is a large populous city but also a center of education with one of the largest student communities in Indonesia.
In terms of post-course employment opportunities, Indonesia ranks high for its demand for qualified TEFL teachers and you are all but guaranteed a TEFL teaching position after the course. Salaries and conditions are generous by local standards and Indonesia is a great place to gain some valuable TEFL experience while earning enough income to live well and save a little.
In addition, Indonesia is also perfectly situated to access TEFL job opportunities throughout Asia and further afield.
The stunning beauty of the country, the relaxed lifestyle, the low cost of living, and post-course TEFL employment opportunities are some of the attractive reasons for taking your TEFL course in Indonesia with TEFL International.
Find out more about taking a TEFL course in Indonesia here: https://www.tesolcourse.com/tesol/indonesia/?cu=YTDESCRIPTION
Are you ready to live and teach abroad? Click here and get started today: https://www.teflcourse.net/?cu=YTDESCRIPTION
Check our wide range of online TEFL & TESOL courses: https://www.teflonline.net/?cu=YTDESCRIPTION