TESOL Course in Italy | Teach & Live abroad!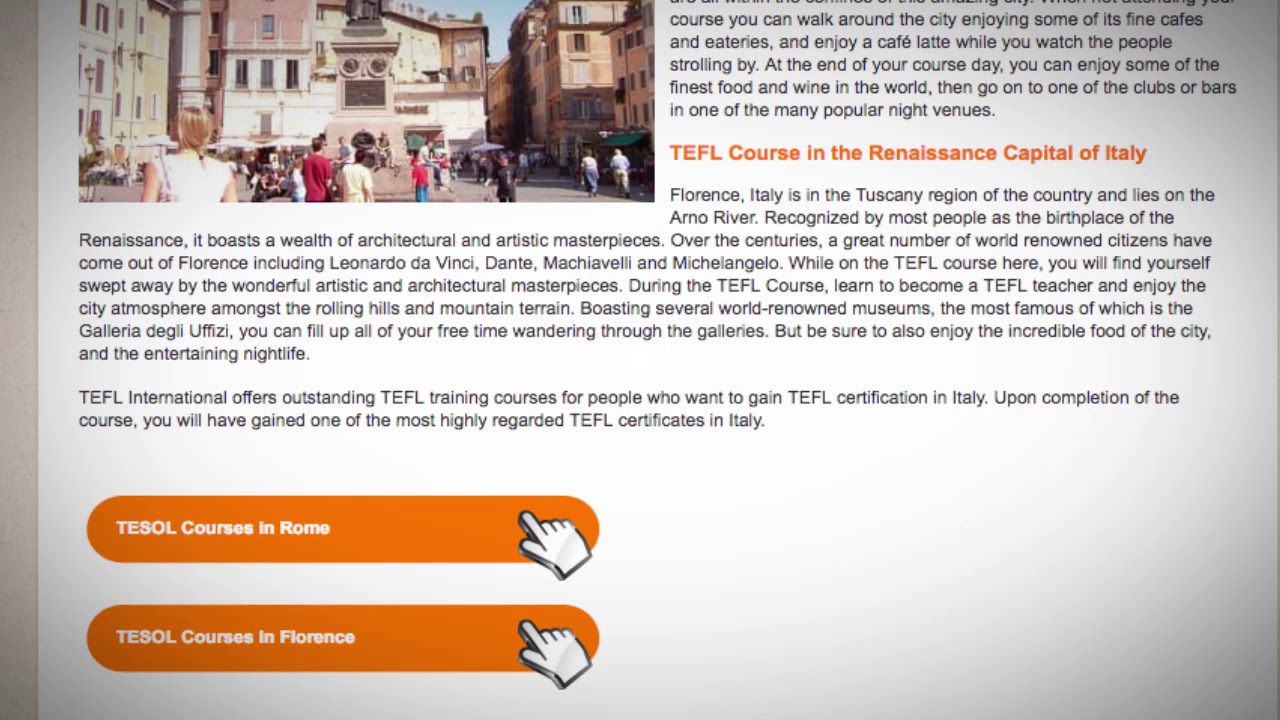 TEFL International's TEFL certification courses in Italy give you the opportunity to learn how to teach English in two of the most luxurious and spectacular cities in Italy: Rome and Florence.
Italy is justifiably considered one of the most charming countries anywhere. When you combine all its superb facets: the great food, outstanding architecture, fascinating art scene, and exciting nightlife, you can see appreciate that TEFL Italy has an unmatched reputation and is a world-leading TEFL course destination.
Following your TEFL course, finding work is a foregone conclusion for qualified applicants. Our schools are also in prime locations for you to go on and teach in France, Switzerland, Greece, and many other countries if you wish to do so.
TEFL Italy
For those interested in taking our TEFL certification courses in Italy, the good news is that Italy offers TEFL job opportunities countrywide. Demand is very high for English language teachers year round and you are sure to be offered a TEFL position soon after completing your TEFL certification with TEFL International.
With our TEFL courses running year round at two diverse locations, we are confident of having a course location to suit you. Our two TEFL courses in Italy offer different features for those interested in TEFL training.
TEFL Courses in Italy's Capital
Attend our TEFL course in Rome and you will earn your TEFL certification in a magnificent and ancient capital city. Positioned on the River Tiber, between the Apennine Mountains and the Tyrrhenian Sea, Rome is famous for its historical architecture, ancient culture, fine food, and lively nightlife. Visiting the various structures, museums, churches, public squares and historical buildings will keep you busy during your free time while attending the TEFL course here. World-famous landmarks including Vatican City, the Colosseum, and the Pantheon are all within the confines of this amazing city. When not attending your course you can walk around the city enjoying some of its fine cafes and eateries, and enjoy a café latte while you watch the people strolling by. At the end of your course day, you can enjoy some of the finest food and wine in the world, then go on to one of the clubs or bars in one of the many popular night venues.
TEFL Course in the Renaissance Capital of Italy
Florence, Italy is in the Tuscany region of the country and lies on the Arno River. Recognized by most people as the birthplace of the Renaissance, it boasts a wealth of architectural and artistic masterpieces. Over the centuries, a great number of world renowned citizens have come out of Florence including Leonardo da Vinci, Dante, Machiavelli and Michelangelo. While on the TEFL course here, you will find yourself swept away by the wonderful artistic and architectural masterpieces. During the TEFL Course, learn to become a TEFL teacher and enjoy the city atmosphere amongst the rolling hills and mountain terrain. Boasting several world-renowned museums, the most famous of which is the Galleria degli Uffizi, you can fill up all of your free time wandering through the galleries. But be sure to also enjoy the incredible food of the city, and the entertaining nightlife.
TEFL International offers outstanding TEFL training courses for people who want to gain TEFL certification in Italy. Upon completion of the course, you will have gained one of the most highly regarded TEFL certificates in Italy.
Find out more about taking a TEFL course in Italy here: https://www.tesolcourse.com/tesol/italy/?cu=YTDESCRIPTION
Are you ready to live and teach abroad? Click here and get started today: https://www.teflcourse.net/?cu=YTDESCRIPTION
Check our wide range of online TEFL & TESOL courses: https://www.teflonline.net/?cu=YTDESCRIPTION