Welcome to Our TEFL / TESOL School in Atlanta, USA | Teach & Live abroad!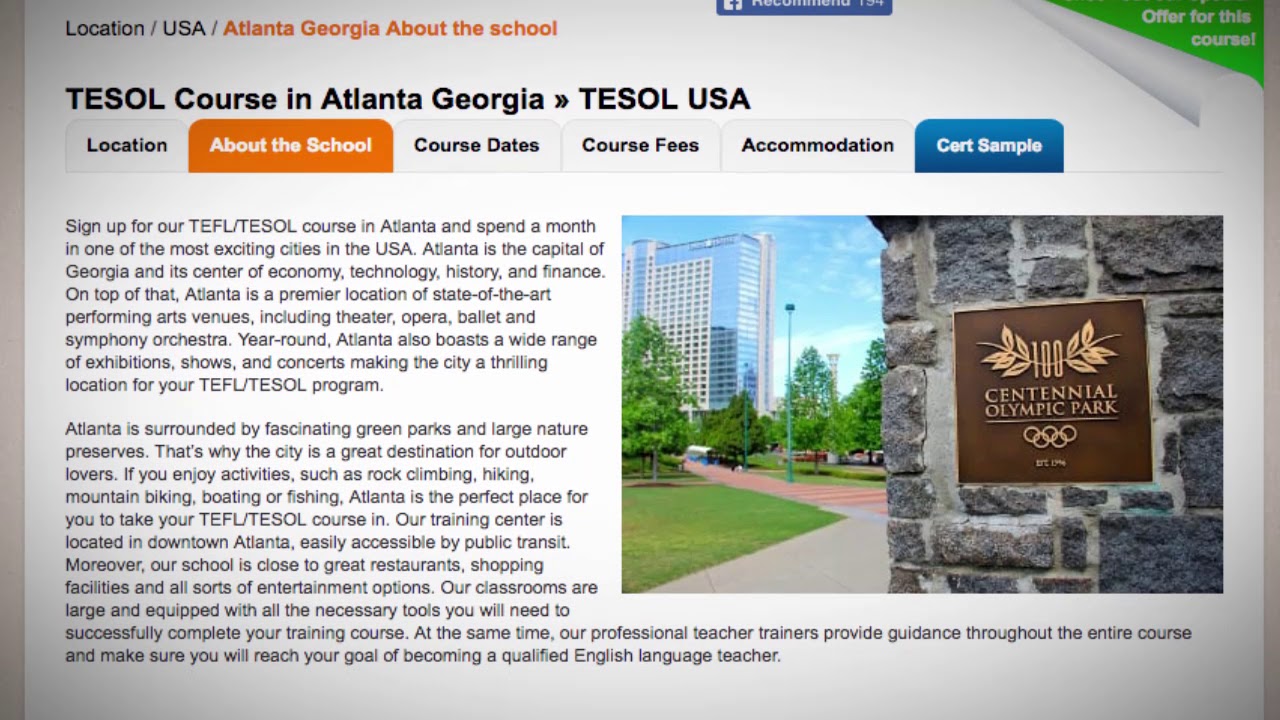 Sign up for our TEFL/TESOL course in Atlanta and spend a month in one of the most exciting cities in the USA. Atlanta is the capital of Georgia and its center of economy, technology, history, and finance. On top of that, Atlanta is a premier location of state-of-the-art performing arts venues, including theater, opera, ballet and symphony orchestra. Year-round, Atlanta also boasts a wide range of exhibitions, shows, and concerts making the city a thrilling location for your TEFL/TESOL program.
Atlanta is surrounded by fascinating green parks and large nature preserves. That's why the city is a great destination for outdoor lovers. If you enjoy activities, such as rock climbing, hiking, mountain biking, boating or fishing, Atlanta is the perfect place for you to take your TEFL/TESOL course in. Our training center is located in downtown Atlanta, easily accessible by public transit. Moreover, our school is close to great restaurants, shopping facilities and all sorts of entertainment options. Our classrooms are large and equipped with all the necessary tools you will need to successfully complete your training course. At the same time, our professional teacher trainers provide guidance throughout the entire course and make sure you will reach your goal of becoming a qualified English language teacher.
Find out more about taking a TEFL course in Atlanta here: https://www.tesolcourse.com/combined-tesol-courses/usa/atlanta-georgia-about/?cu=YTDESCRIPTION
Are you ready to live and teach abroad? Click here and get started today: https://www.teflcourse.net/?cu=YTDESCRIPTION
Check our wide range of online TEFL & TESOL courses: https://www.teflonline.net/?cu=YTDESCRIPTION