Welcome to Our TEFL / TESOL School in Limerick, Ireland | Teach & Live abroad!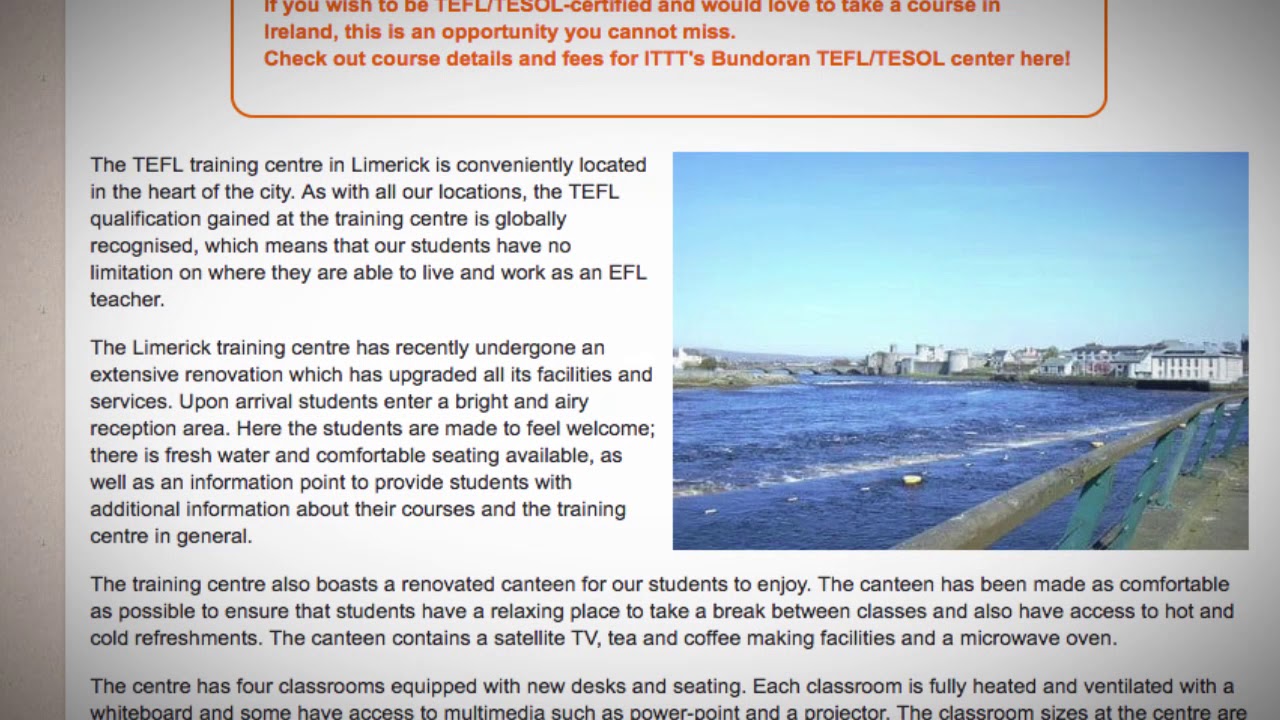 The TEFL training centre in Limerick is conveniently located in the heart of the city. As with all our locations, the TEFL qualification gained at the training centre is globally recognised, which means that our students have no limitation on where they are able to live and work as an EFL teacher.
The Limerick training centre has recently undergone an extensive renovation which has upgraded all its facilities and services. Upon arrival students enter a bright and airy reception area. Here the students are made to feel welcome; there is fresh water and comfortable seating available, as well as an information point to provide students with additional information about their courses and the training centre in general.
The training centre also boasts a renovated canteen for our students to enjoy. The canteen has been made as comfortable as possible to ensure that students have a relaxing place to take a break between classes and also have access to hot and cold refreshments. The canteen contains a satellite TV, tea and coffee making facilities and a microwave oven.
The centre has four classrooms equipped with new desks and seating. Each classroom is fully heated and ventilated with a whiteboard and some have access to multimedia such as power-point and a projector. The classroom sizes at the centre are intentionally small to ensure that all our students benefit from the individual attention that they require and deserve.
The TEFL library on the third floor of the building has a number of computers with internet access which are available for student use. The library is fully heated and ventilated and is available to students during college opening hours.
Students who enrol at the TEFL training centre in Limerick enter an educational institution that promotes a family atmosphere. The small numbers of students allows the staff to closely monitor the class and ensure that everyone receives adequate support. The Limerick centre has also achieved recognition due to the career orientated package it offers and has been approved by the Department of Education and Justice. The school was awarded ACCA gold approval in 2008, testimony to their continuous provision of high quality tuition, student support and high pass rates. The college was also awarded ABE (Association of Business Executives) approval in the same year.
In addition, the centre has been awarded quality partner status by CIMA and has recently attained ACELS (The Advisory Council for English Language Schools) accreditation for the teaching of English as a Foreign Language. The TEFL training centre in Limerick is therefore recognised by the Department of Education and Science for the teaching of English as a Foreign Language.
Find out more about taking a TEFL course in Limerick here: https://www.teflcourse.net/tefl-courses-locations/ireland/limerick/?cu=YTDESCRIPTION
Are you ready to live and teach abroad? Click here and get started today: https://www.teflcourse.net/?cu=YTDESCRIPTION