Welcome to Our TEFL / TESOL School in New York City, USA | Teach & Live abroad!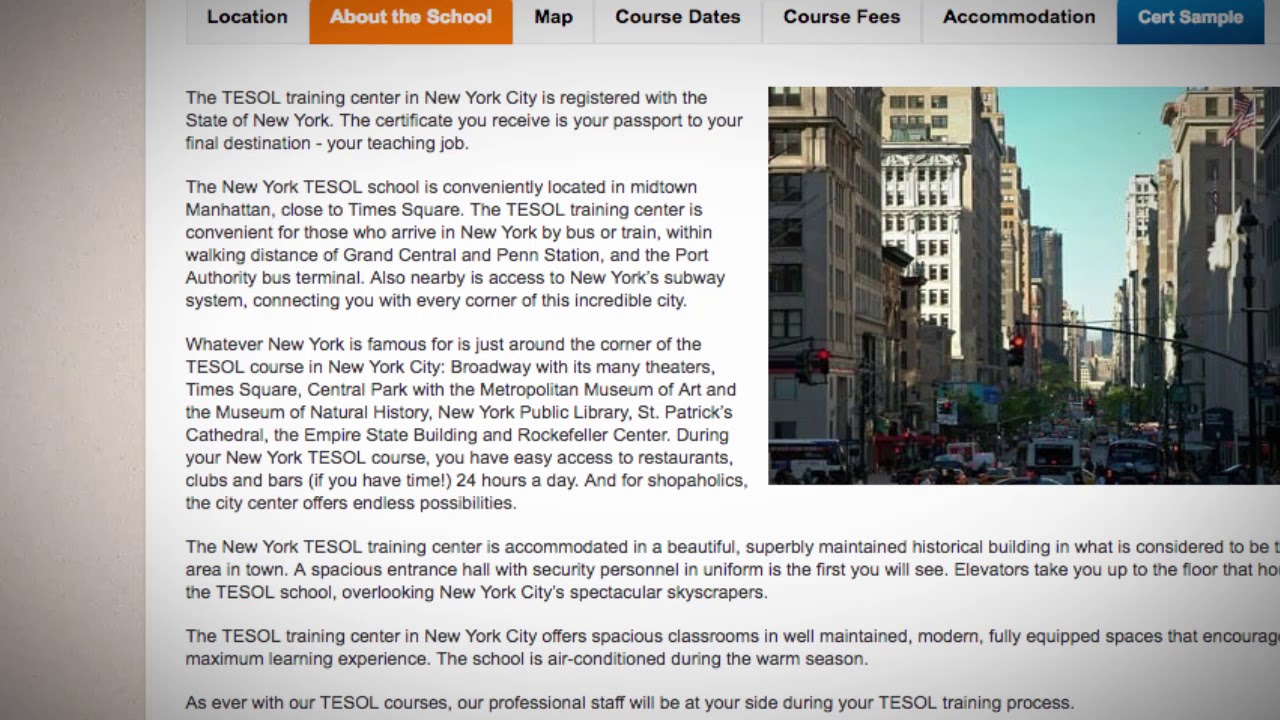 The TESOL training center in New York City is registered with the State of New York. The certificate you receive is your passport to your final destination – your teaching job.
The New York TESOL school is conveniently located in midtown Manhattan, close to Times Square. The TESOL training center is convenient for those who arrive in New York by bus or train, within walking distance of Grand Central and Penn Station, and the Port Authority bus terminal. Also nearby is access to New York's subway system, connecting you with every corner of this incredible city.
Whatever New York is famous for is just around the corner of the TESOL course in New York City: Broadway with its many theaters, Times Square, Central Park with the Metropolitan Museum of Art and the Museum of Natural History, New York Public Library, St. Patrick's Cathedral, the Empire State Building and Rockefeller Center. During your New York TESOL course, you have easy access to restaurants, clubs and bars (if you have time!) 24 hours a day. And for shopaholics, the city center offers endless possibilities.
The New York TESOL training center is accommodated in a beautiful, superbly maintained historical building in what is considered to be the best area in town. A spacious entrance hall with security personnel in uniform is the first you will see. Elevators take you up to the floor that houses the TESOL school, overlooking New York City's spectacular skyscrapers.
The TESOL training center in New York City offers spacious classrooms in well maintained, modern, fully equipped spaces that encourage a maximum learning experience. The school is air-conditioned during the warm season.
As ever with our TESOL courses, our professional staff will be at your side during your TESOL training process.
Find out more about taking a TEFL course in New York City here: https://www.tesolcourse.com/combined-tesol-courses/usa/new-york-about/?cu=YTDESCRIPTION
Are you ready to live and teach abroad? Click here and get started today: https://www.teflcourse.net/?cu=YTDESCRIPTION
Check our wide range of online TEFL & TESOL courses: https://www.teflonline.net/?cu=YTDESCRIPTION