Welcome to Our TEFL / TESOL School in Seville, Spain | Teach & Live abroad!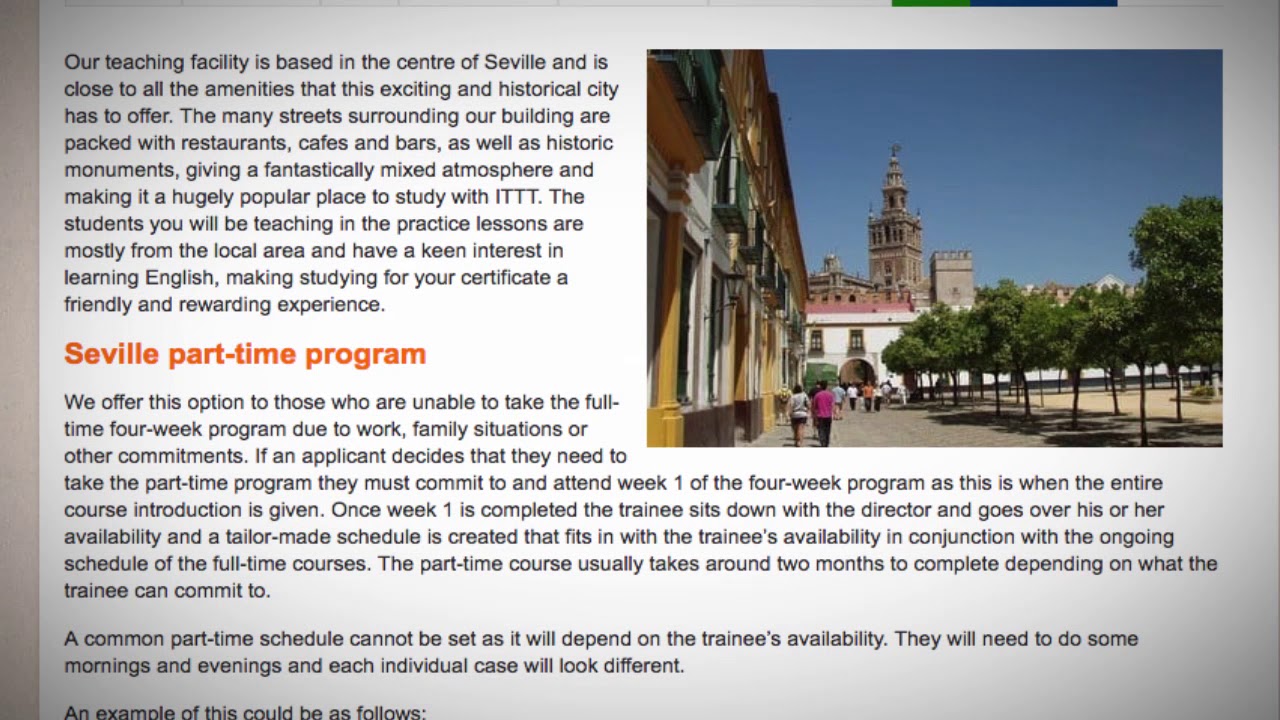 Our teaching facility is based in the centre of Seville and is close to all the amenities that this exciting and historical city has to offer. The many streets surrounding our building are packed with restaurants, cafes and bars, as well as historic monuments, giving a fantastically mixed atmosphere and making it a hugely popular place to study with ITTT. The students you will be teaching in the practice lessons are mostly from the local area and have a keen interest in learning English, making studying for your certificate a friendly and rewarding experience.
Seville part-time program
We offer this option to those who are unable to take the full-time four-week program due to work, family situations or other commitments. If an applicant decides that they need to take the part-time program they must commit to and attend week 1 of the four-week program as this is when the entire course introduction is given. Once week 1 is completed the trainee sits down with the director and goes over his or her availability and a tailor-made schedule is created that fits in with the trainee's availability in conjunction with the ongoing schedule of the full-time courses. The part-time course usually takes around two months to complete depending on what the trainee can commit to.
A common part-time schedule cannot be set as it will depend on the trainee's availability. They will need to do some mornings and evenings and each individual case will look different.
An example of this could be as follows:
A student is unavailable Monday and Tuesday evenings as well as Wednesday and Thursday mornings.
They would need to make the necessary arrangements to attend the first full week of the full-time program. The director would then draft up a schedule for the following two months where the trainee would attend all of the pre-requisite classes either in the morning or afternoons. They would also do all of their afternoon teaching practices on Wednesdays and Thursdays.
Once all the requirements of a regular full-time course are successfully fulfilled, they would attend the graduation ceremony of the second full-time course and receive their certificate.
Regarding accommodation, trainees can stay in the lodgings provided during the part-time program, but the minimum stay is four weeks. The price is 16€/night in an individual room. The course balance is the same for full- and part-time students and both amounts are due no later than the first day of the program.
Find out more about taking a TEFL course in Seville here: https://www.teflcourse.net/tefl-courses-locations/spain/seville/?cu=YTDESCRIPTION
Are you ready to live and teach abroad? Click here and get started today: https://www.teflcourse.net/?cu=YTDESCRIPTION