Why Choose ITTT? | PDF Copy of Your TESOL Certificate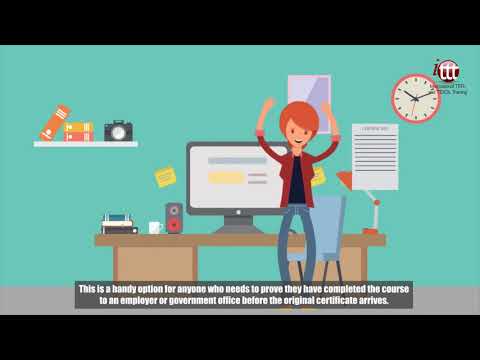 As soon as you have completed your TESOL course your high-quality certificate will be put in the post and sent to wherever in the world you want it. However, if you are in a real rush and you don't want to wait for the postman to arrive, we can also send you an instant copy in PDF format via email. This is a handy option for anyone who needs to prove they have completed the course to an employer or government office before the original certificate arrives.
As our certificates are sent to all corners of the globe it is not always easy to predict how long each postal delivery will take. If you think you might need your certificate soon after finishing your training, simply let us know and we will immediately send out an electronic copy. And don't forget, the postage cost of your original TESOL certificate is covered in the course fee to any worldwide location and the PDF copy is also free of charge. Whatever your teaching plans, there is no need to wait around with ITTT.
Are you ready to live and teach abroad? Click here and get started today: https://www.teflcourse.net/?cu=YTDESCRIPTION
Check our wide range of online TEFL & TESOL courses: https://www.teflonline.net/?cu=YTDESCRIPTION
What is TEFL Certification? Where is it valid?
https://www.teflcourse.net/tefl-certification/?cu=YTDESCRIPTION
Check out our wide range of TEFL Courses:
https://www.teflcourse.net/online-tefl-courses/?cu=YTDESCRIPTION
Teach English online from anywhere you want!
https://www.teflcourse.net/online-tefl-courses/170-hr-tefl-certificate-with-tutor/?cu=YTDESCRIPTION