Combined TEFL / TESOL School in Los Angeles, USA | Teach & Live abroad!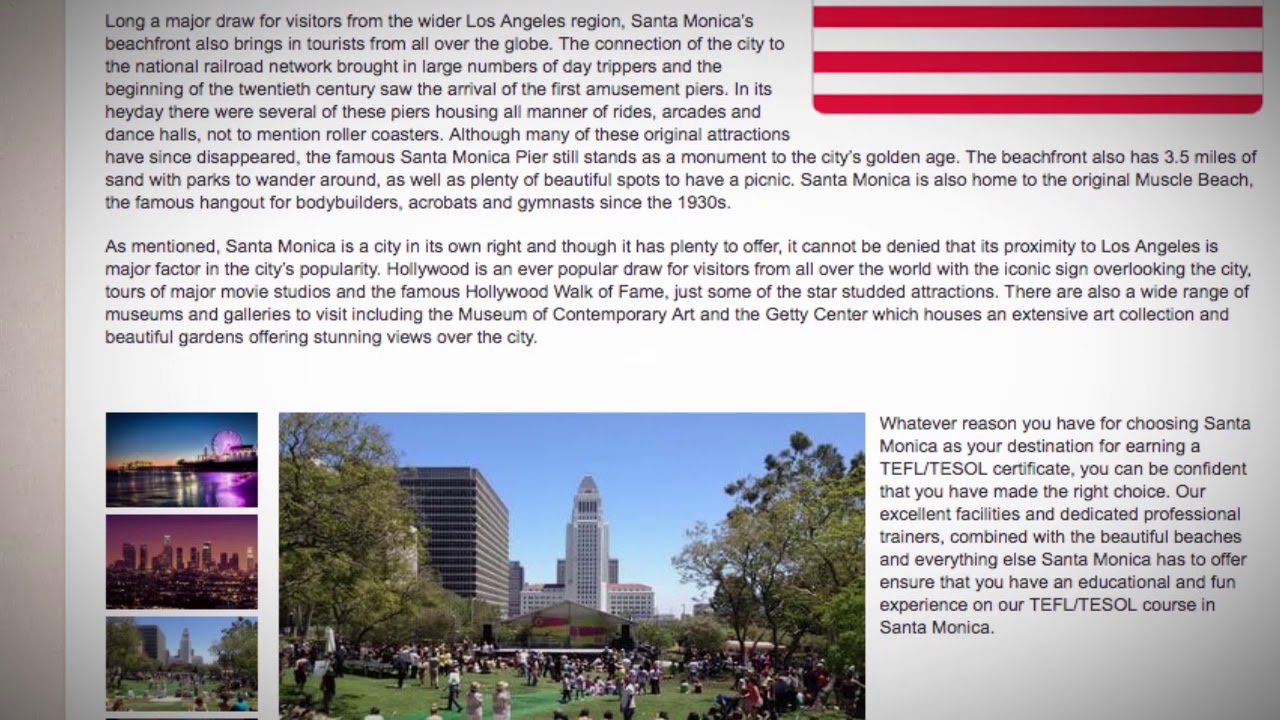 Santa Monica, although surrounded by the huge urban sprawl of Los Angeles on three sides, is actually a separate city in its own right and is situated on the fantastic California coast. More than 300 days of sunshine per year mean that there are plenty of opportunities to make the most of the beaches on this beautiful stretch of coastline. The city also provides the perfect antidote to the frenetic pace of Los Angeles life and draws a wide range of people from celebrities, artists, students and surfers all looking to enjoy the city's laidback atmosphere.
Long a major draw for visitors from the wider Los Angeles region, Santa Monica's beachfront also brings in tourists from all over the globe. The connection of the city to the national railroad network brought in large numbers of day trippers and the beginning of the twentieth century saw the arrival of the first amusement piers. In its heyday there were several of these piers housing all manner of rides, arcades and dance halls, not to mention roller coasters. Although many of these original attractions have since disappeared, the famous Santa Monica Pier still stands as a monument to the city's golden age. The beachfront also has 3.5 miles of sand with parks to wander around, as well as plenty of beautiful spots to have a picnic. Santa Monica is also home to the original Muscle Beach, the famous hangout for bodybuilders, acrobats and gymnasts since the 1930s.
As mentioned, Santa Monica is a city in its own right and though it has plenty to offer, it cannot be denied that its proximity to Los Angeles is major factor in the city's popularity. Hollywood is an ever popular draw for visitors from all over the world with the iconic sign overlooking the city, tours of major movie studios and the famous Hollywood Walk of Fame, just some of the star studded attractions. There are also a wide range of museums and galleries to visit including the Museum of Contemporary Art and the Getty Center which houses an extensive art collection and beautiful gardens offering stunning views over the city.
Whatever reason you have for choosing Santa Monica as your destination for earning a TEFL/TESOL certificate, you can be confident that you have made the right choice. Our excellent facilities and dedicated professional trainers, combined with the beautiful beaches and everything else Santa Monica has to offer ensure that you have an educational and fun experience on our TEFL/TESOL course in Santa Monica.
Find out more about taking a TEFL course in Los Angeles here: https://www.tesolcourse.com/combined-tesol-courses/usa/los-angeles-california/?cu=YTDESCRIPTION
Are you ready to live and teach abroad? Click here and get started today: https://www.teflcourse.net/?cu=YTDESCRIPTION
Check our wide range of online TEFL & TESOL courses: https://www.teflonline.net/?cu=YTDESCRIPTION