Combined TEFL / TESOL School in Madison, USA | Teach & Live abroad!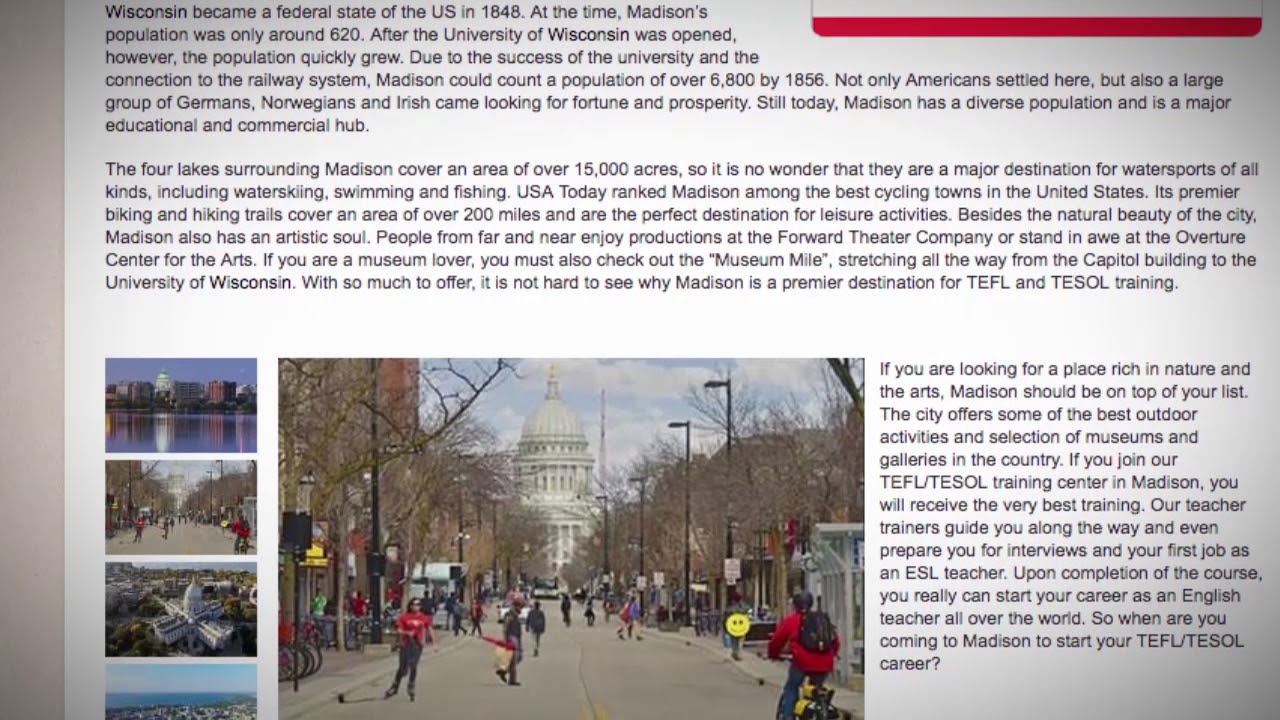 In 1837, the first settlement of Madison was set up and named after former president of the united states, James Madison. Soon after the first settlers built their homes, people from all across the country began flocking here. However, long before the American settlers came to the region, Native Americans of the Ho Chunk tribe called Wisconsin and the area of Madison their home. They knew the land as Taychopera (Land of the four lakes), and lived in the areas around Lake Mendota, Lake Monona, Lake Kegonsa, and Lake Waubesa. Still today, this area is popular for outdoor activities. Famous man made landmarks, such as the Wisconsin State Capitol, Monona Terrace, First Unitarian Society Meetinghouse and Memorial Union are also famous sites visited by people from all across the nation.
Wisconsin became a federal state of the US in 1848. At the time, Madison's population was only around 620. After the University of Wisconsin was opened, however, the population quickly grew. Due to the success of the university and the connection to the railway system, Madison could count a population of over 6,800 by 1856. Not only Americans settled here, but also a large group of Germans, Norwegians and Irish came looking for fortune and prosperity. Still today, Madison has a diverse population and is a major educational and commercial hub.
The four lakes surrounding Madison cover an area of over 15,000 acres, so it is no wonder that they are a major destination for watersports of all kinds, including waterskiing, swimming and fishing. USA Today ranked Madison among the best cycling towns in the United States. Its premier biking and hiking trails cover an area of over 200 miles and are the perfect destination for leisure activities. Besides the natural beauty of the city, Madison also has an artistic soul. People from far and near enjoy productions at the Forward Theater Company or stand in awe at the Overture Center for the Arts. If you are a museum lover, you must also check out the "Museum Mile", stretching all the way from the Capitol building to the University of Wisconsin. With so much to offer, it is not hard to see why Madison is a premier destination for TEFL and TESOL training.
If you are looking for a place rich in nature and the arts, Madison should be on top of your list. The city offers some of the best outdoor activities and selection of museums and galleries in the country. If you join our TEFL/TESOL training center in Madison, you will receive the very best training. Our teacher trainers guide you along the way and even prepare you for interviews and your first job as an ESL teacher. Upon completion of the course, you really can start your career as an English teacher all over the world. So when are you coming to Madison to start your TEFL/TESOL career?
Find out more about taking a TEFL course in Madison here: https://www.tesolcourse.com/combined-tesol-courses/usa/madison-wisconsin/?cu=YTDESCRIPTION
Are you ready to live and teach abroad? Click here and get started today: https://www.teflcourse.net/?cu=YTDESCRIPTION
Check our wide range of online TEFL & TESOL courses: https://www.teflonline.net/?cu=YTDESCRIPTION