Combined TEFL / TESOL School in Phuket, Thailand | Teach & Live abroad!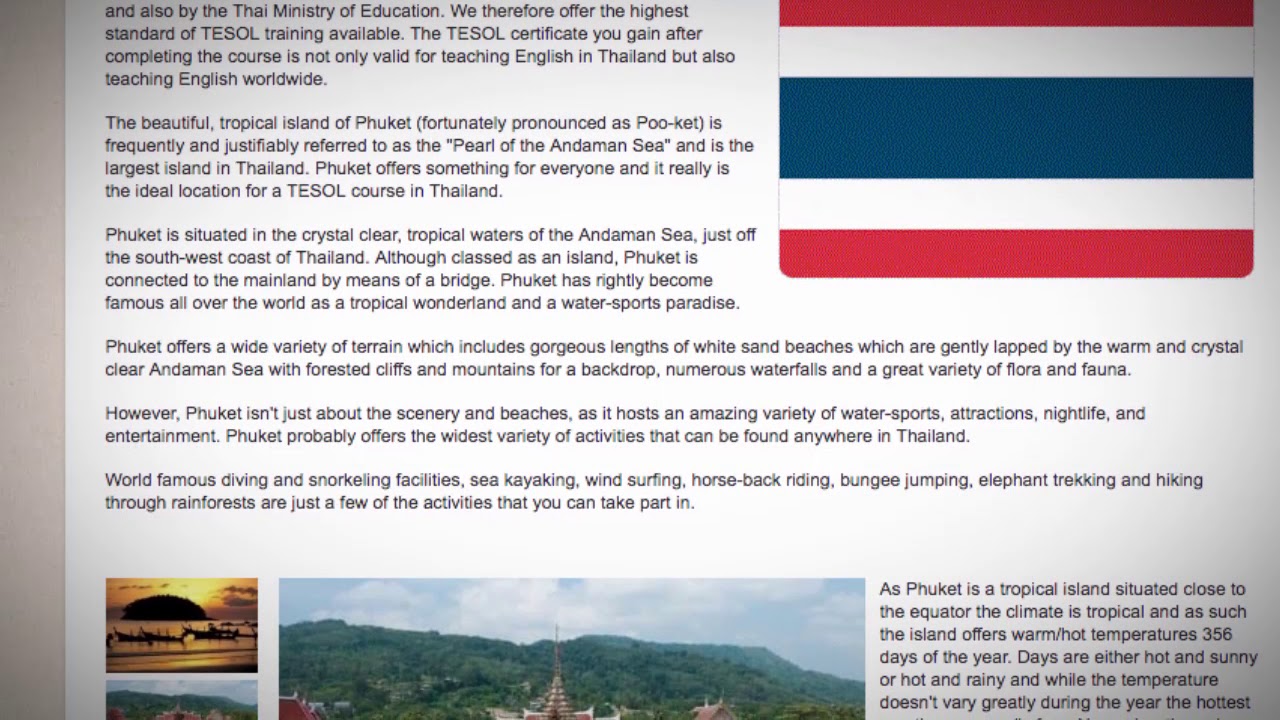 Our TESOL courses in Phuket, Thailand are fully accredited both internationally and also by the Thai Ministry of Education. We therefore offer the highest standard of TESOL training available. The TESOL certificate you gain after completing the course is not only valid for teaching English in Thailand but also teaching English worldwide.
The beautiful, tropical island of Phuket (fortunately pronounced as Poo-ket) is frequently and justifiably referred to as the "Pearl of the Andaman Sea" and is the largest island in Thailand. Phuket offers something for everyone and it really is the ideal location for a TESOL course in Thailand.
Phuket is situated in the crystal clear, tropical waters of the Andaman Sea, just off the south-west coast of Thailand. Although classed as an island, Phuket is connected to the mainland by means of a bridge. Phuket has rightly become famous all over the world as a tropical wonderland and a water-sports paradise.
Phuket offers a wide variety of terrain which includes gorgeous lengths of white sand beaches which are gently lapped by the warm and crystal clear Andaman Sea with forested cliffs and mountains for a backdrop, numerous waterfalls and a great variety of flora and fauna.
However, Phuket isn't just about the scenery and beaches, as it hosts an amazing variety of water-sports, attractions, nightlife, and entertainment. Phuket probably offers the widest variety of activities that can be found anywhere in Thailand.
World famous diving and snorkeling facilities, sea kayaking, wind surfing, horse-back riding, bungee jumping, elephant trekking and hiking through rainforests are just a few of the activities that you can take part in.
As Phuket is a tropical island situated close to the equator the climate is tropical and as such the island offers warm/hot temperatures 356 days of the year. Days are either hot and sunny or hot and rainy and while the temperature doesn't vary greatly during the year the hottest months are usually from November through March. Despite the hot climate, the sea breeze helps keep the island pleasant even during the hottest days.
Thai culture is becoming increasingly known around the world and despite Phuket's popularity as a tourist destination, you will also have the opportunity to witness genuine Thai culture and lifestyle. There are numerous, attractive Buddhist temples on the island, outdoor markets can be found in many areas in and around Phuket Town. Thais love Muay Thai boxing and you will have the opportunity of attending matches, visiting one of the many malls, or just enjoy the simple life chatting with locals. Thai people are famous for being peaceful and friendly and it is for good reason that Thailand is named the 'Land of Smiles'.
Phuket is also an ideal location for visiting other provinces and regions of Thailand, as well as for traveling to interesting neighboring countries such as Vietnam, Cambodia, Laos and Myanmar (Burma). Phuket has an international airport and an extensive public transport system and so such travel is relatively quick, inexpensive and straightforward.
This tropical paradise is guaranteed to please just about everyone and with the incredibly low cost of living, a TESOL course in Thailand shouldn't work out any more expensive than taking a course elsewhere.
There is a huge variety of teaching jobs available throughout Thailand and in the whole of Asia – including some of the best paid jobs in the EFL profession – Phuket is one of the most popular locations to take a TESOL course and to find employment teaching English.
Find out more about taking a TEFL course in Phuket here: https://www.tesolcourse.com/combined-tesol-courses/thailand/phuket/?cu=YTDESCRIPTION
Are you ready to live and teach abroad? Click here and get started today: https://www.teflcourse.net/?cu=YTDESCRIPTION
Check our wide range of online TEFL & TESOL courses: https://www.teflonline.net/?cu=YTDESCRIPTION