Combined TEFL / TESOL School in Toronto, Canada | Teach & Live abroad!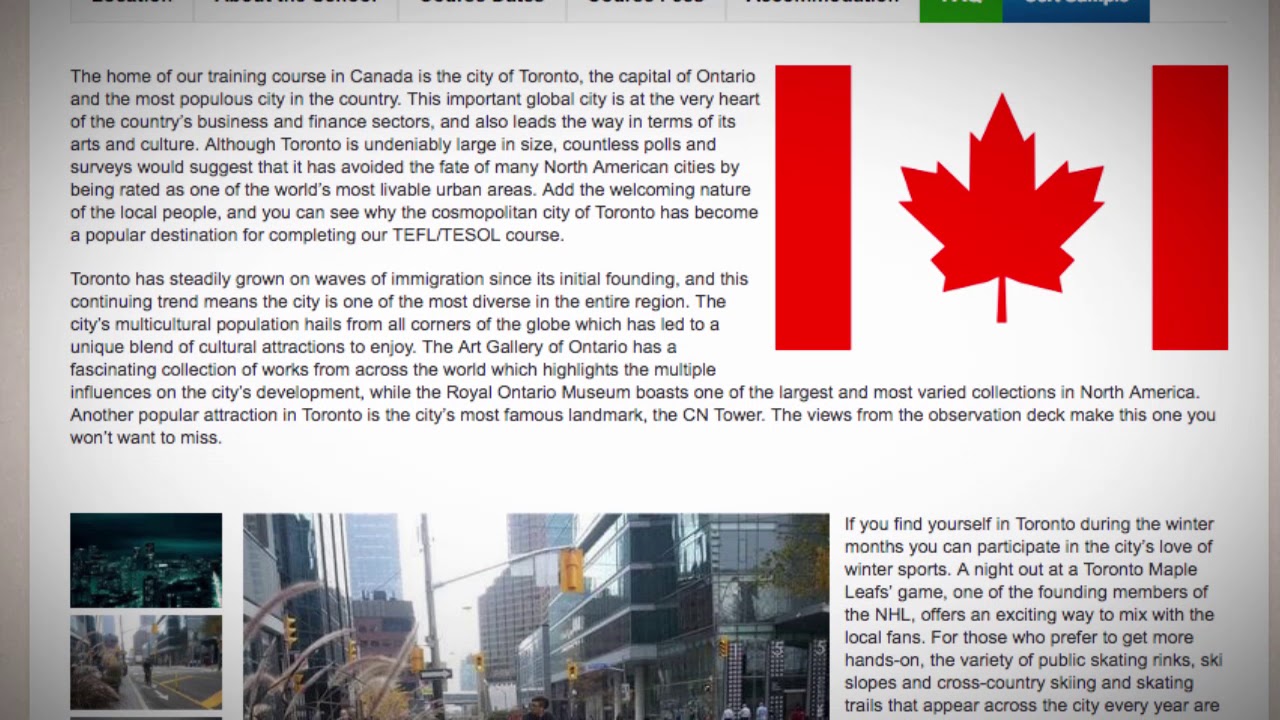 The home of our training course in Canada is the city of Toronto, the capital of Ontario and the most populous city in the country. This important global city is at the very heart of the country's business and finance sectors, and also leads the way in terms of its arts and culture. Although Toronto is undeniably large in size, countless polls and surveys would suggest that it has avoided the fate of many North American cities by being rated as one of the world's most livable urban areas. Add the welcoming nature of the local people, and you can see why the cosmopolitan city of Toronto has become a popular destination for completing our TEFL/TESOL course.
Toronto has steadily grown on waves of immigration since its initial founding, and this continuing trend means the city is one of the most diverse in the entire region. The city's multicultural population hails from all corners of the globe which has led to a unique blend of cultural attractions to enjoy. The Art Gallery of Ontario has a fascinating collection of works from across the world which highlights the multiple influences on the city's development, while the Royal Ontario Museum boasts one of the largest and most varied collections in North America. Another popular attraction in Toronto is the city's most famous landmark, the CN Tower. The views from the observation deck make this one you won't want to miss.
If you find yourself in Toronto during the winter months you can participate in the city's love of winter sports. A night out at a Toronto Maple Leafs' game, one of the founding members of the NHL, offers an exciting way to mix with the local fans. For those who prefer to get more hands-on, the variety of public skating rinks, ski slopes and cross-country skiing and skating trails that appear across the city every year are sure to be a highlight of your stay. Of course, there is more to the city than winter sports, why not sign-up for our course in Toronto and find out for yourself?
Find out more about taking a TEFL course in Toronto here: https://www.tesolcourse.com/combined-tesol-courses/canada/toronto-canada/?cu=YTDESCRIPTION
Are you ready to live and teach abroad? Click here and get started today: https://www.teflcourse.net/?cu=YTDESCRIPTION
Check our wide range of online TEFL & TESOL courses: https://www.teflonline.net/?cu=YTDESCRIPTION