Combined TEFL / TESOL School in Rome, Italy | Teach & Live abroad!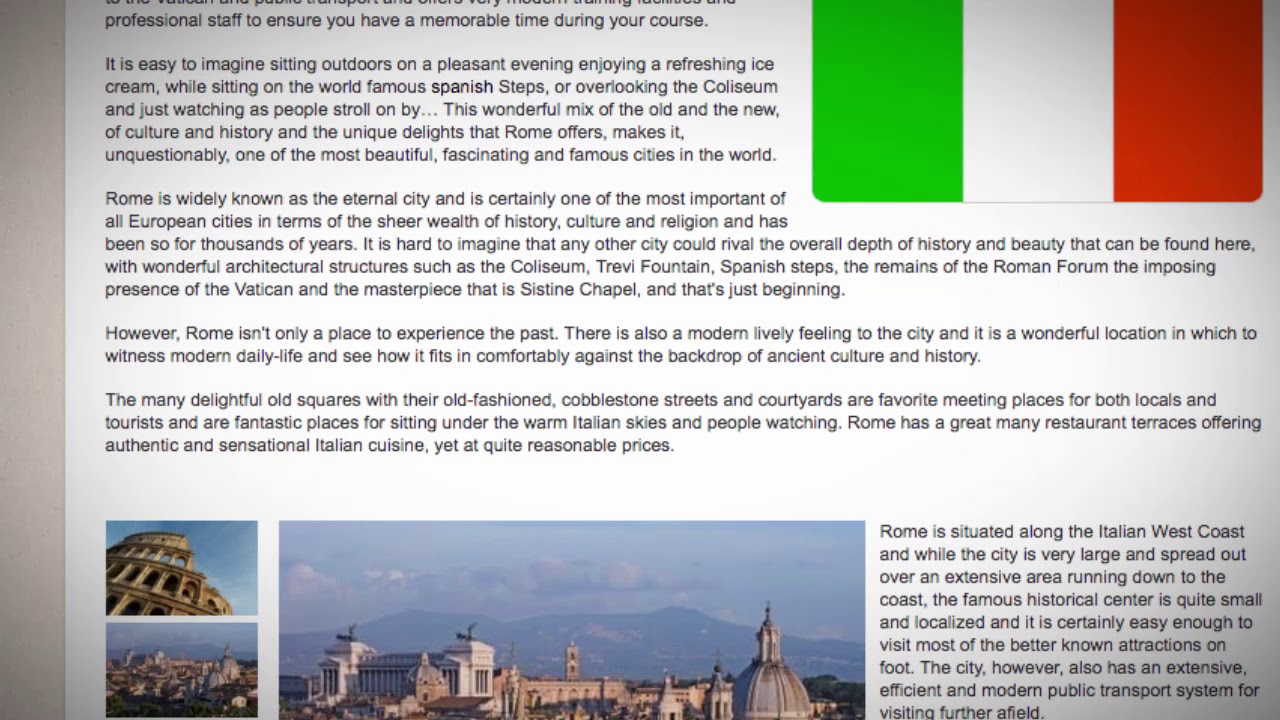 Rome is one of our most popular TESOL course locations. The combination of culture, history and the large number of English teaching jobs throughout Italy make it an ideal choice for a TESOL course. Our TESOL training center is in a perfect location, close to the Vatican and public transport and offers very modern training facilities and professional staff to ensure you have a memorable time during your course.
It is easy to imagine sitting outdoors on a pleasant evening enjoying a refreshing ice cream, while sitting on the world famous spanish Steps, or overlooking the Coliseum and just watching as people stroll on by… This wonderful mix of the old and the new, of culture and history and the unique delights that Rome offers, makes it, unquestionably, one of the most beautiful, fascinating and famous cities in the world.
Rome is widely known as the eternal city and is certainly one of the most important of all European cities in terms of the sheer wealth of history, culture and religion and has been so for thousands of years. It is hard to imagine that any other city could rival the overall depth of history and beauty that can be found here, with wonderful architectural structures such as the Coliseum, Trevi Fountain, Spanish steps, the remains of the Roman Forum the imposing presence of the Vatican and the masterpiece that is Sistine Chapel, and that's just beginning.
However, Rome isn't only a place to experience the past. There is also a modern lively feeling to the city and it is a wonderful location in which to witness modern daily-life and see how it fits in comfortably against the backdrop of ancient culture and history.
The many delightful old squares with their old-fashioned, cobblestone streets and courtyards are favorite meeting places for both locals and tourists and are fantastic places for sitting under the warm Italian skies and people watching. Rome has a great many restaurant terraces offering authentic and sensational Italian cuisine, yet at quite reasonable prices.
Rome is situated along the Italian West Coast and while the city is very large and spread out over an extensive area running down to the coast, the famous historical center is quite small and localized and it is certainly easy enough to visit most of the better known attractions on foot. The city, however, also has an extensive, efficient and modern public transport system for visiting further afield.
Due to its close proximity to the beach, the city of Rome is ideally located for people wishing to experience a major historical city and yet at the same time have easy access to the lovely beaches of the Mediterranean.
As there is a wide range of opportunities for teaching English in Italy, it is the perfect choice of location for your TESOL course.
Find out more about taking a TEFL course in Rome here: https://www.tesolcourse.com/combined-tesol-courses/italy/rome/?cu=YTDESCRIPTION
Are you ready to live and teach abroad? Click here and get started today: https://www.teflcourse.net/?cu=YTDESCRIPTION
Check our wide range of online TEFL & TESOL courses: https://www.teflonline.net/?cu=YTDESCRIPTION