Combined TEFL / TESOL School in Salt Lake City, USA | Teach & Live abroad!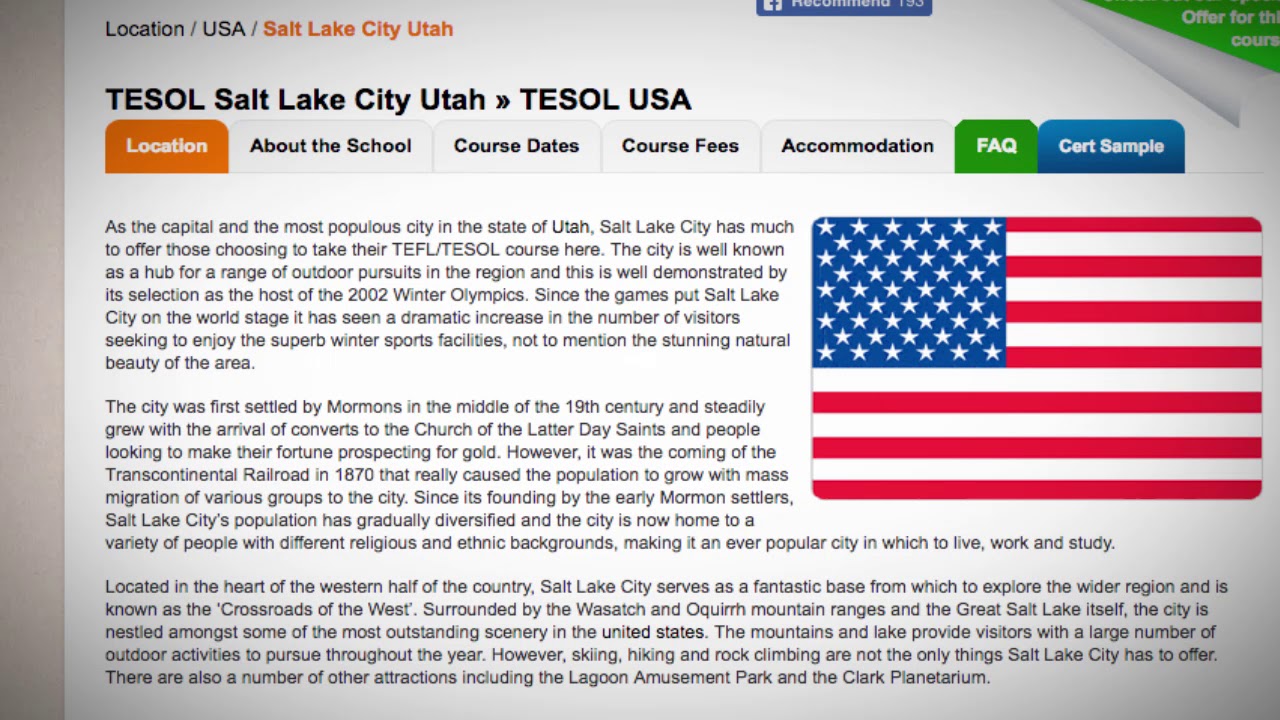 As the capital and the most populous city in the state of Utah, Salt Lake City has much to offer those choosing to take their TEFL/TESOL course here. The city is well known as a hub for a range of outdoor pursuits in the region and this is well demonstrated by its selection as the host of the 2002 Winter Olympics. Since the games put Salt Lake City on the world stage it has seen a dramatic increase in the number of visitors seeking to enjoy the superb winter sports facilities, not to mention the stunning natural beauty of the area.
The city was first settled by Mormons in the middle of the 19th century and steadily grew with the arrival of converts to the Church of the Latter Day Saints and people looking to make their fortune prospecting for gold. However, it was the coming of the Transcontinental Railroad in 1870 that really caused the population to grow with mass migration of various groups to the city. Since its founding by the early Mormon settlers, Salt Lake City's population has gradually diversified and the city is now home to a variety of people with different religious and ethnic backgrounds, making it an ever popular city in which to live, work and study.
Located in the heart of the western half of the country, Salt Lake City serves as a fantastic base from which to explore the wider region and is known as the 'Crossroads of the West'. Surrounded by the Wasatch and Oquirrh mountain ranges and the Great Salt Lake itself, the city is nestled amongst some of the most outstanding scenery in the united states. The mountains and lake provide visitors with a large number of outdoor activities to pursue throughout the year. However, skiing, hiking and rock climbing are not the only things Salt Lake City has to offer. There are also a number of other attractions including the Lagoon Amusement Park and the Clark Planetarium.
Our TEFL/TESOL course in Salt Lake City is the perfect choice for anyone with an interest in outdoor activities, whether it is skiing in the winter or hiking in the summer, there is plenty to do all year round. Although you do not need to be a thrill seeker to choose Salt Lake City for your course as this friendly city has something for everyone. The combination of stunning surroundings, well-equipped training facilities and professional, dedicated teacher trainers mean that no matter what your interests you are bound to have an entertaining and educational experience in the heart of Utah.
Find out more about taking a TEFL course in Salt Lake City here: https://www.tesolcourse.com/combined-tesol-courses/usa/salt-lake-city-utah/?cu=YTDESCRIPTION
Are you ready to live and teach abroad? Click here and get started today: https://www.teflcourse.net/?cu=YTDESCRIPTION
Check our wide range of online TEFL & TESOL courses: https://www.teflonline.net/?cu=YTDESCRIPTION