Combined TEFL / TESOL School in San Diego, USA | Teach & Live abroad!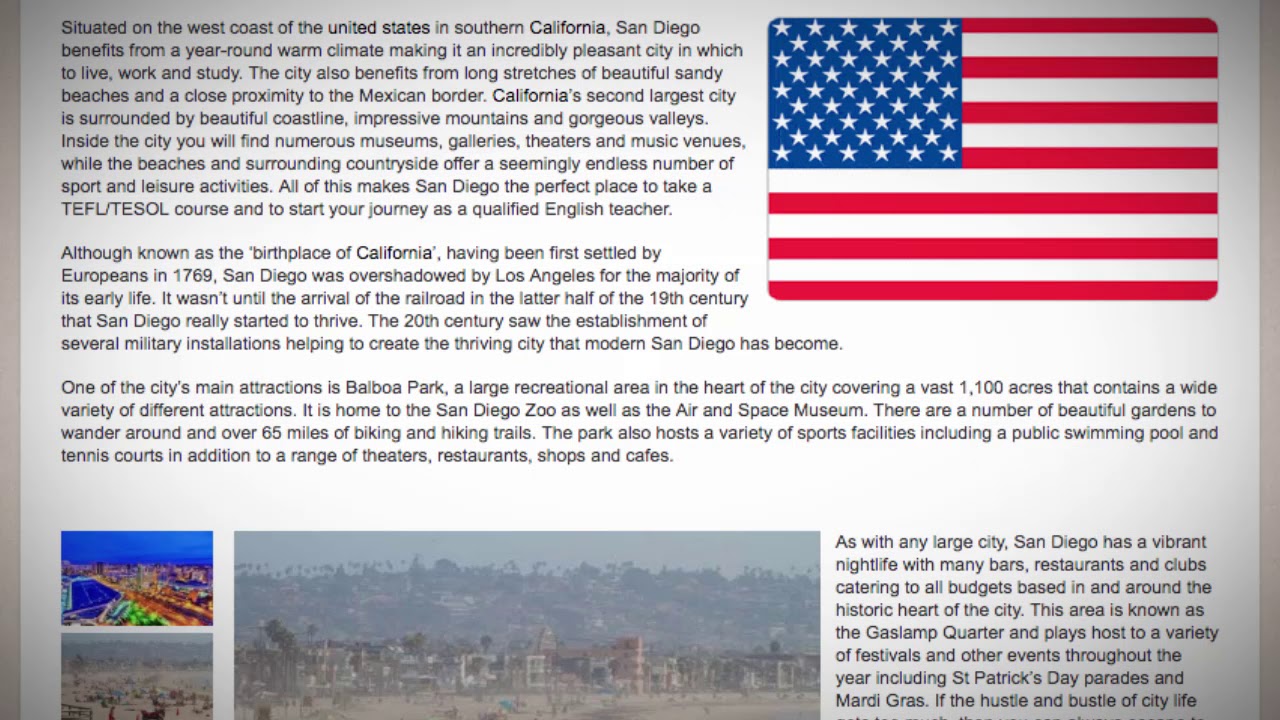 Situated on the west coast of the united states in southern California, San Diego benefits from a year-round warm climate making it an incredibly pleasant city in which to live, work and study. The city also benefits from long stretches of beautiful sandy beaches and a close proximity to the Mexican border. California's second largest city is surrounded by beautiful coastline, impressive mountains and gorgeous valleys. Inside the city you will find numerous museums, galleries, theaters and music venues, while the beaches and surrounding countryside offer a seemingly endless number of sport and leisure activities. All of this makes San Diego the perfect place to take a TEFL/TESOL course and to start your journey as a qualified English teacher.
Although known as the 'birthplace of California', having been first settled by Europeans in 1769, San Diego was overshadowed by Los Angeles for the majority of its early life. It wasn't until the arrival of the railroad in the latter half of the 19th century that San Diego really started to thrive. The 20th century saw the establishment of several military installations helping to create the thriving city that modern San Diego has become.
One of the city's main attractions is Balboa Park, a large recreational area in the heart of the city covering a vast 1,100 acres that contains a wide variety of different attractions. It is home to the San Diego Zoo as well as the Air and Space Museum. There are a number of beautiful gardens to wander around and over 65 miles of biking and hiking trails. The park also hosts a variety of sports facilities including a public swimming pool and tennis courts in addition to a range of theaters, restaurants, shops and cafes.
As with any large city, San Diego has a vibrant nightlife with many bars, restaurants and clubs catering to all budgets based in and around the historic heart of the city. This area is known as the Gaslamp Quarter and plays host to a variety of festivals and other events throughout the year including St Patrick's Day parades and Mardi Gras. If the hustle and bustle of city life gets too much, then you can always escape to one of the many delightful beaches that are just a short trip away and take part in any of the large number of watersports on offer.
If you are already located in the area or simply want to take your TEFL/TESOL course in an exciting and interesting city, you will struggle to find better than our course in San Diego, California. The combination of our excellent facilities, dedicated trainers and all that this wonderful city has to offer ensure that you will have a memorable, enjoyable and educational experience while earning your TEFL/TESOL certificate with us.
Find out more about taking a TEFL course in San Diego here: https://www.tesolcourse.com/combined-tesol-courses/usa/san-diego-california/?cu=YTDESCRIPTION
Are you ready to live and teach abroad? Click here and get started today: https://www.teflcourse.net/?cu=YTDESCRIPTION
Check our wide range of online TEFL & TESOL courses: https://www.teflonline.net/?cu=YTDESCRIPTION