Combined TEFL / TESOL School in San Francisco, USA | Teach & Live abroad!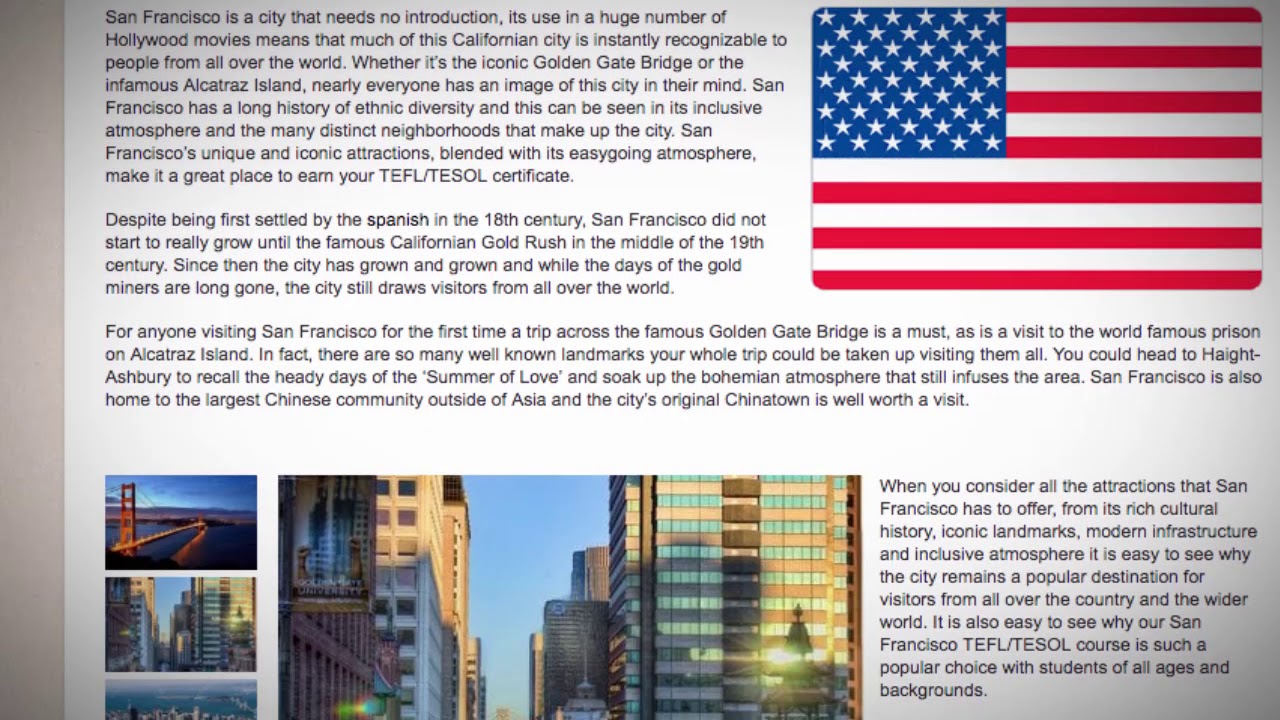 San Francisco is a city that needs no introduction, its use in a huge number of Hollywood movies means that much of this Californian city is instantly recognizable to people from all over the world. Whether it's the iconic Golden Gate Bridge or the infamous Alcatraz Island, nearly everyone has an image of this city in their mind. San Francisco has a long history of ethnic diversity and this can be seen in its inclusive atmosphere and the many distinct neighborhoods that make up the city. San Francisco's unique and iconic attractions, blended with its easygoing atmosphere, make it a great place to earn your TEFL/TESOL certificate.
Despite being first settled by the spanish in the 18th century, San Francisco did not start to really grow until the famous Californian Gold Rush in the middle of the 19th century. Since then the city has grown and grown and while the days of the gold miners are long gone, the city still draws visitors from all over the world.
For anyone visiting San Francisco for the first time a trip across the famous Golden Gate Bridge is a must, as is a visit to the world famous prison on Alcatraz Island. In fact, there are so many well known landmarks your whole trip could be taken up visiting them all. You could head to Haight-Ashbury to recall the heady days of the 'Summer of Love' and soak up the bohemian atmosphere that still infuses the area. San Francisco is also home to the largest Chinese community outside of Asia and the city's original Chinatown is well worth a visit.
When you consider all the attractions that San Francisco has to offer, from its rich cultural history, iconic landmarks, modern infrastructure and inclusive atmosphere it is easy to see why the city remains a popular destination for visitors from all over the country and the wider world. It is also easy to see why our San Francisco TEFL/TESOL course is such a popular choice with students of all ages and backgrounds.
Find out more about taking a TEFL course in San Francisco here: https://www.tesolcourse.com/combined-tesol-courses/usa/san-francisco-california/?cu=YTDESCRIPTION
Are you ready to live and teach abroad? Click here and get started today: https://www.teflcourse.net/?cu=YTDESCRIPTION
Check our wide range of online TEFL & TESOL courses: https://www.teflonline.net/?cu=YTDESCRIPTION