ITTT FAQs – Are public or private schools better for teaching English in South Korea?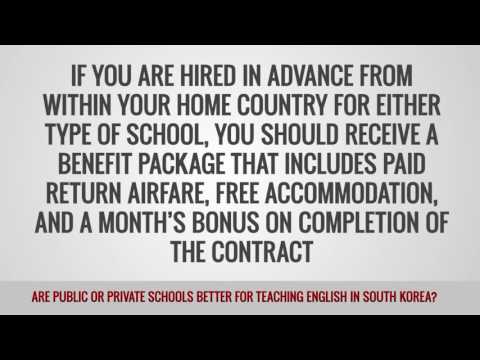 South Korea is one of the most popular destinations for TEFL/TESOL teachers in the world with thousands of teachers heading there each year. The country offers competitive salaries and good working conditions as well as low crime rates and a high-tech infrastructure.
Most teachers work in either public schools or private schools known as hagwons. Working hours in a public school are generally between 9:00 a.m. and 4:30 p.m. whereas hours for private school teachers can vary with some working 9:00 a.m. to 5:00 p.m. and other 1:00 p.m. to 9:00 p.m.
Salaries depend on the school you are working in and your level of experience. Typical salaries are as follows:
Public Schools: $1600 – $1800 for new teachers and $1800 – $2400 for experienced teachers.
Private Schools: $1800 – $1900 for new teachers and $1900 – $2700 for experienced teachers.
Other benefits include return airfares paid for in advance or reimbursed on arrival, furnished private apartment, healthcare and a contract completion bonus. Public school teachers are entitled to 3 weeks paid vacation plus 18 national holidays per year. Private sector teacher receive the same national holidays and around two weeks paid vacation per year.