ITTT FAQs – Can I teach English abroad without a work visa?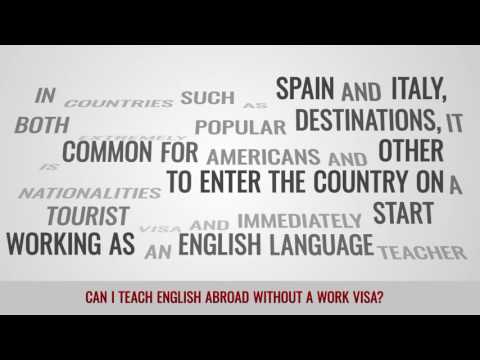 Each country has its own rules and regulations regarding living and working there as a foreign national and these vary greatly from country to country.
Getting the necessary visa to be able to work as a TEFL/TESOL teacher can be relatively straightforward in some countries and next to impossible in others. In many countries where obtaining a visa is difficult it can be common practice for teachers to work on a tourist visa or no visa at all.
In some countries there is a clear process to getting the necessary visa. In other countries the process can be expensive, time consuming and or simply nonexistent.
However, in some countries where the demand for teachers is high, the requirement for a work visa is often ignored. In counties like Spain and Italy it is common for Americans and other nationalities to arrive on a tourist visa and start teaching right away. After 90 days the visa expires and cannot be renewed and many teachers decide to continue working and overstay their visa.
In Latin America as there is a high demand for English teachers but limited finances it is common for teachers to be employed without a work visa. Chile and Mexico are the exceptions and regularly issue work visas.
The main markets of Saudi Arabia, the U.A.E. and Qatar in the Middle East it is standard practice for schools to provide work visas for their teachers. In smaller markets such as Egypt and Jordan, a small number of teachers may be able to find work without a visa.
Most jobs in Asia's EFL hot spots such as China, Korea, Japan, Thailand etc. will come with the necessary work permit. In other places working without a visa is common.