ITTT FAQs – How much can I earn teaching English in Spain?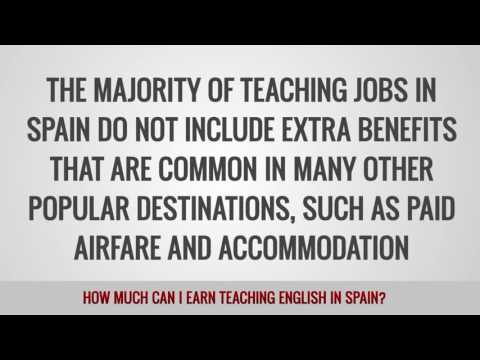 Spain has been a top destination for English teachers for a number of years. In all the major cities you will find plenty of opportunities at government schools teaching children and at private language institutes teaching university students and business professionals.
The average salary is around €700 to €1,800 and while this is not as high as some popular places, the warm climate and laid back atmosphere more than make up for it.
As a popular destination for visitors from all over the world, Spain has a thriving tourist industry that drives a high demand for English language teachers. Across the country you will find hundreds of privately owned language schools that hire teachers throughout the year and a number of government run programs that place teachers in the public school system.
The main centers of employment are the big cities such as Madrid, Barcelona, and Valencia, though opportunities can be found in almost every town city and tourist resort in the country.
The amount you can earn will depend on a number of factors including experience, qualifications, location and type of employer. Salaries start at around €700 per month and rise to around €1,800 per month for higher end positions. For those who are paid by the hour typical rates are around €18 to €20. Most jobs in Spain do not come with additional benefits such as paid airfares or free accommodation. Despite the lower pay and benefits than other popular destinations, most teachers are able to live a comfortable lifestyle while teaching in Spain.
For American and Canadian teachers, around 2,000 positions are available every year through a government sponsored program placing assistant language teachers in the public school system. Salaries for the North American Language and Cultural Assistants program range from €700 to €1,000 per month depending on location.
Most teachers work for one of the many private language schools. These schools tend to prefer to hire from within the country and offer an hourly rate of €13 to €18. Many teachers top-up their income by teaching private lessons and some even make their living working as a private tutor full-time.