ITTT FAQs – How to find a job teaching English in France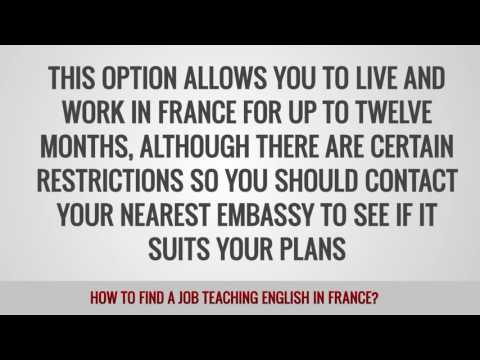 France is a popular destination for thousands of TEFL/TESOL teachers every year.
Most employers will expect teachers to have a recognized TEFL/TESOL certificate. Anyone without a certificate will struggle to find work as the majority of other teachers will be TEFL/TESOL certified.
If you apply for the government-run assistant teacher program it is possible to make all the necessary arrangements in your own country.
However, most independent employers prefer to hire and interview face-to-face. Therefore, the best advice is to head to your chosen destination and start applying for jobs in person. The best time to start job hunting is the end of summer from late August to early October. A secondary hiring season runs through January. Private tutoring can be arranged at any time throughout the year.
EU citizens do not need a visa to live and work in France. Non-EU citizens will find it very difficult to obtain the necessary visa and many work on a tourist visa. Technically illegal, it is common and open practice and is rarely an issue for the thousands of teachers who choose this option every year.
If this does not appeal there are other avenues to obtaining a suitable visa. Signing up for a government approved French course could mean that you are eligible for a student visa that allows you to work 20 hours per week.
Canadians, New Zealanders and Australians between the age of 18 and 30 can apply for working holiday visas. This allows you to live and work in France for 12 months. However, there are certain restrictions and you should check with your local French embassy for full information.
When looking for work you should apply to as many schools as possible in your local are, even those that are not advertising. Contact details for schools can be found in the Yellow Pages, online or through other teachers. It is best to visit employers in person rather than just emailing and waiting for a response.