Online ESL Tutoring in Russia from Zero to Pro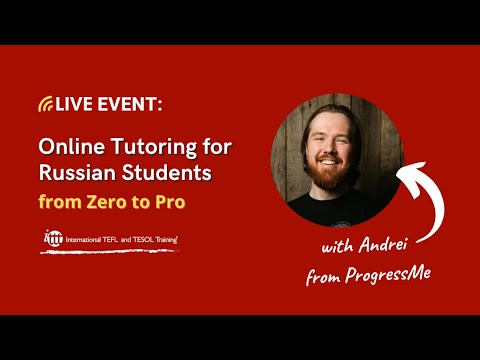 Online ESL Tutoring in Russia: Are you a native or fluent English speaker? Do you want to teach English to international students online? Russia and the CIS countries is an emerging market with great demand for TEFL certified English teachers.
In this live stream, our guest speaker Andrei from https://progressme.ru/en/ will tell you about how to start your tutoring career in Russia, how to find your first students, and run your social media to get more. You'll also learn about switching between teaching one-on-one to teaching groups online and what tools to use to deliver your classes efficiently.
#TEFL#BestTEFL #TeachEnglishOnline
Are you ready to teach English abroad or online? Click here and get started today: https://bit.ly/37gs5vO
What is TEFL Certification? Where is it valid: https://bit.ly/36ma2Fg
Check out our wide range of TEFL Courses: https://bit.ly/3ltqt73
Teach English online from anywhere you want: https://bit.ly/3ltqEPL