TEFL / TESOL Course in Calcutta, India | Teach & Live abroad!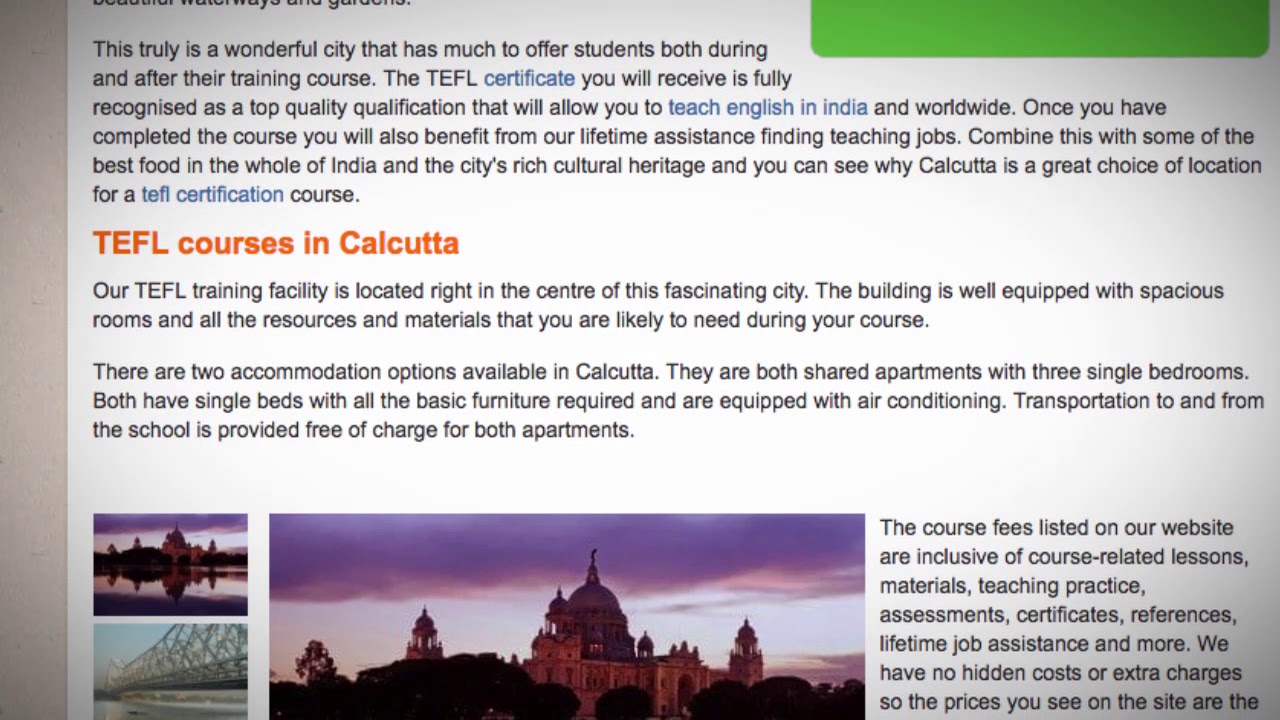 Known as the 'City of Joy', Calcutta (officially Kolkata) is well-known for its artistic, literary and cultural heritage. As India's former capital, the city is home to many fine buildings, museums and galleries. While here, you can take a walk over the Howrah Bridge, an engineering marvel built in 1943, often referred to as the world's busiest bridge; you can visit the Ramakrishna Temple, the headquarters of the Ramakrishna Mission worldwide and marvel at the Victoria Memorial, the city's pride and joy, with its extensive historical collections, fascinating architecture and beautiful waterways and gardens.
This truly is a wonderful city that has much to offer students both during and after their training course. The TEFL certificate you will receive is fully recognised as a top quality qualification that will allow you to teach english in india and worldwide. Once you have completed the course you will also benefit from our lifetime assistance finding teaching jobs. Combine this with some of the best food in the whole of India and the city's rich cultural heritage and you can see why Calcutta is a great choice of location for a tefl certification course.
Our TEFL training facility is located right in the centre of this fascinating city. The building is well equipped with spacious rooms and all the resources and materials that you are likely to need during your course.
There are two accommodation options available in Calcutta. They are both shared apartments with three single bedrooms. Both have single beds with all the basic furniture required and are equipped with air conditioning. Transportation to and from the school is provided free of charge for both apartments.
The course fees listed on our website are inclusive of course-related lessons, materials, teaching practice, assessments, certificates, references, lifetime job assistance and more. We have no hidden costs or extra charges so the prices you see on the site are the prices you will pay.
Getting Started
The first step in enrolling on our TEFL course is to complete a free application. If you are at least 18 years of age and speak English fluently, you are eligible to apply for the course. The application is brief and we will send you a prompt reply. Once approved, you will receive additional information about the course content and schedule, your accommodation options, travel arrangements, as well as payment options and more.
Apply today and you will be on your way to starting an exciting new career as an EFL teacher. However, completing your training in Calcutta doesn't mean you have to stay in India. If you would like to move on after the course we can help you find a job nearly anywhere in the world as our certificates are accredited worldwide.
Find out more about teaching English in India here: https://www.teflcourse.net/tefl-courses-locations/india/calcutta/?cu=YTDESCRIPTION
Are you ready to live and teach abroad? Click here and get started today: https://www.teflcourse.net/?cu=YTDESCRIPTION