TEFL / TESOL Course in Corinth, Greece | Teach & Live abroad!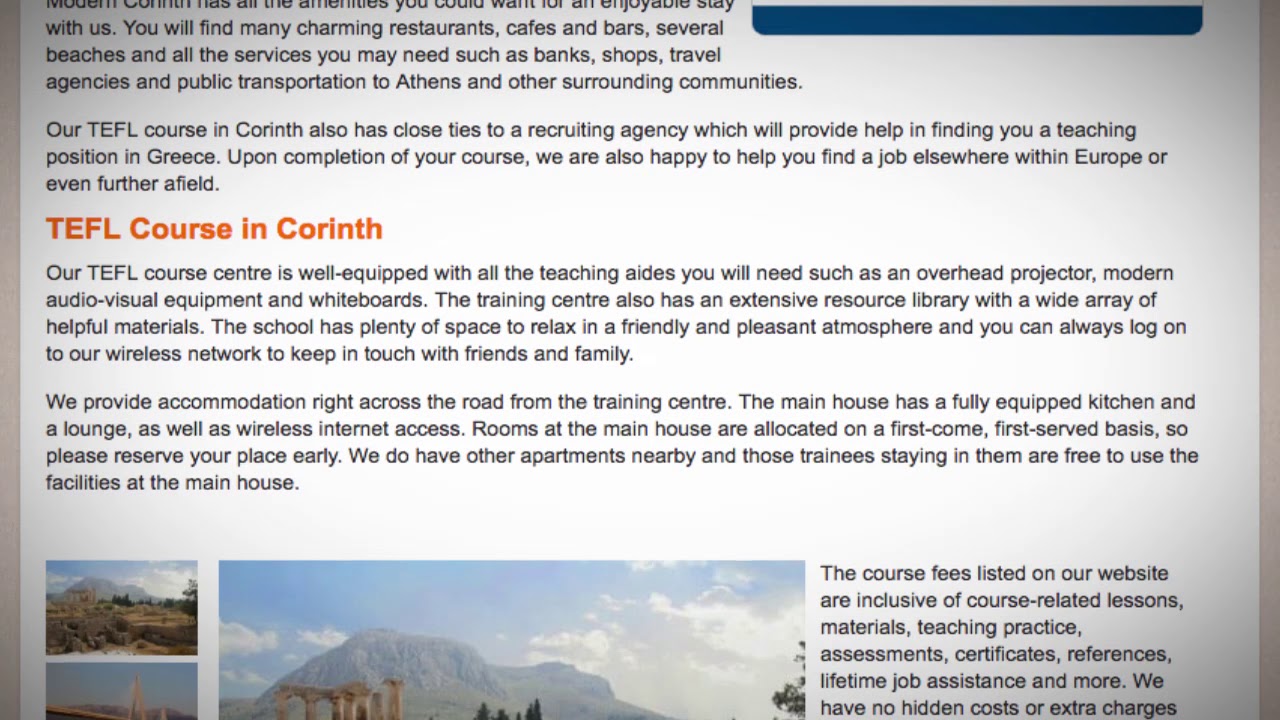 The ancient city of Corinth is a significant historical area with many important archaeological sites and, after Athens, is the most frequently visited part of the Greek mainland. Visiting the Peloponnese region provides a wonderful opportunity to experience traditional Greek culture and to explore the rich history of the ancient Greek civilisation. Corinth is located only 50 miles from Athens and is surrounded by small coastal towns and beautiful countryside making it an ideal choice for your TEFL training course.
Modern Corinth has all the amenities you could want for an enjoyable stay with us. You will find many charming restaurants, cafes and bars, several beaches and all the services you may need such as banks, shops, travel agencies and public transportation to Athens and other surrounding communities.
Our TEFL course in Corinth also has close ties to a recruiting agency which will provide help in finding you a teaching position in Greece. Upon completion of your course, we are also happy to help you find a job elsewhere within Europe or even further afield.
TEFL Course in Corinth
Our TEFL course centre is well-equipped with all the teaching aides you will need such as an overhead projector, modern audio-visual equipment and whiteboards. The training centre also has an extensive resource library with a wide array of helpful materials. The school has plenty of space to relax in a friendly and pleasant atmosphere and you can always log on to our wireless network to keep in touch with friends and family.
We provide accommodation right across the road from the training centre. The main house has a fully equipped kitchen and a lounge, as well as wireless internet access. Rooms at the main house are allocated on a first-come, first-served basis, so please reserve your place early. We do have other apartments nearby and those trainees staying in them are free to use the facilities at the main house.
The course fees listed on our website are inclusive of course-related lessons, materials, teaching practice, assessments, certificates, references, lifetime job assistance and more. We have no hidden costs or extra charges so the prices you see on the site are the prices you will pay.
Getting Started
The first step in enrolling on our corinth tefl course is to complete a free application. If you are at least 18 years of age and speak English fluently, you are eligible to apply for the course. The application is brief and we will send you a prompt reply. Once approved, you will receive additional information about the course content and schedule, your accommodation options, travel arrangements, as well as payment options and more.
If you choose Corinth for your training course it doesn't mean that you have to stay and teach in Greece. If you would like to move on after the course, we can help you find a job nearly anywhere in the world. Apply today and you will be on your way to starting a TEFL course in a city where ancient history awaits around every corner.
Are you ready to live and teach abroad? Click here and get started today: https://www.teflcourse.net/?cu=YTDESCRIPTION