TEFL / TESOL Course in Costa Rica | Teach & Live abroad!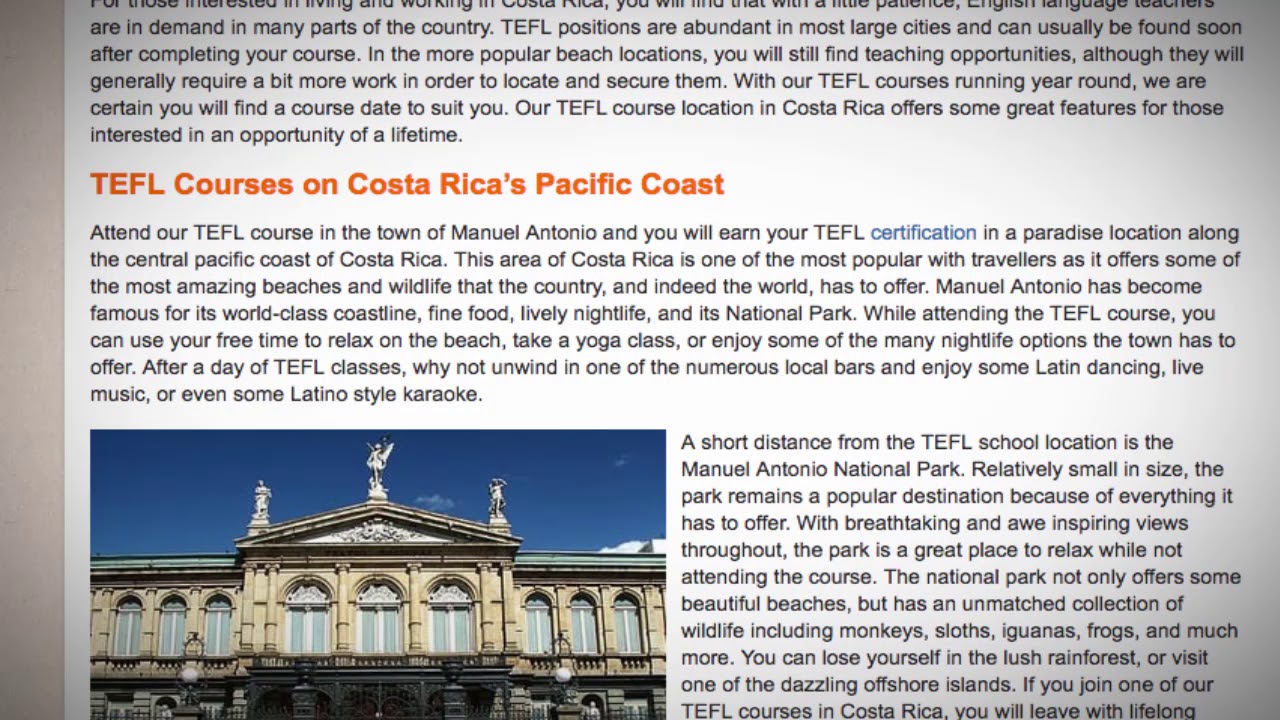 The ITTT TEFL course in Costa Rica gives you the opportunity to learn how to teach English in one of the most dazzling countries in the world. Following successful completion of the course, you will find yourself in a great position to secure a job teaching EFL in Costa Rica and elsewhere in Central and South America.
Costa Rica is generally considered to be one of the most attractive countries in the world. Its incredible features include divine beaches, fascinating wildlife, a lively nightlife complete with salsa dancing, and of course the friendly local people. Join our TEFL course in Costa Rica and not only train to teach English with a world leader in the industry, but also enjoy some of the world's best surfing, snorkelling, horseback riding and hiking whilst you do so. Attending our course and then teaching English in Costa Rica, where demand for our teachers is high, is sure to be an unparalleled adventure.
TEFL Costa Rica
For those interested in living and working in Costa Rica, you will find that with a little patience, English language teachers are in demand in many parts of the country. TEFL positions are abundant in most large cities and can usually be found soon after completing your course. In the more popular beach locations, you will still find teaching opportunities, although they will generally require a bit more work in order to locate and secure them. With our TEFL courses running year round, we are certain you will find a course date to suit you. Our TEFL course location in Costa Rica offers some great features for those interested in an opportunity of a lifetime.
TEFL Courses on Costa Rica's Pacific Coast
Attend our TEFL course in the town of Manuel Antonio and you will earn your TEFL certification in a paradise location along the central pacific coast of Costa Rica. This area of Costa Rica is one of the most popular with travellers as it offers some of the most amazing beaches and wildlife that the country, and indeed the world, has to offer. Manuel Antonio has become famous for its world-class coastline, fine food, lively nightlife, and its National Park. While attending the TEFL course, you can use your free time to relax on the beach, take a yoga class, or enjoy some of the many nightlife options the town has to offer. After a day of TEFL classes, why not unwind in one of the numerous local bars and enjoy some Latin dancing, live music, or even some Latino style karaoke.
A short distance from the TEFL school location is the Manuel Antonio National Park. Relatively small in size, the park remains a popular destination because of everything it has to offer. With breathtaking and awe inspiring views throughout, the park is a great place to relax while not attending the course. The national park not only offers some beautiful beaches, but has an unmatched collection of wildlife including monkeys, sloths, iguanas, frogs, and much more. You can lose yourself in the lush rainforest, or visit one of the dazzling offshore islands. If you join one of our TEFL courses in Costa Rica, you will leave with lifelong memories of a paradise location.
ITTT offers superb training courses for people who want to gain TEFL certification in Costa Rica. On completion of the course, you will have gained one of the most highly regarded TEFL certificates available that will allow you to find teaching positions countrywide. Our training centre is also in a prime location for you to go on and teach in other countries in the region such as Nicaragua and Panama.
Find out more about taking a TEFL course in Costa Rica here: https://www.teflcourse.net/tefl-courses-locations/costa-rica/?cu=YTDESCRIPTION
Are you ready to live and teach abroad? Click here and get started today: https://www.teflcourse.net/?cu=YTDESCRIPTION