TEFL / TESOL Course in Cambodia | Teach & Live abroad!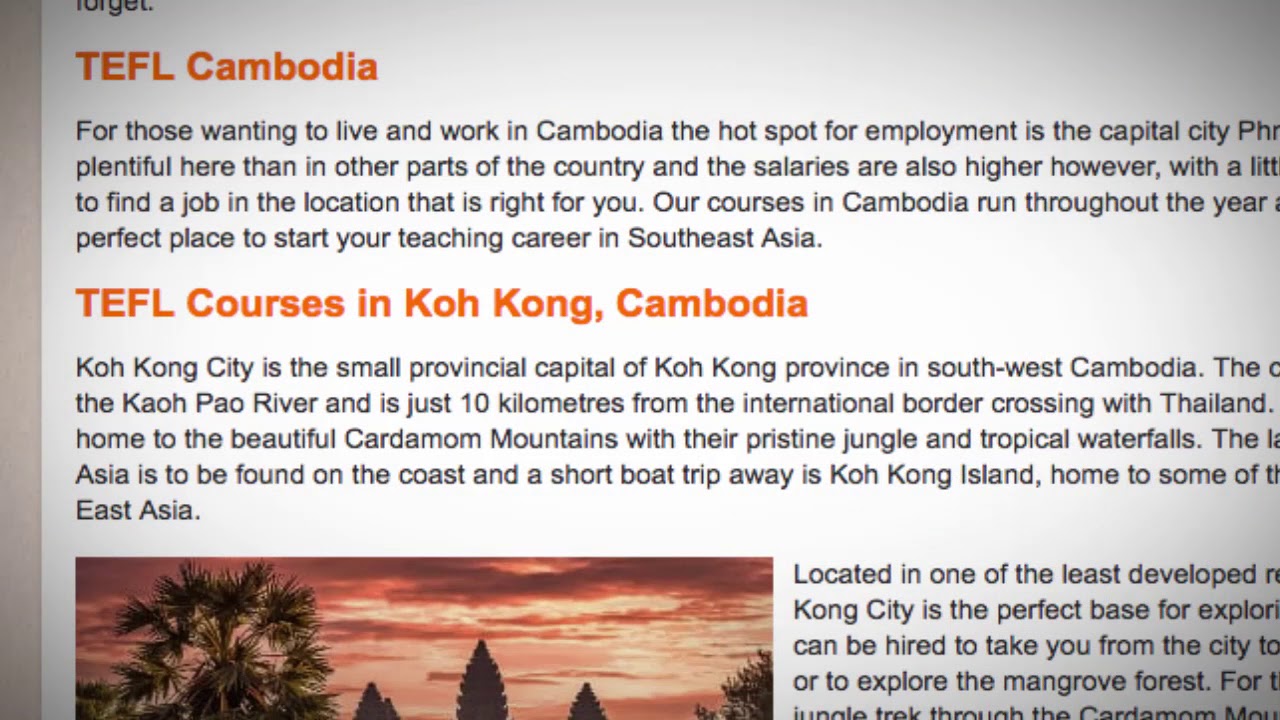 ITTT's TEFL course in Cambodia gives you the amazing opportunity to earn your TEFL certificate in a laid back city in one of the most unspoiled regions of Cambodia. Once you have successfully completed the course, you will be in the perfect position to secure a job teaching EFL in Cambodia and elsewhere in Asia.
Cambodia offers visitors a diverse range of adventures and experiences. From the magnificent ancient temple complex of Angkor Wat to the beauty of the massive Tonle Sap Lake, there's plenty to do, see and explore in Cambodia. Whether you are looking for adventure, interested in history or simply want to unwind, Cambodia has it all. Taking our course before teaching in Cambodia is sure to be an adventure you will never forget.
TEFL Cambodia
For those wanting to live and work in Cambodia the hot spot for employment is the capital city Phnom Penh. Jobs are more plentiful here than in other parts of the country and the salaries are also higher however, with a little patience, you are sure to find a job in the location that is right for you. Our courses in Cambodia run throughout the year and our centre is the perfect place to start your teaching career in Southeast Asia.
TEFL Courses in Koh Kong, Cambodia
Koh Kong City is the small provincial capital of Koh Kong province in south-west Cambodia. The city rests on the banks of the Kaoh Pao River and is just 10 kilometres from the international border crossing with Thailand. Koh Kong province is home to the beautiful Cardamom Mountains with their pristine jungle and tropical waterfalls. The largest mangrove forest in Asia is to be found on the coast and a short boat trip away is Koh Kong Island, home to some of the best beaches in South East Asia.
Located in one of the least developed regions of Cambodia, Koh Kong City is the perfect base for exploring further afield. Boats can be hired to take you from the city to nearby Koh Kong Island or to explore the mangrove forest. For the adventure seeker a jungle trek through the Cardamom Mountains will give you an up-close look at the wildlife that inhabits the region. For a more relaxed experience Koh Kong City has a number of restaurants and bars where you can unwind and the river front is the ideal place for a relaxed evening stroll.
ITTT provides excellent training for those wanting to earn their TEFL certificate in Cambodia. Once you have completed the course you will possess an internationally recognised TEFL certificate that will allow you to seek teaching jobs in Cambodia and the rest of the world. Our training centre is ideally located for you to make the most of the job opportunities available in Asia.
Find out more about taking a TEFL course in Cambodia here: https://www.teflcourse.net/tefl-courses-locations/cambodia/?cu=YTDESCRIPTION
Are you ready to live and teach abroad? Click here and get started today: https://www.teflcourse.net/?cu=YTDESCRIPTION