TEFL / TESOL Course in Thailand | Teach & Live abroad!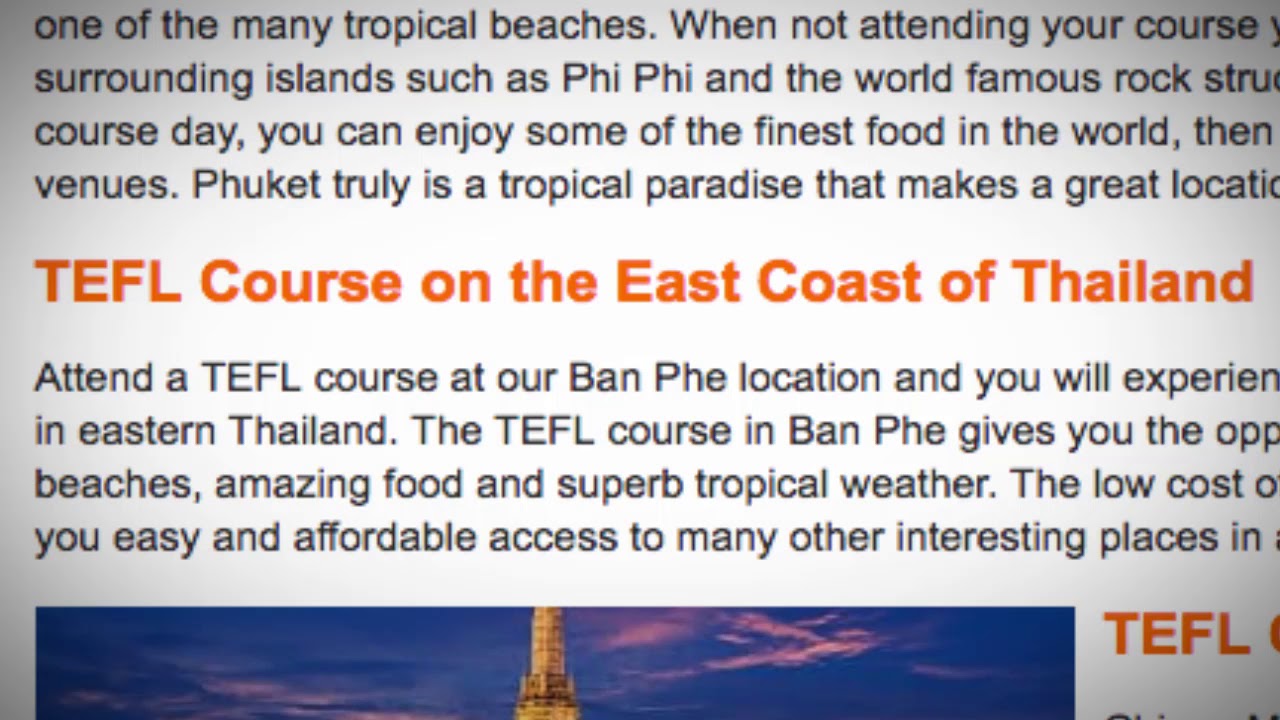 Our TEFL courses in Thailand give you the opportunity to learn how to teach English in one of the most beautiful and welcoming countries in the world. When you combine all its superb features: the great food, magical beaches, vibrant night life, low cost of living and friendly people, you can see why Thailand has an unmatched reputation and is a world leading destination for TEFL courses.
TEFL Thailand
For those interested in taking a TEFL course in Thailand, the good news is that demand is very high for English language teachers year round and you are sure to be offered a TEFL position soon after completing your course. Opportunities for teaching EFL in Thailand are countrywide, from Bangkok to Chiang Mai, Phuket to Koh Samui. With our TEFL courses running year round at three diverse locations, we are confident of having a TEFL course in Thailand which suits your requirements.
TEFL Course on the Andaman Sea
Attend our course in Phuket and you will earn your TEFL certification on an island paradise located on the south west coast of Thailand in the Andaman Sea. Phuket is famous for its world class beaches, fine food and lively nightlife. Being the largest island in Thailand, Phuket offers a wide variety of activities to enjoy during your free time. You can indulge in some of the best SCUBA and snorkelling sites in the world, go for a hike through the jungle, go elephant trekking, or simply relax on one of the many tropical beaches. When not attending your course you can also explore the island's villages or visit surrounding islands such as Phi Phi and the world famous rock structure known as James Bond Island. At the end of your course day, you can enjoy some of the finest food in the world, then go on to a club or bar in one of the popular night venues. Phuket truly is a tropical paradise that makes a great location for a TEFL course.
TEFL Course on the East Coast of Thailand
Attend a TEFL course at our Ban Phe location and you will experience your TEFL training in a quaint fishing village located in eastern Thailand. The TEFL course in Ban Phe gives you the opportunity to become an EFL teacher while enjoying great beaches, amazing food and superb tropical weather. The low cost of living and travel in this part of Thailand will also allow you easy and affordable access to many other interesting places in and around the country.
TEFL Course in Thailand's North
Chiang Mai is situated in the northwest corner of the country and is one of the most culturally rich cities in Thailand. With cooler temperatures than the rest of the country, you can enjoy comfortable surroundings while taking your TEFL course here. Attend your course in Chiang Mai and learn to become an EFL teacher while enjoying the city atmosphere and the rolling hills and mountain terrain that surrounds it. With many outdoor activities, a fun nightlife and superb weather, Chiang Mai is an exceptional place to take a TEFL course in Thailand.
Whichever location you choose for your TEFL training in Thailand, you can expect to be offered employment soon after completing the course as all state schools are required to recruit native English speaking teachers. If you would prefer to move on and work elsewhere, Thailand is also in a prime location for you to go on and teach in South Korea, Taiwan, Japan, China and many other Asian countries.
Find out more about taking a TEFL course in Thailand here: https://www.teflcourse.net/tefl-courses-locations/thailand/?cu=YTDESCRIPTION
Are you ready to live and teach abroad? Click here and get started today: https://www.teflcourse.net/?cu=YTDESCRIPTION