TEFL / TESOL Course in France | Teach & Live abroad!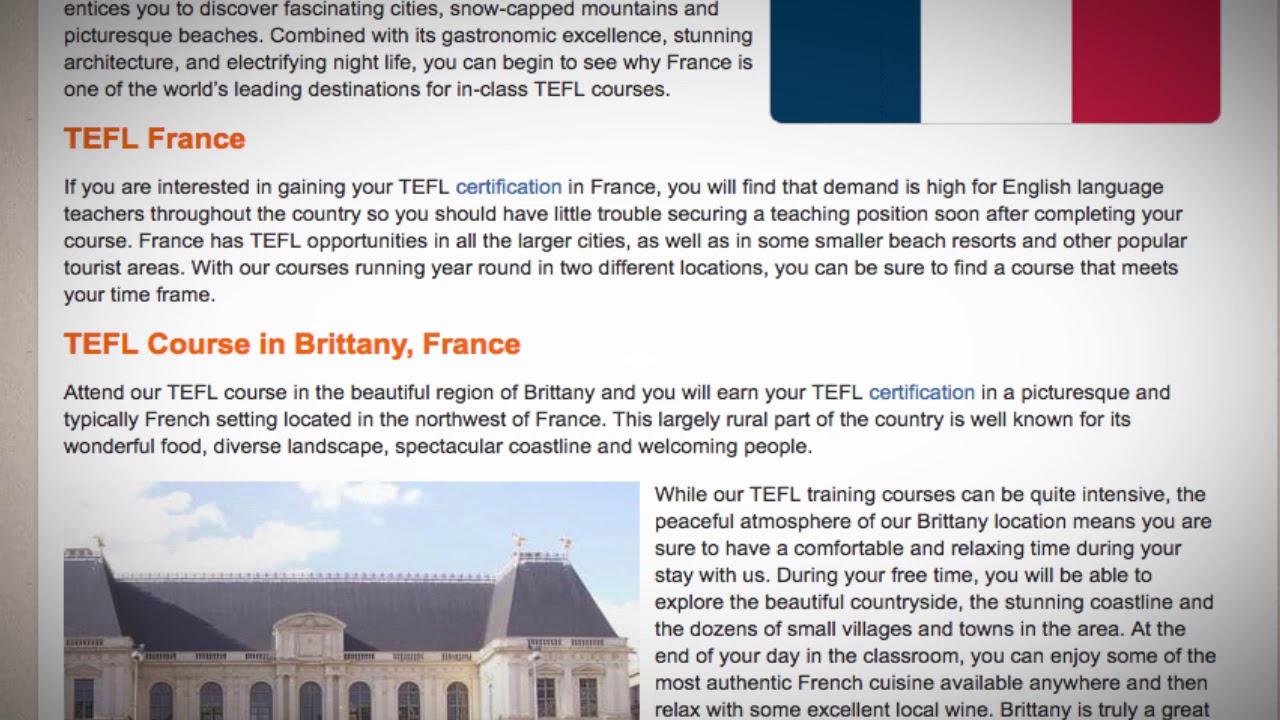 Take a TEFL course in France with ITTT and discover a world of art, history, fashion and culture. Our TEFL courses in France give you the opportunity to learn how to teach English in one of the most charismatic and exciting countries in the world.
France is a country with a full and rich history. Its varied landscape entices you to discover fascinating cities, snow-capped mountains and picturesque beaches. Combined with its gastronomic excellence, stunning architecture, and electrifying night life, you can begin to see why France is one of the world's leading destinations for in-class TEFL courses.
TEFL France
If you are interested in gaining your TEFL certification in France, you will find that demand is high for English language teachers throughout the country so you should have little trouble securing a teaching position soon after completing your course. France has TEFL opportunities in all the larger cities, as well as in some smaller beach resorts and other popular tourist areas. With our courses running year round in two different locations, you can be sure to find a course that meets your time frame.
TEFL Course in Brittany, France
Attend our TEFL course in the beautiful region of Brittany and you will earn your TEFL certification in a picturesque and typically French setting located in the northwest of France. This largely rural part of the country is well known for its wonderful food, diverse landscape, spectacular coastline and welcoming people.
While our TEFL training courses can be quite intensive, the peaceful atmosphere of our Brittany location means you are sure to have a comfortable and relaxing time during your stay with us. During your free time, you will be able to explore the beautiful countryside, the stunning coastline and the dozens of small villages and towns in the area. At the end of your day in the classroom, you can enjoy some of the most authentic French cuisine available anywhere and then relax with some excellent local wine. Brittany is truly a great choice of location for your TEFL training course.
TEFL Course in Paris, France
Our second TEFL course location in France is set in the ultimate European destination, Paris. The capital city of France is world renowned as one of the most beautiful and romantic cities in the world and is synonymous with culture, art, fashion and fine cuisine. Paris is also home to some of the most iconic landmarks in the world such as the Eiffel Tower, the Arc de Triomphe, Notre Dame Cathedral and the Louvre Museum. The city is the most popular tourist destination in the world with 45 million tourists visiting its countless attractions every year. Attend our Paris TEFL course and all this and more will be on your doorstep.
Regardless of which location you choose for your TEFL training in France, on completion of the course, you will have gained one of the most highly regarded TEFL certificates in the industry. You can then expect to find a teaching position in one of the country's many language schools, our schools' locations also make it convenient for you to move on and teach in other countries in the region or even further afield.
Find out more about taking a TEFL course in France here: https://www.teflcourse.net/tefl-courses-locations/france/?cu=YTDESCRIPTION
Are you ready to live and teach abroad? Click here and get started today: https://www.teflcourse.net/?cu=YTDESCRIPTION