TEFL / TESOL Course in Granada, Spain | Teach & Live abroad!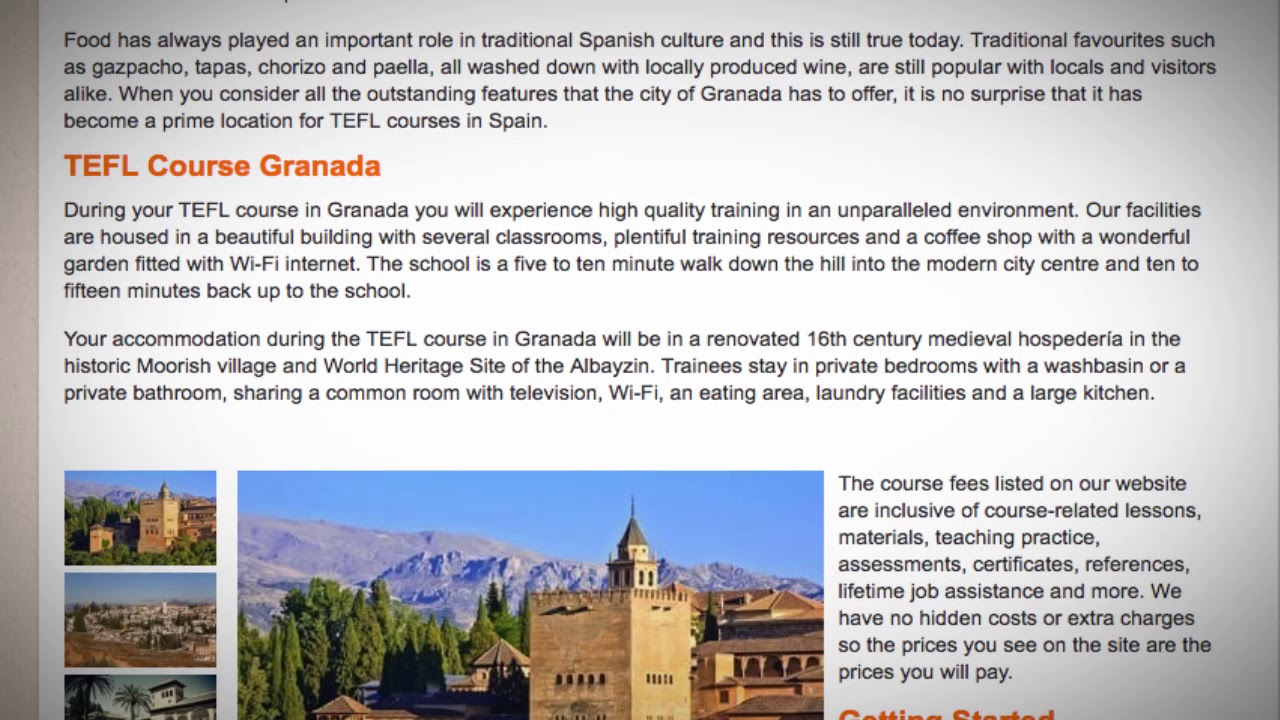 The historical city of Granada is a magical location to take a TEFL course. Granada is a UNESCO World Heritage Site and home to Spain's most visited attraction, the Alhambra Palace. It is the former capital of Moorish Spain and this is evident in the many palaces, churches, monuments and ancient dwellings that are still home to many of the city's inhabitants. Today, the city retains much of its ancient charm and is set in a delightfully well situated location. It is also a popular university town with a vibrant nightlife, as well as plenty of interesting restaurants, cafes, bars, theatres and clubs.
Geographically, Granada is unique as it lies between the Sierra Nevada Mountains and the Costa del Sol, within the magical region of Andalucía. You will never be without things to see or do here and opportunities abound for skiing or trekking in the mountains and for soaking up the sun on the nearby coastline. Granada itself has so much to offer that you may need to stay here for sometime in order to experience it all.
Food has always played an important role in traditional Spanish culture and this is still true today. Traditional favourites such as gazpacho, tapas, chorizo and paella, all washed down with locally produced wine, are still popular with locals and visitors alike. When you consider all the outstanding features that the city of Granada has to offer, it is no surprise that it has become a prime location for TEFL courses in Spain.
TEFL Course Granada
During your TEFL course in Granada you will experience high quality training in an unparalleled environment. Our facilities are housed in a beautiful building with several classrooms, plentiful training resources and a coffee shop with a wonderful garden fitted with Wi-Fi internet. The school is a five to ten minute walk down the hill into the modern city centre and ten to fifteen minutes back up to the school.
Your accommodation during the TEFL course in Granada will be in a renovated 16th century medieval hospedería in the historic Moorish village and World Heritage Site of the Albayzin. Trainees stay in private bedrooms with a washbasin or a private bathroom, sharing a common room with television, Wi-Fi, an eating area, laundry facilities and a large kitchen.
The course fees listed on our website are inclusive of course-related lessons, materials, teaching practice, assessments, certificates, references, lifetime job assistance and more. We have no hidden costs or extra charges so the prices you see on the site are the prices you will pay.
Getting Started
The first step in enrolling on our TEFL course in Granada is completing a free application. If you are at least 18 years of age and speak English fluently, you are eligible to apply for the course. The application is brief and we will send you a prompt reply. Once approved, you will receive additional information about the course content and schedule, your accommodation options, travel arrangements, as well as payment options and more.
Apply to take our TEFL course in Granada now and soon you could be experiencing life in one of the most historically significant cities in Spain. However, training in Spain doesn't mean you have to stay and teach in the country. If you would like to move on after the course we offer lifetime assistance finding jobs and our certificates are recognised worldwide.
Find out more about taking a TEFL course in Spain here: https://www.teflcourse.net/tefl-courses-locations/spain/?cu=YTDESCRIPTION
Are you ready to live and teach abroad? Click here and get started today: https://www.teflcourse.net/?cu=YTDESCRIPTION