TEFL / TESOL Course in La Antigua, Guatemala | Teach & Live abroad!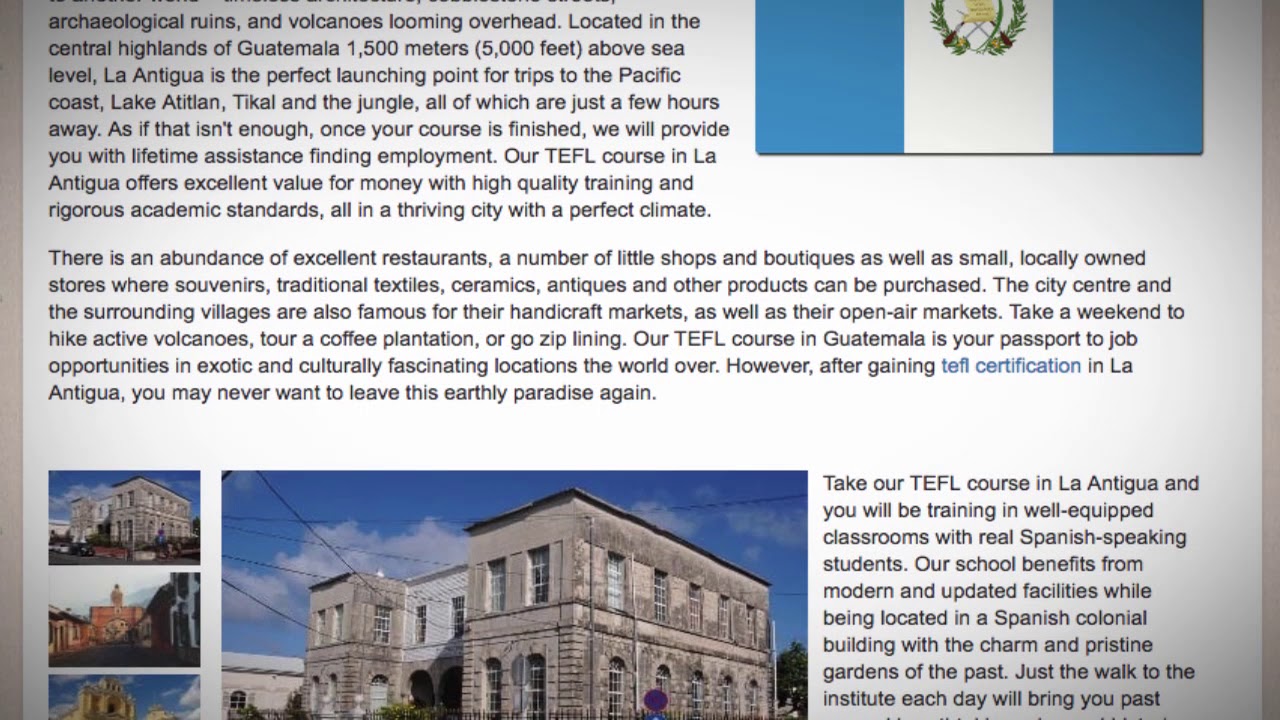 La Antigua is the most popular destination in the country for both tourists and Guatemalans alike, and is famous for its well preserved colonial architecture and spectacular ruins—so much so that the entire city has been designated a UNESCO World Heritage Site. Guatemala is a portal to another world – timeless architecture, cobblestone streets, archaeological ruins, and volcanoes looming overhead. Located in the central highlands of Guatemala 1,500 meters (5,000 feet) above sea level, La Antigua is the perfect launching point for trips to the Pacific coast, Lake Atitlan, Tikal and the jungle, all of which are just a few hours away. As if that isn't enough, once your course is finished, we will provide you with lifetime assistance finding employment. Our TEFL course in La Antigua offers excellent value for money with high quality training and rigorous academic standards, all in a thriving city with a perfect climate.
There is an abundance of excellent restaurants, a number of little shops and boutiques as well as small, locally owned stores where souvenirs, traditional textiles, ceramics, antiques and other products can be purchased. The city centre and the surrounding villages are also famous for their handicraft markets, as well as their open-air markets. Take a weekend to hike active volcanoes, tour a coffee plantation, or go zip lining. Our TEFL course in Guatemala is your passport to job opportunities in exotic and culturally fascinating locations the world over. However, after gaining tefl certification in La Antigua, you may never want to leave this earthly paradise again.
Tefl La Antigua
Tesol La Antigua
English language La Antigua
Teaching english La Antigua
Tefl La Antigua
Take our TEFL course in La Antigua and you will be training in well-equipped classrooms with real Spanish-speaking students. Our school benefits from modern and updated facilities while being located in a Spanish colonial building with the charm and pristine gardens of the past. Just the walk to the institute each day will bring you past several breathtaking ruins and historic buildings, not to mention the impressive conical volcano that looms over the town.
Find out more about teaching English in Guatemala in our country guide: https://www.teflcourse.net/tefl-courses-locations/guatemala/la-antigua/
Are you ready to live and teach abroad? Click here and get started today: https://www.teflcourse.net/?cu=YTDESCRIPTION