TEFL / TESOL Course in Los Angeles, USA | Teach & Live abroad!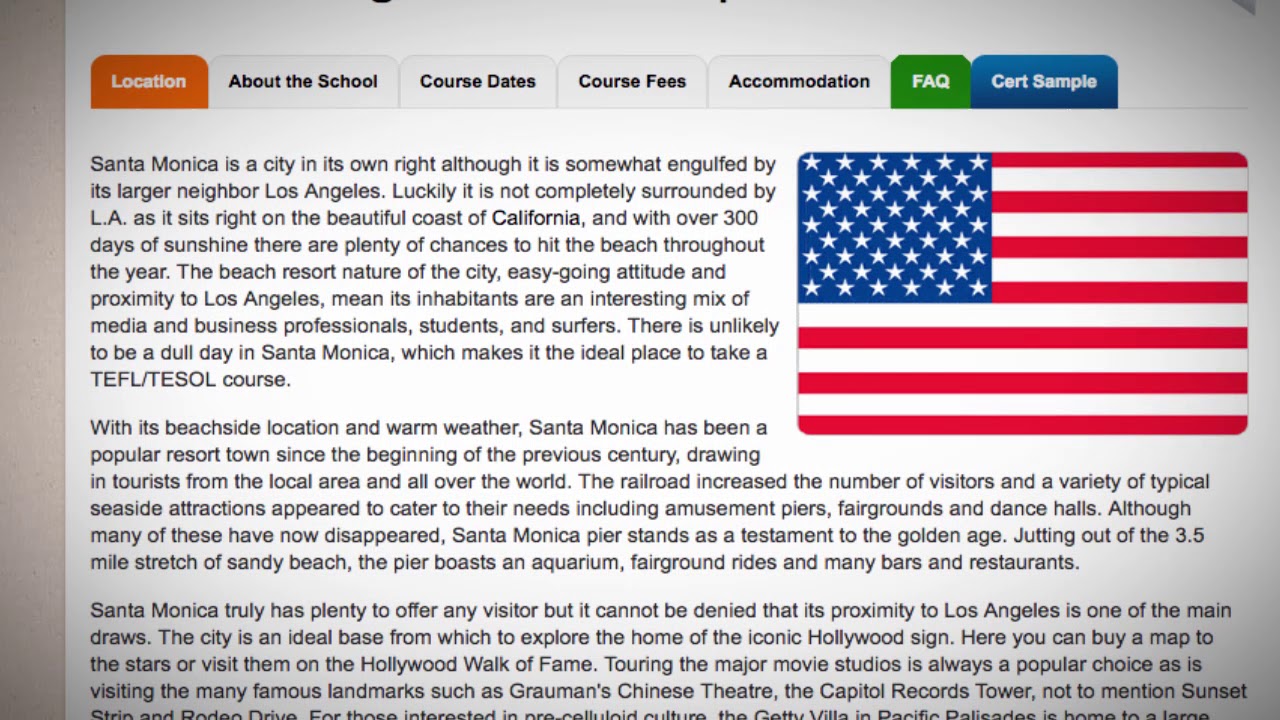 Santa Monica is a city in its own right although it is somewhat engulfed by its larger neighbor Los Angeles. Luckily it is not completely surrounded by L.A. as it sits right on the beautiful coast of California, and with over 300 days of sunshine there are plenty of chances to hit the beach throughout the year. The beach resort nature of the city, easy-going attitude and proximity to Los Angeles, mean its inhabitants are an interesting mix of media and business professionals, students, and surfers. There is unlikely to be a dull day in Santa Monica, which makes it the ideal place to take a TEFL/TESOL course.
With its beachside location and warm weather, Santa Monica has been a popular resort town since the beginning of the previous century, drawing in tourists from the local area and all over the world. The railroad increased the number of visitors and a variety of typical seaside attractions appeared to cater to their needs including amusement piers, fairgrounds and dance halls. Although many of these have now disappeared, Santa Monica pier stands as a testament to the golden age. Jutting out of the 3.5 mile stretch of sandy beach, the pier boasts an aquarium, fairground rides and many bars and restaurants.
Santa Monica truly has plenty to offer any visitor but it cannot be denied that its proximity to Los Angeles is one of the main draws. The city is an ideal base from which to explore the home of the iconic Hollywood sign. Here you can buy a map to the stars or visit them on the Hollywood Walk of Fame. Touring the major movie studios is always a popular choice as is visiting the many famous landmarks such as Grauman's Chinese Theatre, the Capitol Records Tower, not to mention Sunset Strip and Rodeo Drive. For those interested in pre-celluloid culture, the Getty Villa in Pacific Palisades is home to a large collection of ancient Greek, Roman and Etruscan art dating back 6,500 years, set amongst a beautiful central courtyard and formal gardens.
Whether you want to bask in the warm glow of the sun on the beach or be dazzled by the light of Hollywood's stars, our training center in Santa Monica is the ideal place for you to take your TEFL/TESOL course. Our well-equipped school and qualified trainers give you all the support you will need while completing the course and the beautiful beaches, exciting nightlife and other numerous activities will keep you entertained outside of the classroom.
Find out more about taking a TEFL course in Los Angeles here: https://www.teflcourse.net/tefl-courses-combined/usa/los-angeles-california/?cu=YTDESCRIPTION
Are you ready to live and teach abroad? Click here and get started today: https://www.teflcourse.net/?cu=YTDESCRIPTION