TEFL / TESOL Course in Madison, USA | Teach & Live abroad!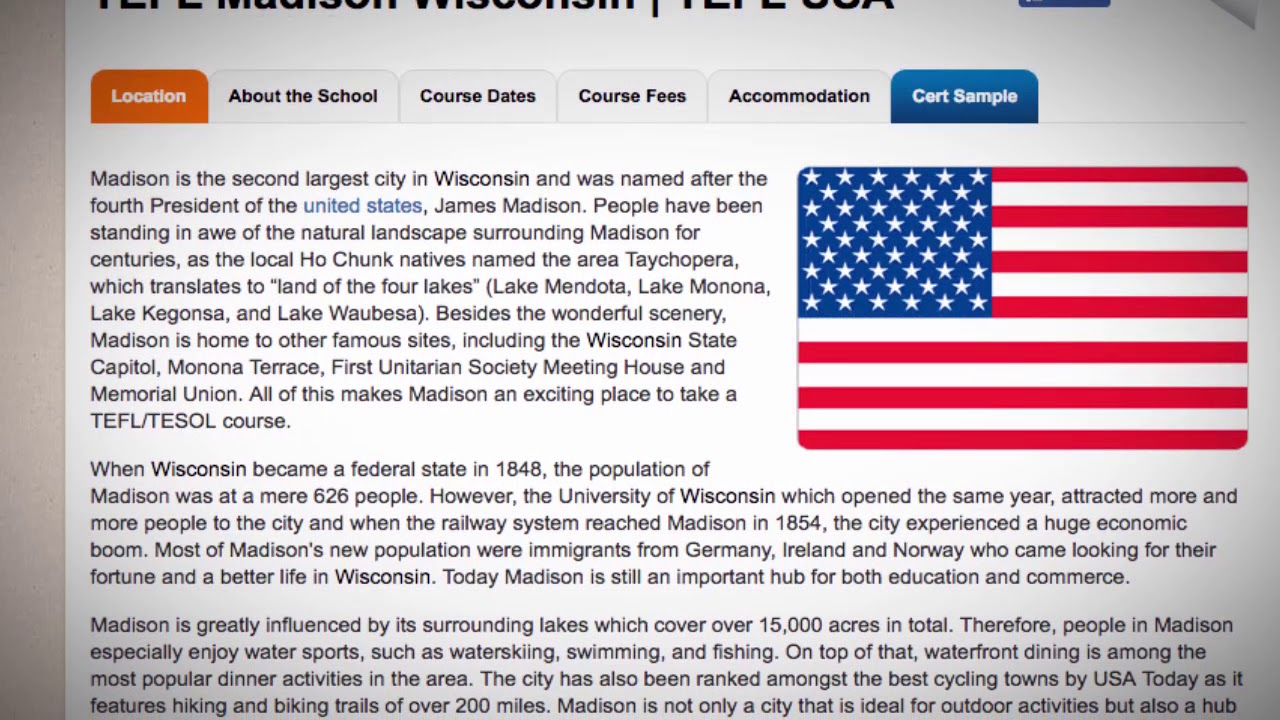 Madison is the second largest city in Wisconsin and was named after the fourth President of the united states, James Madison. People have been standing in awe of the natural landscape surrounding Madison for centuries, as the local Ho Chunk natives named the area Taychopera, which translates to "land of the four lakes" (Lake Mendota, Lake Monona, Lake Kegonsa, and Lake Waubesa). Besides the wonderful scenery, Madison is home to other famous sites, including the Wisconsin State Capitol, Monona Terrace, First Unitarian Society Meeting House and Memorial Union. All of this makes Madison an exciting place to take a TEFL/TESOL course.
When Wisconsin became a federal state in 1848, the population of Madison was at a mere 626 people. However, the University of Wisconsin which opened the same year, attracted more and more people to the city and when the railway system reached Madison in 1854, the city experienced a huge economic boom. Most of Madison's new population were immigrants from Germany, Ireland and Norway who came looking for their fortune and a better life in Wisconsin. Today Madison is still an important hub for both education and commerce.
Madison is greatly influenced by its surrounding lakes which cover over 15,000 acres in total. Therefore, people in Madison especially enjoy water sports, such as waterskiing, swimming, and fishing. On top of that, waterfront dining is among the most popular dinner activities in the area. The city has also been ranked amongst the best cycling towns by USA Today as it features hiking and biking trails of over 200 miles. Madison is not only a city that is ideal for outdoor activities but also a hub for performing arts. Be sure to watch a production at the Forward Theater Company and indulge in the fine arts at the Overture Center for the Arts. The "museum mile" is also a must, as it is home to treasures from the city and its surrounding areas and stretches from the Capitol all the way to UW-Madison campus.
Madison is a city rich in culture and natural wonders. Combined with its selection of fine arts, you are guaranteed a great time when coming here to complete your TEFL/TESOL training. Our training center offers you all the amenities and facilities you need to succeed in your training to become an esl teacher. Our professional staff will guide you all the way throughout your course and beyond by assisting you in finding a TEFL job upon completion of the course. As you can see, Madison makes for the ideal place to start your TEFL/TESOL career!
Find out more about taking a TEFL course in Madison here: https://www.teflcourse.net/tefl-courses-combined/usa/madison-wisconsin/?cu=YTDESCRIPTION
Are you ready to live and teach abroad? Click here and get started today: https://www.teflcourse.net/?cu=YTDESCRIPTION