TEFL / TESOL Course in Orange County, USA | Teach & Live abroad!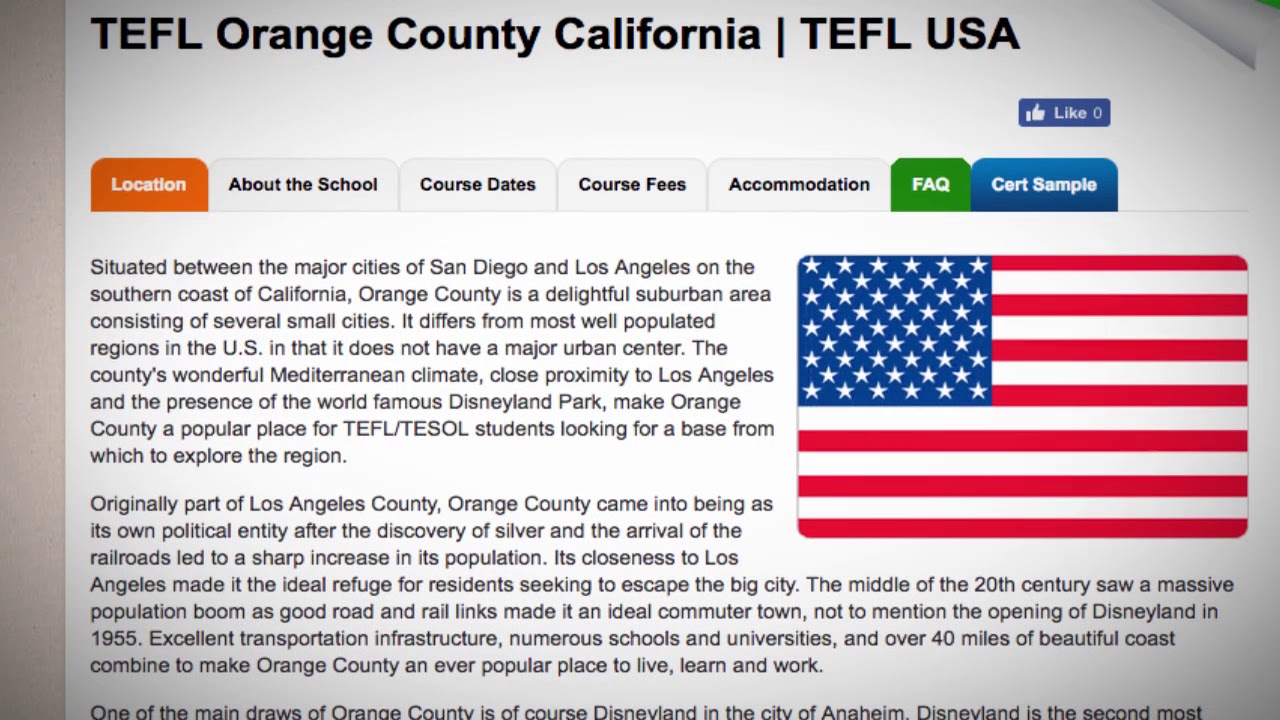 Situated between the major cities of San Diego and Los Angeles on the southern coast of California, Orange County is a delightful suburban area consisting of several small cities. It differs from most well populated regions in the U.S. in that it does not have a major urban center. The county's wonderful Mediterranean climate, close proximity to Los Angeles and the presence of the world famous Disneyland Park, make Orange County a popular place for TEFL/TESOL students looking for a base from which to explore the region.
Originally part of Los Angeles County, Orange County came into being as its own political entity after the discovery of silver and the arrival of the railroads led to a sharp increase in its population. Its closeness to Los Angeles made it the ideal refuge for residents seeking to escape the big city. The middle of the 20th century saw a massive population boom as good road and rail links made it an ideal commuter town, not to mention the opening of Disneyland in 1955. Excellent transportation infrastructure, numerous schools and universities, and over 40 miles of beautiful coast combine to make Orange County an ever popular place to live, learn and work.
One of the main draws of Orange County is of course Disneyland in the city of Anaheim. Disneyland is the second most visited theme park in the world and it draws in around 15 million visitors annually. There are also the double attractions of Los Angeles to the north and San Diego to the south. Of course there are plenty of other things to do in Orange County, which is a famous surfing region and home to '€œSurf City, USA' otherwise known as Huntington Beach. Orange County is also home to the largest population of Vietnamese outside of Vietnam and the Pao Fa Temple, one of the biggest Buddhist temples in the country, is located in the city of Irvine.
If you want the benefits of taking your TEFL/TESOL course near to all that Los Angeles has to offer, but prefer to study away from the hustle and bustle of the big city, our course in Irvine, Orange County is the perfect place for you. With a well-equipped school and dedicated staff in a superb location you cannot go wrong in choosing Orange County as the place to earn your certificate.
Find out more about taking a TEFL course in Orange County here: https://www.teflcourse.net/tefl-courses-combined/usa/orange-county-california/?cu=YTDESCRIPTION
Are you ready to live and teach abroad? Click here and get started today: https://www.teflcourse.net/?cu=YTDESCRIPTION